The Danish Christmas traffic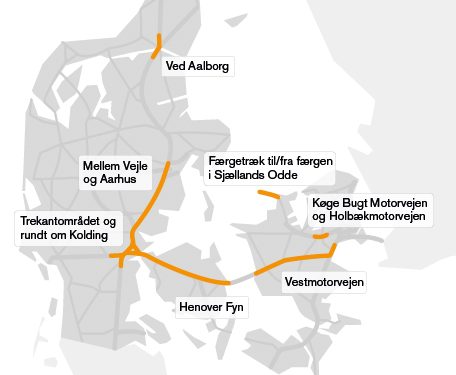 If you have not left Denmark and are expecting to travel during Christmas, it can be a good idea to take note of how the Danes will be moving around.
The article continues below.
By Bente D. Knudsen Picture: Vejdirektoratet
The Christmas holiday  is always a busy one in Denmark, as Danes tend to travel around to join friends and family for  Christmas.
This year as the 24 December is on a Tuesday, the Danish Traffic Board expects traffic to spread out a bit more.
However, on 20 December, holiday traffic will mingle with rush hour traffic.  This is the case in Copenhagen but also around the larger Danish cities.
The Christmas traffic prognosis by the Danish Traffic Board, Vejdirektoratet, estimate that the Christmas traffic will start on Friday the 20 December when it will mingle with the general after-work home bound traffic.
Be prepared for more traffic than usual around the larger cities from 14:00 to 18:00.
Much worse will be the situation for home-bound traffic, this is expected to be intense as travellers will be heading back on the 26 December and the heaviest traffic will be between 10:00 and 15:00 as travellers will be heading back from west to east over Funen to Copenhagen and Zealand.
The article continues below.
Many Danes actually seek to go home for Christmas, which means that Danes living on Zealand and in the Copenhagen area, who are originally from Jutland, will be making their way from east to west.
Therefore, the traffic will be intense on the highways out of Copenhagen, particularly the one called Køgebugt, and the one crossing over Funen, as well as the E45 between Kolding and Aarhus.
Expect delays and be prepared for longer travelling time and queues at the times noted above.
Also remember that there is still boarder control between Germany and Denmark and with more Christmas traffic, there can be delays and queues at the border crossing from Germany into Denmark as well.
As most of the Danes will be going across the country rather than south, it is not expected to be that bad.
The article continues below.
According to Vejdirektoratet the Christmas traffic will especially be felt on:
E20 Fynske Motorvej (west bound direction)
E45 Between Kolding and Aarhus
Køge Bugt Highway
E20 Westbound highway
Rute 21 to and from Sjællands Odde
Also expect trains out of Copenhagen to Jutland to be full on the 21, 22  and 23 December.
TIPS
If possible, avoid the times of the day with most traffic
Keep an eye on the Christmas weather reports
Plan more time for your trip to avoid stress due to delays
Drive according to the circumstances and keep your distance
Stay updated on trafikinfo.dk or the App trafikinfo
Take note that all public transport will be running on the Sunday/bank holiday schedule, which means that there is a reduced timetable on the 24,25, 26 and 31 December, as well as on 1 January