The diary in my moving box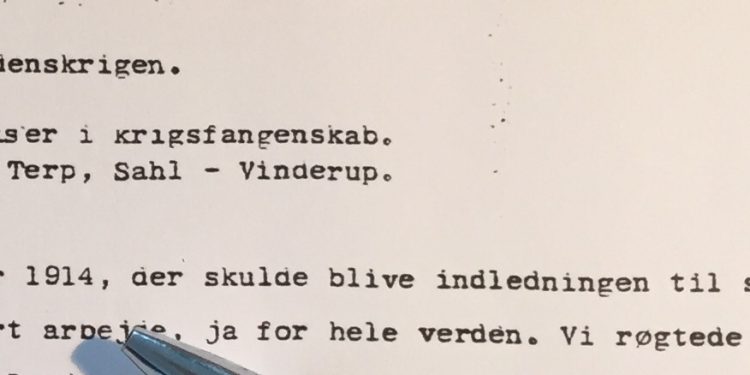 A move to a new country, the surprising find of an old diary – all part of a personal journey, which reveals to our writer that her heritage is so much more than what she thought. Find here a personal story on what expat life can also bring.
The article continues below.
By Lene Terp Knutzen
Culturally defined boundaries, my birthplace, my blue eyes, my fair skin, the language I speak, all made me believe that "of course my roots have always been Danish."
I live in Basel, Switzerland. I am a Dänein – the Swiss-German female version of being Danish. I've been living abroad five years this summer.
I will forever be thankful that I got a chance to live in a foreign country away from where I was born. I love my Basler-flat overlooking the Rhine.
Have learned never to take my own culturally exposed habits for granted. Know what it feels like to be a foreigner.
The river flows beneath my windows. All day I can listen to the soothing purl of the busy water.
However, whenever I step outside my front door it is as though I am forever confined to express myself less freely because of the local tongue I do not master.
Nonetheless, I've learned so much and have even written a book.
Spending years away from my beloved family and dearest friends, I have felt emotionally affected – not by isolation but an ever presence of unfamiliarity, and with more time on my own than ever before.
The article continues below.
Accidentally, I stumbled over a very old diary. It showed up in a moving box and belonged to my great-grandfather..
His yellowish diary told a totally different and thrilling story about alienation from what was my own Swiss experience.
His inner feelings were not present in his twenty pages of writing and the papers had yellowed over the years. To grasp it all, I had to read them several times.
I remember sitting on the floor next to one of the brown boxes, yawning a little bit, getting myself a refreshing cup of Nespresso coffee, as I slowly got more and more absorbed by the old story.
His written words were not emotional at all. Instead, they contained numerous facts concerning a challenging voyage he had made to Africa more than 100 years ago. I saw names and dates, and my curiosity grew as my imagination started spinning.
In my mind, I was able to imagine what he looked like, and I saw the poor young man dreaming about another life, and a much bigger world, far away from his own little den.
Pictures of unknown places in distant locations came rushing into my head. .
His story starts in Christiansfeld, today part of Denmark, but at the time the borders between Germany and Denmark had shifted several times and caused my great-grandfather's hometown of Christiansfeld to become German.
He was born Danish, however, in 1905 he was a young man who was destined to live as a German. Forced by the last German Emperor – Kaiser Wilhelm II – never to speak a Danish word.
In many unacceptable ways, his family was truly forced to forget their Danish roots and that they ever belonged to Denmark.
A story more than one hundred years old slowly came to life and resulted in my book Eden Til Den Sidste Kejser  (The Oath to the Last Emperor.)
The article continues below.
Do you read in Danish?
You might find my novel exiting! The main characters act in a fictive universe but mostly the novel is based on careful historic research.
The story is about love, faith, and destiny, and begins in the town of Christiansfeld in southern Denmark.
The novel takes you to the end of the 19th century and leads you on a voyage back in time to the 20th century cities of Copenhagen, Paris and Berlin and all the way to the German colony of Tanzania.
As part of my research I had to visit my great-grandfathers birthplace. The first time I walked down the straight streets of Christiansfeld the expression "Less is more" by  architect Mies van der Rohe (who used the three words to describe minimalist design and architecture) came to my mind.
I remember looking for the church, which was such an important part of my great-grandfathers life, as I tried to imagine his undisturbed life behind the beautiful brick walls in the small townhouses.
With a smile on my lips, I passed the lovely church square on my way to the Moravian Brethren church. Once inside I felt my heart pounding hard as I tried to understand what my ancestor must have felt living a life in this unique place.
Never before had I laid eyes on such a calm interior – the unique single room of a Moravian church.
Strict. Harmonic. White walls and long white benches. Not your typical church Christian church – and it has no alter.
Decorated with hand-forged chandeliers from 1776. Simple and quiet with a floor covered in a thin layer of sand.
I sat quietly for a while wondering if my great-grandfather had sat at this very same white bench, and inside this awesome and simple white church, I felt that less is more was instantly true.
Christiansfeld is a carefully restored Danish cultural heritage town and was added to UNESCO's World Heritage List in 2015.
The small delightful town hides a great story, and great history too, as visitors here virtually walk into world history. Situated right next to the German border it is incredibly untouched by the passing of time – despite having its first yellow bricks laid back in 1773.