The Easter week will be warm and sunny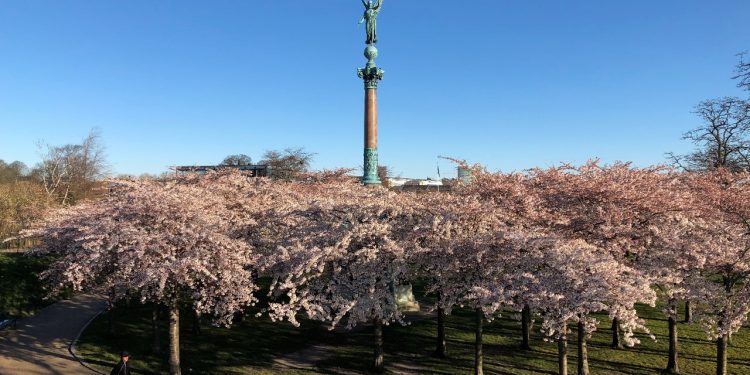 After a couple of windy days, spring warmth and sunshine will reach us starting on Sunday 5 April.
The article continues below.
By Bente D. Knudsen
In Denmark, Easter can be warm and sunny, or cold and wet, sometimes even white, often it is both within the same week!
This year, several high-pressure systems from the south-east will bring warm air from the south, with, of course, a few low-pressure systems as well with some rain and the ever-present risk of wind.
If you can, as you are here anyway, maybe taking your car or renting one for the day, explore the nature and countryside in areas that are less crowded than the bigger cities' parks and nearby coastlines.
Chose the day with most sun for your excursion, fortunately there will be several to choose from.
The seven-day forecast from DMI promises sun and warmth from Sunday 5 April to Thursday 9 April with temperatures during the day at 10 to 15 degrees C, rising to 18 degrees Celsius on Monday in the most southern parts of the country. Nights could be cold, locally with frost.
From Maundy Thursday to Easter Monday the forecast is more uncertain, a low-pressure system could bring a few showers and more clouds, with a drop in temperature, however, Easter Sunday and Easter Monday should be sunny.
In general, the first weeks of April will be up to two degrees warmer than average, with the normal amount of precipitation, April is the driest month of the year.
The article continues below.
There is still no general ban on going out with your family, or other members of your household, as long as the measures of distancing and hand hygiene are maintained.
You can also go for walk with a friend (one) while still maintaining the distance measure of 2 meters.
If you can, go somewhere less crowded, there are plenty of wonderful places with less people outside the larger cities, bring your picnic to avoid shopping in new places.
Find our tips on how to explore the Danish countryside in our article here:
Support our magazine with a contribution of any size
We hope that you enjoy the information, insights and inspiration that we provide. We are a small team and we would like to keep delivering high quality, interesting articles for you to enjoy and your support will help Your Danish Life to continue to produce relevant content for expats in Denmark.
We do not want to put up a pay-wall, so we need your support and if you find our content relevant and worthwhile, we would value any contribution, however big or small, as a token of your appreciation of our efforts.
How to support:
Transfer any contribution to our bank account at: Your Danish Life/ Danish Expat Media Aps
Danske Bank account number: 3409 11405673
IBAN: DK68 3000 0011 4056 73
or MobilePay to 2144 1224
Message: Support