The Fastelavnsbolle – a must have winter treat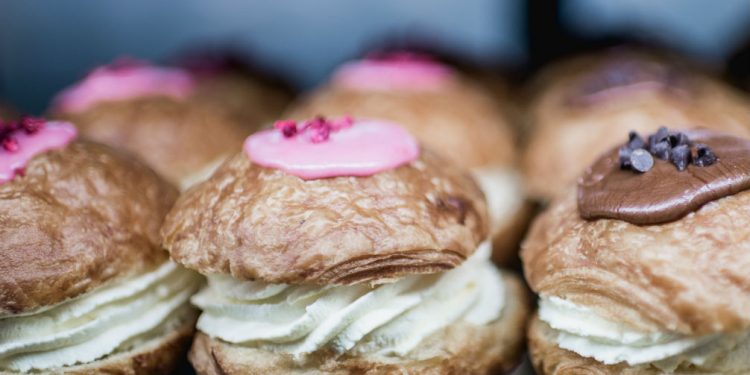 Now is the time to have a great big heavy bun of Danish pastry filled with cream or whipped cream and chocolate icing on top.
The article continues below.
By Bente D. Knudsen    Pictures: Mayra Navarrete
Traditionally you could only buy them a few weeks before the big day, Fastelavn, but in recent years, bakers have them on display already from the beginning of January.
This year, Fastelavn, the whole tradition behind the bun, takes place on 19 February, so the buns will be around for a while.
Why not indulge and treat yourself to one?
There are a few variations from the traditional whipped cream and chocolate icing – as the Fastelavnsbolle now comes with pink icing, nougat or fruit cream, and other fancy stuff.
This year the bakery chain Lagkagehuset has launched a vegan fastelavnsbun as well.
To be honest, I prefer the good old traditional one – but times change and the bakers are doing their best to follow the trends.
The article continues below.
This year, Fastelavn, the big cat bashing event, is celebrated on Sunday 19 February 2023 with may catbashing traditions going on (these days the barrel is filled with candy – no cats inside).
Fastelavn used to be a tradition mainly for adults and is linked to all the catholic traditions of lent (the 40 day period before Easter where you only eat fish).
The name actually comes from the old German name Vastelavent, which means the night before lent starts.
In modern Germany, Vastelavent has become Fasching and here it is still a big thing, with the schools' mid-term winter breaks placed in the same week and a lot of wild partying and drinking taking place.
Further south it is the carnival season, with the more famous ones taking place in Italy – amongst other in Venice.
The article continues below.
Not so in the Nordic area, here it's become mostly a children's tradition and all Danish schools uphold it with cat bashing taking place on the last school day before Fastelavn.
During the weekend of Fastelavn lot's of public places do cat bashing, typically in shopping centres and shopping malls. Some restaurants may also have it combined with Sunday brunch and cat bashing for the children.
There is no cat inside -they are only filled with oranges, mandarines and candy – that all get mashed well together and eventually fall out of the Fastelavnstønde – you will find the barrels at many DIY's and some grocery stores also have it as well as the at toystores.
Remember to get them in the right size, they come in a small size for young children and large for teenagers and adults. They are sold empty – so just fill them up with whatever you feel like.
Children used to sing the song Fastelavn er mit navn, boller vil jeg have, hvis jeg ingen boller får, så laver jeg ballade, which basically means, my name is fastelavn and I want a bun, beware of all the trouble I can make, if I don't get one.
They would dress up and walk around to their neighbours singing this, hoping to get a coin or some candy for their trouble. This tradition has faded almost completely and been taken over by Halloween.
The article continues below.
For adults the only special treat, is the bun, Fastelavnsbolle.
If you haven't tried them yet, I can certainly recommend them – maybe starting with the traditional ones just with whipped cream, flødeskum and chocolate icing on top.
Enjoy and indulge!