The King's New Square, Kongens Nytorv, is finally reopening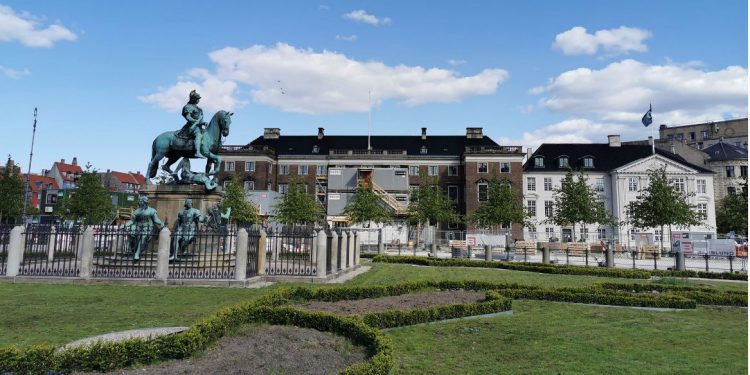 Copenhageners have been so tired of the scaffolding and fencing in of their beloved square, Kongens Nytorv, for the past seven years. Finally, they are all coming down.
By Bente D. Knudsen   Pictures: Sehrish Haq
The building of the metro line, the Cityring, has taken its toll on one of the most beloved squares in Copenhagen, Kongens Nytorv.
However, in a press release the metro company is announcing the gradual reopening of the square beginning today.
A large part of the fence will be removed, and half of the square will reopen to public access this week, the rest during the coming months as the metro company finishes the reestablishment of the famous square.
Already today the public can admire the 80 newly planted lime trees, which re-establish the famous oval ring called krinsen in Danish.
The past months more than 900,000 small square granite stones (in Danish chaussésten) have been laid as part of the work of re-establishing the oval square, which was built by King Christian 5 in the 16th century.
The Cityline itself will open in September 2019 (a date has not been set yet as the opening has been delayed by several months).
" The opening of the new metro line, the Cityring, is approaching and we are many who are looking forward to getting our city back after the many years of metro construction, not least the beautiful square Kongens Nytorv, which is a focal point daily for Copenhageners and visitors alike" says the Mayor of Copenhagen, Frank Jensen, in a press release.
When the new metro line opens, the metro station below Kongens Nytorv will be one of the three most visited stations in Denmark, and the passenger number will be more than doubled.
24,000 passengers take the metro daily at Kongens Nytorv, this will rise to an expected 90,000 by 2025.
Together with Frederiksberg Station, Kongens Nytorv will become one of the main metro stations, where the Cityring and the two existing metro lines meet.
At Kongens Nytorv the different metro lines will be connected by a tunnel to ease passenger access between the different lines.