The lamppost fight starts on Saturday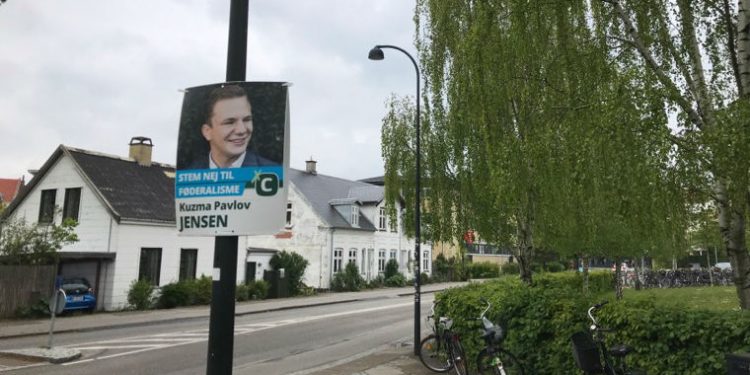 You might be surprised that with general elections announced the streets still seem bared of posters and election placards. However, that is about to end.
The article continues below.
By Bente D. Knudsen and Inger Stokkink
In Denmark the use of outdoor posters, glued onto cardboard making it possible to attach them to lampposts along the main roads, is important during election time.
The fight to get the best lamppost, namely the one making your election poster the most visible to as many local constituents as possible, will start on Saturday at exactly 12:00.
Danish election regulations only allow election posters to be hung up four Saturdays prior to the election date, the date is set at 1 November 2022.
As the general election was known to come this autumn, most parties and candidates have had theirs lying around waiting for the date to be set, and now that it has been, they have to wait patiently for Saturday to come.
At the end of this weekend you will see them hanging all over the cities and along the main roads.
The article continues below.
If you are on your bicycle, you may have to be extra careful, sometimes they do hang a bit low and stick out as you ride along. You will see the most popular lampposts hung with several different ones.
Of course, there are rules. It is forbidden to hang placards lower than 2.10 meters, or to hang them so that they cover official (traffic) signs or lights.
All parties and candidates engage in planning, including routes for where to hang theirs.
This also serves another purpose: all placards must be taken down within ten days of the elections so running the initial routes, but then in reverse, makes sense. Every placard that is still hanging after that date costs the party about DKK 500 each.
The article continues below.
According to Rune Stubager, professor of political science at Aarhus University, and a frequent commentator in Danish media, the placards do not have decisive importance for the elections themselves.
"But they do have great significance within the political parties: the highest number of personal votes is decisive for winning a seat in Folketinget. So, it's not only a competition between parties, it is to a large degree a competition within parties as well."
Support our magazine with a contribution of any size
We hope that you enjoy the information, insights and inspiration that we provide. We are a small team and we would like to keep delivering high quality, interesting articles for you to enjoy and your support will help Your Danish Life to continue to produce relevant content for expats in Denmark.
We do not want to put up a pay-wall, so we need your support and if you find our content relevant and worthwhile, we would value any contribution, however big or small, as a token of your appreciation of our efforts.
How to support:
Transfer any contribution to our bank account at: Your Danish Life/ Danish Expat Media Aps
Danske Bank Account number: 3409 11405673
IBAN: DK68 3000 0011 4056 73
or MobilePay to 2144 1224
Message: Support