This August last chance to visit the little hunting lodge this summer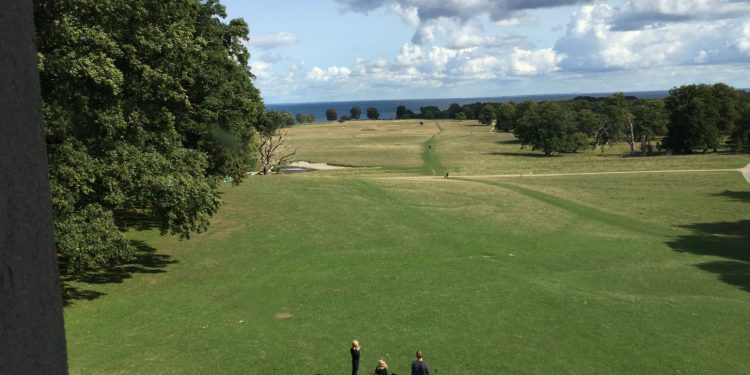 A special treat is a guided tour of the beautiful royal hunting lodge, The Hermitage, in Dyrehaven. Guided tours are available until the end of August.
By Bente D. Knudsen  Pictures: Slots og Kulturstyrelsen/Roberto Fortuna (picture of castle), Private
"There is no electricity and heating – so it just gets too dark for tours the rest of the year we find," says an employee at Slots og Kulturstyrelsen – the public institute responsible for the castles.
The hermitage – the royal hunting lodge was originally built in 1736 for King Christian VI by the architect Laurids de Thurah. The name is derived from the French, en hermitage, meaning 'in solitude'.
A special feature in the castle is a table that can be elevated from the floor below, up to the dining room, enabling King and guests to eat without servants eavesdropping.
At the Hermitage, the King could take a break when hunting in Dyrehaven, the deer park, and entertain his hunting guests with banquets.
The view is quite spectacular on good days, as you can enjoy Øresund, almost seeing the banks of Sweden across the water, and, for King Christian VI, of course, allowing him to follow the hunt.
The Hermitage, known in Danish as Eremitageslottet, is still used by Denmark's Royal Family for hunting lunches and other special occasions, for instance during the early Hubertus Jagt (hunt) on the first Sunday of November.
The inside of the Hermitage underwent a full renovation a few years ago. This summer it is the outside which is being renovated, however, seeing the inside is still worth the visit we find.
Tickets for the guided tours can be difficult to get on some dates during the school holiday but it is a small gem to visit.
The guided tours will take place until end August 2022, on Wednesday, Saturdays and Sundays – ONLY with a reservation and prepaid ticket purchased from the online shop. The tours are at 11:00, 12:00, 13:00 and 14:00.
So don't show up at the Eremitageslot without a ticket and hope to join the guided tour!
More information and tickets only at www.eremitageslottet.dk
Support our magazine with a contribution of any size
We hope that you enjoy the information, insights and inspiration that we provide. We are a small team and we would like to keep delivering high quality, interesting articles for you to enjoy and your support will help Your Danish Life to continue to produce relevant content for expats in Denmark.
We do not want to put up a pay-wall, so we need your support and if you find our content relevant and worthwhile, we would value any contribution, however big or small, as a token of your appreciation of our efforts.
How to support:
Transfer any contribution to our bank account at: Your Danish Life/ Danish Expat Media Aps
Danske Bank Account number: 3409 11405673
IBAN: DK68 3000 0011 4056 73
or MobilePay to 2144 1224
Message: Support