The Woman in Black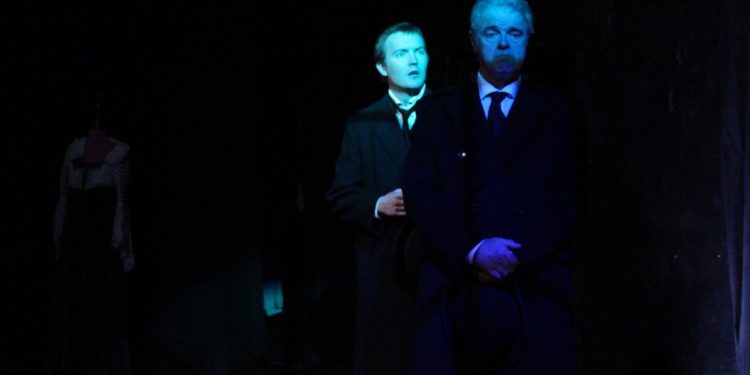 Get in the mood for Halloween with this spooky performance
The article continues below.
By Louise Chamberlain    Pictures: Alex Jespersen
That Theatre Company's production of "The Woman in Black" premiered on the Krudttønden stage in Copenhagen last night. The atmospheric and spine-chilling show had the audience on the edge of their seats.
Stephen Mallatratt's stage adaptation of Susan Hill's ghost story uses meta-theatre, a play within a play, to tell the chilling tale of Arthur Kipps.
Haunted by his dreadful encounter with the woman in black (Christina Hildebrandt), Arthur Kipps (Ian Burns) enlists the help of a young actor (Benjamin Stender) to tell his dreadful story until play and life become terrifyingly interwoven.
Family solicitor, Arthur Kipps, is sent to a remote village to put the affairs of the recently deceased Alice Drablow in order. The villagers are reluctant to talk about Alice, and Kipps can find no one to help him carry out the work at her former home, Eel Marsh House. It quickly becomes apparent that the villagers are hiding a terrifying secret.
The article continues below.
The house is located on Eel Marsh Island, only accessible via a causeway which floods at high tide, rendering it inaccessible from the mainland. Kipps discovers that his late client's house is haunted by the malevolent spirit of a woman and his encounter with her haunts him for years to come.
A simple set and effective use of lighting and sound effects, combined with top class acting from the small cast, made for a compelling, atmospheric experience. The small size of the Krudttønden theatre means that the audience is very close to the stage and the production uses this to its advantage.
The spine-chilling production runs from 24th October until 24th November and a limited number of tickets are still available from www. teaterbilletter.dk.