Time to EAT OUT – try one of the great organic restaurants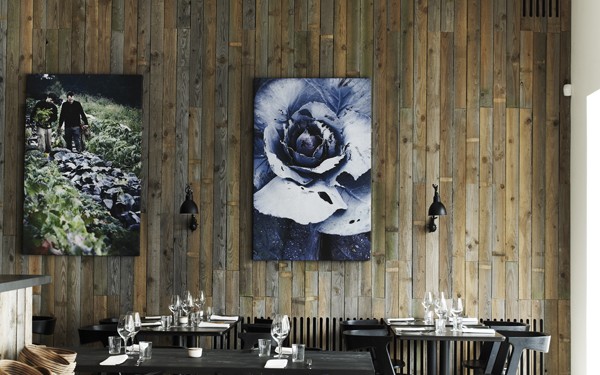 As Danes consume more organic and locally produced food at home they also want to do so when they go out. Take advantage of the presence of organic eateries in the largest cities, especially Copenhagen.
BY ADRIANA ALCINA    Pictures:PR
The article continues below.
When it comes to purchasing organic products, Denmark tops the list.
Danes consume more organic produce per capita than any other country, and the government strongly supports organic production. In addition, organic food exports have been steadily increasing over the last decade.
The country's demand for locally grown, pesticide-free products is on the rise, as the figures from Statistics Denmark show. The latest figures (from 2016) show that the total organic revenue in Denmark accounted for DKK 2 billion,up 21 percent compared to 2015 and equivalent to 9.6 percent of the total food sales; the highest national market share in the world.
Not only do organic food lovers in Denmark have wide access to a whole range of different products in the main Danish retail food chains, they can also eat at one of the growing number of organic restaurants that can be found all over the country.
Indeed, during recent years, Denmark has prided itself of being a culinary heaven for foodies looking for local and seasonal organic produce, and the internationally awarded New Nordic cuisine, seems to have strengthened this trend.
The article continues below.
Trendy ecological restaurants in Copenhagen
Copenhagen is full of excellent organic eateries suitable for any budget, such as the reasonably priced and informal Radio restaurant. Located close to Forum Copenhagen, it features an inspiring and creative cuisine based on fully organic, seasonal ingredients.
A year before opening the restaurant, its owners decided to hire two gardeners to plant two hectares of vegetables in fields just outside of the Danish capital in order to grow their own crops. Today, they have more than 80 crops, from which they pick all the vegetables used in their kitchen.
Also, the fast food industry does not lag far behind in incorporating organic products either. Denmark's most popular street food, the classic hot dog, also has its organic version in the hot dog stand DØP, sold in two central locations in the heart of Copenhagen.
The article continues below.
The meatpacking district is also home to what is perhaps the capital's most celebrated and largest organic restaurant, BioMio.
This hip eatery successfully combines simple, tasty, and unpretentious ecological ingredients with affordable prices, all wrapped up in a vibrant and laid-back atmosphere. It can get very busy, so if you prefer a rather intimate alternative, stop for a meal at the nearby Nose2Tail restaurant.
Its name comes from the concept of using every single part of the animal, from the nose to the tail. The kitchen only uses Danish products and their dishes are plentiful and yummy. Besides offering fresh, ecological meat and fish dishes, its comprehensive menu also includes snacks and smaller courses.
A sensational organic venue that many locals consider to be the best in Copenhagen is Geranium, who in 2016 got its third Michelin-star and kept it in the 2017 Michelin Nordic Guide. The restaurant offers an exquisite introduction to the best of New Nordic cuisine and is certain to  delight all your senses.
For a more casual dining experience, book a table at Relae in Nørrebro. This elegant and minimalist restaurant is known for serving delicious organic food. The attentive staff and imaginative dishes come at a price, but it will leave you with an unforgettable epicurean experience.
The article continues below.
A healthier choice?
Why are Danes so fond of eating organic food? Maintaining a healthier lifestyle and enjoying a more "authentic", natural taste are among the primary reasons.
However, support for sensible animal welfare practices, and a more environmentally friendly production chain, have also contributed to the popularity of such food produce in Denmark.
In addition, consumers tend to associate eating Danish organic produce with higher quality, innovation, and reliability, which helps justify their higher prices.
Many organic food consumers often attribute healthier properties to these types of products.
However, there is still debate on this matter, as no long-term scientific studies have shown clear health benefits from following a broad organic diet.
Did you know?
The first products to be labelled as organic in the Danish retail sector were carrots, and this was in 1982.
When in 1987 the Danish Parliament passed new legislation regarding organic farming, it was the first parliament in the world to do so. The government was also a pioneer in introducing state inspections of the organic production chain.
The well-known Danish state-owned organic inspection red label, Ø, was launched in 1989.
In 2013, worldwide organic food consumption amounted to USD 72 billion, a 12 per cent increase from 2012.
Currently, five percent of the food served in Danish hotels, restaurants and canteens is organic.
The article continues below.
Restaurant Guide
Copenhagen
Radio restaurant, Julius Thomsens Gade 12, Copenhagen Phone: 2510 2733
DØP stands, at Helligåndskirke on Strøget and at Købmagergade at Rundetårn, Copenhagen Phone: 3020 4025
Relae restaurant, ‪Jaegersborggade 41, Copenhagen ‬‬‬‬‬‬‬‬‬Phone: 3696 6609
Geranium restaurant, Per Henrik Lings Allé 4, 8th floor, Copenhagen Phone: 6996 0020
BioMio restaurant, Halmtorvet 19, Copenhagen Phone: 3331 2000
Nose2Tail restaurant, Flæsketorvet 13, Copenhagen Phone: 3393 5045
Jutland/Aarhus
The Nordisk Spisehus, M.P. Bruunsgade 31, Aarhus Phone: 8617 7099
Café Gaya, Vestergade 43, Aarhus Phone: 8618 1415
Gyngen Restaurant, Mejlgade 53, Aarhus Phone: 8619 2255
Café Mo Fro, Borggade 16, Aarhus Phone: 8613 1636
Lindholm Hoje Café, Vendilavej 11, Noerresundby Phone: 9819 1425