TIPS & TRIPS: Our selection of things to do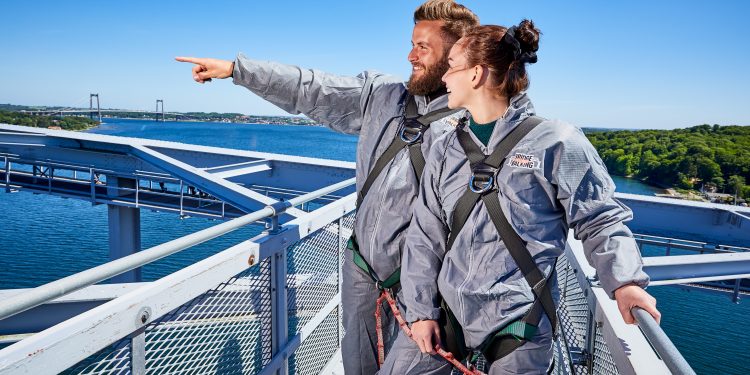 Find here a few tips for nice things to do around Denmark this season.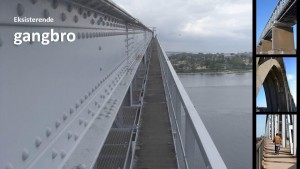 1.Bridgewalking Lillebælt – Fredericia 
Did you ever walk on a bridge – not among cars and people, but up there where the pylons and arches are? Bridgewalking Lillebælt leads you over the old Lillebælt Bridge, under supervision of a trained guide (English and German avilable) and with all the necessary precautions to prevent you from coming to harm. Enjoy the height, the sea, the ships- even the slight shuddering of the bridge when a train passes…
Tickets: children under 16 (but over 1.40 m in height!) DKK 215,  adults DKK 300. Booking in advance is recommended !
Crown Princess Mary opened this site officially three years ago – you can watch her crossing the bridge on a windy day here:
Crown Princess Mary at the top of the Lillebælt bridge Basically she says it is really worthwhile, the views are spectacular even if it's really windy up there.
More info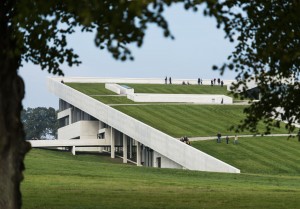 2.Moesgaard Museum (MOMU) – Aarhus
You'll find everything you ever wanted to know about Danes during the Stone Age, and of course when they became Vikings at the Moesgaard Museum in Aarhus – and then some!
The museum and its research centre moved into amazing new buildings  four years ago and here you can easily spend the day both inside and out – the roof of the  museum is a giant terrace, offering a magnificent view. Don't forget to walk around the grounds of the museum towards the beach!
Tickets:  Children under 18 free. For adults DKK 140.
More info: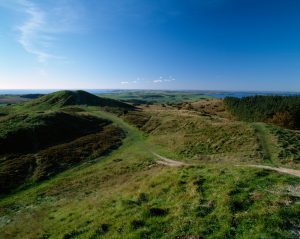 Mols "Mountains" Picture:Bert Wiklund/visitdenmark
3.Mols Bjerge – Djursland
Take the ferry from Sjællands Odde to Ebeltoft (book cheap tickets in advance) and stroll around the picturesque market town of Ebeltoft.
If you prefer more serious hiking, go to Mols Bjerge National Park and explore the typically hilly landscape, formed during the last ice age.
Remember to pick up or download a map beforehand, no GPS signal from your smart phone here.
Tickets:  www.mols-linien.dk in Danish. Book your tickets in English or German by phone: 70 10 14 18, and press 1
More info on Mols Bjerge: www. nationalparkmolsbjerge.dk
More info on Ebeltoft: www.visitdjursland.com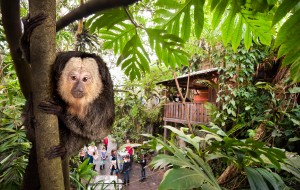 4.Randers Regnskov
Rub noses with an aardvark. Or perhaps a python!
A wide range of exotic animals inhabit a complex of domed rain-forest environments from Africa, Asia and South America, where you walk among the plants and animals. Think botanical garden, but more wild… If this is too wild for you though, relax with rabbits and miniature pigs in the petting zoo.
Tickets:  Adults DKK 190, children 3-11 years DKK 110.
More info
The article continues below.
]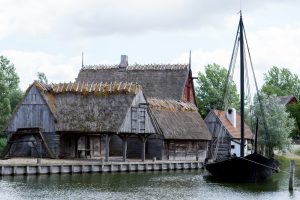 Picture: Old village at the Middle Ages centre
5.Middelaldermuseet
This medieval centre takes you back to tournaments and trades of the Middle Ages.
A more hands-on approach to the middle ages seems impossible, especially in the technology park where incredible copies of medieval machines and tools invite the visitors to  try.
Ask the resident 'middle agers' for help if you are puzzled.
Open from May 2019 until the autumn.  Tickets: Adults DKK 140, children from 3 to 11 years DKK  90; check family tickets
More info: Beware of the trebuchets, also because you have to pay extra for shooting them! More info.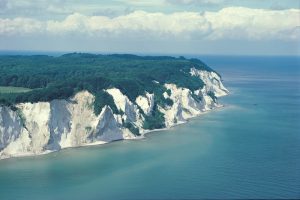 Møns Klint Picture: Dieter Betz/Visitdenmark
6.Geo Center Møns Klint
Did you know that the whole of Denmark rests on a platform of chalk?
At Møns Klint, the chalk surfaces. Fossils, shells and dinosaurs share their secrets with you in the museum, that was built into the rocks.
And if you need to fire off some extra energy, go climbing, mountain biking or fossil hunting with a little help from the museum personnel.
Open from April 2019 until the autumn. Tickets: Adults DKK 140, children from 3 to 11 years DKK 95.
More info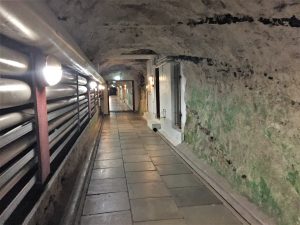 7.Stevns Cold War Museum – Rødvig
History is present in this secret fort, built into the rocks.
It was the outer most line of defence for Denmark and NATO, all day long and for fourty long years, prepared for immediate war. Now It is a giant underground museum, showing a state of the art military setup from the cold war.
Be prepared for long walks and bring an extra sweater – it's cold down there!
Tours are in Danish, with English and German audio guides available. There is also an app.
Tickets: Adults DKK 120, children from 5 to 17 years DKK 70.
By Inger Stokkink       Pictures:PR from the museums and VisitDenmark
Other ideas for things to do
Check out the Danish Open Air Museums – a must on a sunny summer day. Find our guide to them
here
.