'Tis The Season To Be Jolly! New Christmas market opens 20 November

The smell of honey roasted almonds with sea salt, fresh crepes with a multitude of topping options and hot chocolate with whipped cream on top: your sense of smell hits all the right spots in your brain, triggering a "God this is cosy" reaction.
Coupled with the sounds of a busy market place, lit up with colourful lights and décor of the season, we find ourselves transported back to the yesteryears Christmas market. That's exactly the theme behind Kongens Nytorv's Julemarked this year!
By Sanobar Elahi
Surrounded by the statue of King Christian V, the palace of Charlottenborg (built 1672-83), Thott's Palace, home to the French Embassy (1683) and the Royal Theatre (1870s), the cobbled streets of Kongens Nytorv make for an ideal place to hold a traditional Christmas Market.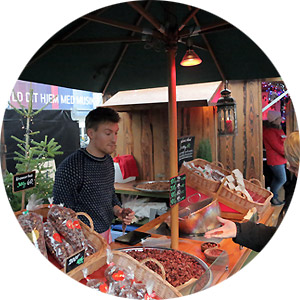 The stalls sell seasonal décor (especially hand-made goodies) and edibles like apple punch with aniseed, orange and cloves, or if you are feeling extra cold, glühwein, THE Christmas drink of Lübeck and Hamburg.
Cafes, restaurants and other eateries lining the square, offer an international taste of world goods. Eat what you want. The choices are endless.
Pay extra attention to the beautifully decorated buildings that are Magasin and Hotel D'Angleterre. They tell a Christmas story by way of puppets and toys – the entire building rooftops covered by Christmas décor. Simply a sight not to miss – visually sets the tone of the market place! Check them out whilst you search for gifts in the many shops located in the square.
Open daily from 20 November until 22 December.