Too much chocolate for Easter? Solution ready: join the Color Run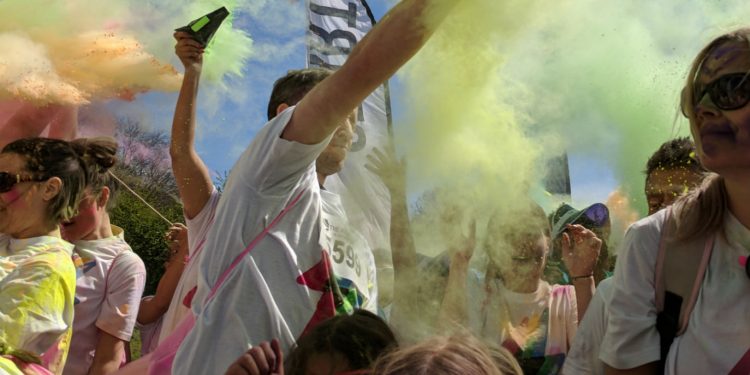 Have you overdosed on chocolate this month? Fear not, we have the best solution for you and your family and friends.
The article continues below.
By Sehrish Haq
The Color Run is around the corner.
On 4th of May children and adults alike are heading towards Valby Parken for the most fabulous, most colourful and most fun 5 km run of the year. Come and join us!
There is only one rule for Color Run: come dressed all in white.
Top Tips:
1) Take a before and after photo.
2) Put your phone in a clear zip lock bag.
3) Sun glasses or protective glasses for children and yourself, the colour is safe for eyes, it is a concoction of talcum powder and cornflour. Safe but, annoying.
4) Running shoes
You can thank us later.
The article continues below.
This exciting run is suitable for all ages, from babies in pushchairs to grown-ups. You can either call it a fun family run and run at your child's pace, walk, run stop, take a photo, repeat or channel your inner Bolt and dash to the Finish Line in a couple of minutes.
There will also be a chance to accessorize your outfit by buying the official Color Run merchandise (tutus, headbands, socks, hair and face paint etc) sold on the day, or when collecting the tickets, which can be done a few days before the run.
We would recommend getting the tickets and merchandise early as the queues can get a bit long on the day of the run. But, do not worry if you cannot pick them up before, they will be waiting for you at the merchandise marquee on the day of the race. No one has ever missed the race whilst queuing. Remember, Bolt.
Some practical information:
There are toilets and food stalls available There are also places to park, but it's a lot easier to take a bike, bus or train, if you can avoid driving.
Tickets are now on sale, so get yours now. For more information visit the website
Happy Running!