Traffic chaos on the Østebro/Nordhavn access due to closure of Strandøre for two months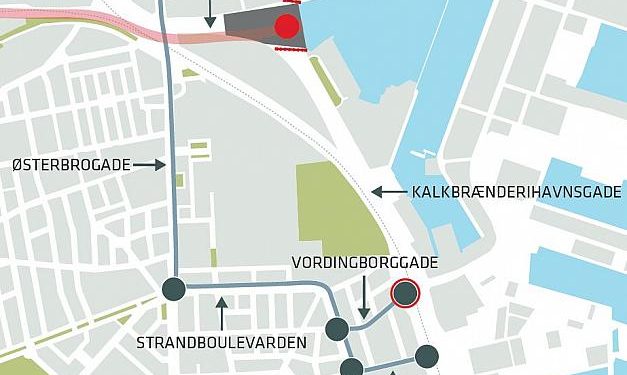 The first two days of the total closure of the access route down to Nordhavn has created total chaos for cars, lorries, busses and trucks, who are all forced to take alternative routes to their Nordhavn destination.
By Bente D. Knudsen
Although the signs had been there for a while, warning of the total closure of Strandvænget (also known as Ring 2) on outer Østerbro due to the last stage of the building of the Nordhavn Tunnel, many did not really discover the problem until they were sitting in it.
According to Copenhagen City officials, this is quite normal, even for daily commuters as they rarely notice warning signs until the problem arises and they sit in the queue.
The chaos should become less over the next days as commuters find alternative routes and get used to the closure so officials claim.
The article continues below.
"The first days of a closure are always worst, as many are surprised that they cannot take their regular route. But our experience shows that the pressure loosens after a few days as alternative routes are found," Steffen Rasmussen, centerchef in Copenhagen City's Teknik- og Miljøforvaltning said to TV2 Lorry.
The central problem, the road called Strandvænget and an important access route along the Ring 2 to Nordhavn and Copenhagen City, is closed for all traffic until the 19 November 2017.
All traffic means those on four wheels – cyclists and pedestrians can still pass.
Instead commuters are encouraged to take Østerbrogade until Strandboulevarden or Aarhusgade and access the Nordhaven area that way.
Aarhusgade had been closed off, but has been temporarily opened again the next eight weeks.
The article continues below.
It is the last stage of the new Nordhavn Tunnel that is being finished, after which the thousands of cars passing daily on Ring 2 will be able to take the new Nordhavn Tunnel from Lyngbyvej.
First Strandvænget reopens – now passing above the tunnel – and a couple of weeks later Strandpromenaden, which has been closed for several years, will also reopen.
Copenhagen City officials have promised to improve the three traffic lights along the route to ensure a better passage of them notably on Østerbrogade passing onto Strandboulevarden.
So the next eight weeks, patience, and alternative routes are needed.
The article continues below with a map and video of the new Nordhavn Tunnel Road.
Follow this link to see what the new Nordhavns Tunnel road will look like
http://video.kk.dk/video/10738519/prov-en-koretur-pa-nordhavnsvej
– take note that the very last section of the video does not show the correct version of the end and access from the tunnel to Strandvænget/Strandpromenaden as this part has been changed due to the prolongation agreed of the Nordhavn Tunnel itself