Visit the beautiful museum at Ordrupgaard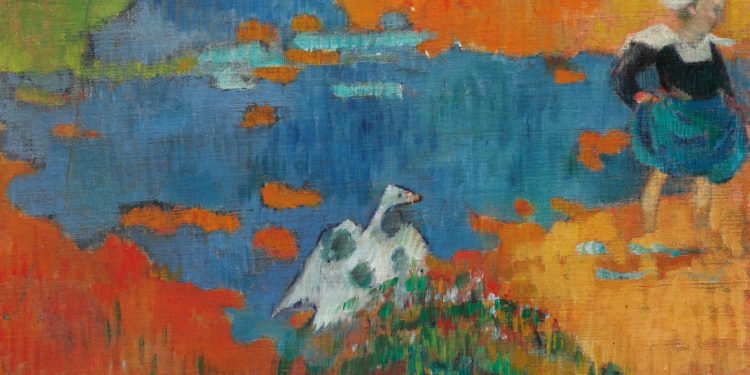 With its large network, particularly within the world of French Impressionism, the museum's speciality, Ordrupgaard Museum is able to attract many great pieces from museums and collectors across the world. This spring, a special exhibition focuses on Gaugin and his friends.
The article continues below.
By Bente D. Knudsen  Pictures: Ordrupgaard Museum, Private
The museum  lies in a  large mansion surrounded by an old park, or at least what is left of it, as the mansion has been extended a couple of times to enable more expositions, both of the museum's permanent collection but also to make more room for the special exhibitions for which the museum is quite famous.
The permanent collection features artists such as Monet, Renoir, and Gauguin. The museum also has a significant collection of Danish art concentrating on Hammershøi and his contemporaries.
In the park, you can enjoy works by international contemporary artists and visit Danish architect Finn Juhl's world-famous house completely styled and furnished with his famous Danish design pieces.
The article continues below.
The museum has been closed for several years not only because of corona restrictions but because of the building of an extension; the new underground wings by architects Zaha Hadid and Snøhetta. Inside them they look just like any modern museum and the fact that they are underground is not visible at all, the new wing has been built with the support of two of Denmark's large corporately funded foundations and emphasizes the museum's focus on architecture as well as art.
This spring the special exhibition focuses on Paul Gaugin, the French post-Impressionist artist who played a prominent role in the Symbolist movement of the early 1900s, and the group of young artists who together with him manifested a new symbolist painting style near the end of the nineteenth century, hence the name of the exhibition "Gaugin and his friends".
The article continues below.
Many will be familiar with the image of Gauguin as an uncompromising artistic genius who sought out the faraway shores of Tahiti to escape the constricting ties that bourgeois outlooks and family life imposed on his art.
Fewer will know that the freedom-seeking artist also sought out small villages like Pont-Aven and Le Pouldu in Brittany in north-western France for inspiration. Here, amongst the Catholic rural population, he found a rustic way of life and deep faith that held a great and exotic appeal for him and which he translated into a new style of painting. A new symbolist kind of art that looked inward rather than outward, and which was preoccupied with dreams and the imagination rather than with reality.
The paintings are all full of strong colours, exaggerated body proportions and stark contrasts, which was the way Gaugin distinguished himself from his contemporaries and helped pave the way for primitive art.
The article continues below.
In addition to several of Gauguin's epoch-making pictures, the exhibition present's a large number of works by the artists who, in a literal and artistic sense, travelled in his footsteps. They include figures such as Émile Bernard, Paul Sérusier, Meijer de Haan, Charles Filiger and Jens Ferdinand Willumsen. All of them became part of the circle around Gauguin in Brittany. Also featured are very young artists of the generation such as Maurice Denis, Jan Verkade and Mogens Ballin, who saw themselves as prophets of a new art – 'Les Nabis', as they liked to call themselves, and were inspired by Gauguin.
The special exhibition has several beautiful paintings by Paul Serusier, who visited the artist colony in Pont-Aven when he was a young student, here he was inspired by Paul Gauguin and Émile Bernard, and here he painted Breton villagers and landscapes. It was the theories of the Symbolists that inspired Serusier to produce his pioneering work The Talisman in 1888; the subject of the painting is a landscape with trees, it was executed in a way which reduced forms and space into patches of flat colour.
The article continues below.
The exhibition presents just under one hundred works, half of which have been loaned from private art collections, as well as works from museums such as the Metropolitan Museum of Art, New York, the National Gallery of Prague, Musée d'Orsay, Paris, Musées Royaux des Beaux-Arts de Belgique, Brussels, and the Rijksmuseum, Amsterdam.
The special exhibtion "Gaugin and his friends" runs  until 1 May 2022.
The museum is extremely popular, we visited on a Tuesday around 14:00, which proved a good time to come as many seemed to have headed for being there at the time of opening. Otherwise on weekdays going late on a Wednesday night could be a good plan as well.
Opening hours: Tuesday, Thursday, and Friday 13:00 to 17:00, Wednesday 13:00 to 21:00, Saturday and Sunday 11:00 to 17:00
Finn Juhl's house only weekends 11:00 – 17:00
Location:
Ordrupgaard
Vilvordevej 110
2920 Charlottenlund
Support our magazine with a contribution of any size
We hope that you enjoy the information, insights and inspiration that we provide. We are a small team and we would like to keep delivering high quality, interesting articles for you to enjoy and your support will help Your Danish Life to continue to produce relevant content for expats in Denmark.
We do not want to put up a pay-wall, so we need your support and if you find our content relevant and worthwhile, we would value any contribution, however big or small, as a token of your appreciation of our efforts.
How to support:
Transfer any contribution to our bank account at: Your Danish Life/ Danish Expat Media Aps
Danske Bank Account number: 3409 11405673
IBAN: DK68 3000 0011 4056 73
or MobilePay to 2144 1224
Message: Support