Visit the delightful town of Dragør right at the tip of Amager, founded by Dutch immigrants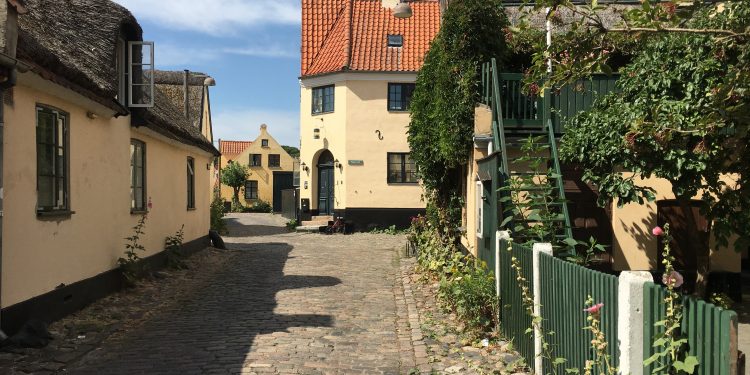 It was my first day-trip here in Denmark, since Dragør is easily accessible from the capital, located only 12 km from Copenhagen, on the coast of Amager (the island with the airport right next to Copenhagen). You can go by car, bus, or even bike if you are fit enough, to reach the lovely village.
The article continues below.
By Evmorfia Tsakiri   Pictures. Niels Henrik Lindegaard
If you have not been there yet, it is really worth an excursion while the weather is still fairly decent, as most of the sights to see are outdoors.
The village is actually one of the best-preserved villages in Denmark with 76 houses listed as historical heritage sites and you will enjoy strolling through the unique, impressive beauty of Dragør by walking through the lovely cobblestone paved streets and small cobblestone paths to admire them all.
Dragør was founded by Dutch settlers in the 12th century and rapidly became one of the most important fishing ports at the time, especially for herring.
The old picturesque harbour, which was, in the past, the second – biggest one around Denmark, constitutes a highly recommended starting point for your trip.
The article continues below.
You will be mesmerised by the historical buildings, exuding the good old times and importance of the harbour in the olden days, and of course, you must visit Dragør museum.
At Dragør museum, located in a beautiful old house from 1753, you will have the opportunity to look inside the historic captains' houses and go on board the fishing vessels, making you fully understand the special history of the small village.
The admission price is 40DKK and free for children. For more information, visit www.museumamager.dk.
Dragør offers alluring shops and restaurants, where you can relax and enjoy your coffee/meal before leaving this great little village.
Support our magazine with a contribution of any size
We hope that you enjoy the information, insights and inspiration that we provide. We are a small team and we would like to keep delivering high quality, interesting articles for you to enjoy and your support will help Your Danish Life to continue to produce relevant content for expats in Denmark.
We do not want to put up a pay-wall, so we need your support and if you find our content relevant and worthwhile, we would value any contribution, however big or small, as a token of your appreciation of our efforts.
How to support:
Transfer any contribution to our bank account at: Your Danish Life/ Danish Expat Media Aps
Danske Bank Account number: 3409 11405673
IBAN: DK68 3000 0011 4056 73
or MobilePay to 2144 1224
Message: Support