Winter weather warning for large parts of southern Denmark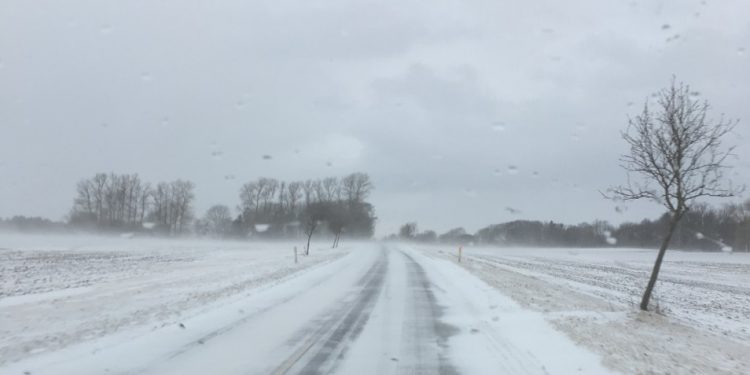 Starting tonight a great deal of white will drop over Bornholm, Møn, Lolland Falster and Southern Zealand, more than 30 cm of snow could fall, DMI says in their latest forecast.
The article continues below.
By Bente D. Knudsen
A regular snowstorm is awaited over the eastern and southern parts of Denmark as a high-pressure system north of Denmark enables cold air to reach the country from the north east, at times with snow.
At the same time a low-pressure system over the central part of Germany moves slowly east/northeast and a large system with a great deal of snow moves north, part of this weather system is expected to reach Denmark Monday night and remain over Denmark for a couple of days.
How far north it will go, so whether it will move all the way up to Copenhagen and North Zealand is not quite certain, therefore at present the weather warning is for the area south of the capital.
The article continues below.
With a strong wind blowing at the same time, DMI warns that locally snowdrifts may hamper driving and form along roads locally. Also due to the wind, snow will be blown around reducing visibility. With snow on the road, it will also become icy.
Temperatures will remain below 0 degrees Celsius with between minus 1 to minus 4 during the day and down to minus 8 at night.
At the same time there will be strong winds from the north-east, along the coats with gusts of wind of gale strength.
The amounts of snow to reach the country will vary a great deal. The weather will remain cold at least until the beginning of the school winter holiday in week 7.
Take care and drive safely.
Support our magazine with a contribution of any size
We hope that you enjoy the information, insights and inspiration that we provide. We are a small team and we would like to keep delivering high quality, interesting articles for you to enjoy and your support will help Your Danish Life to continue to produce relevant content for expats in Denmark.
We do not want to put up a pay-wall, so we need your support and if you find our content relevant and worthwhile, we would value any contribution, however big or small, as a token of your appreciation of our efforts.
How to support:
Transfer any contribution to our bank account at: Your Danish Life/ Danish Expat Media Aps
Danske Bank Account number: 3409 11405673
IBAN: DK68 3000 0011 4056 73
or MobilePay to 2144 1224
Message: Support