"You cannot define Danish Fashion based on what you see people wearing"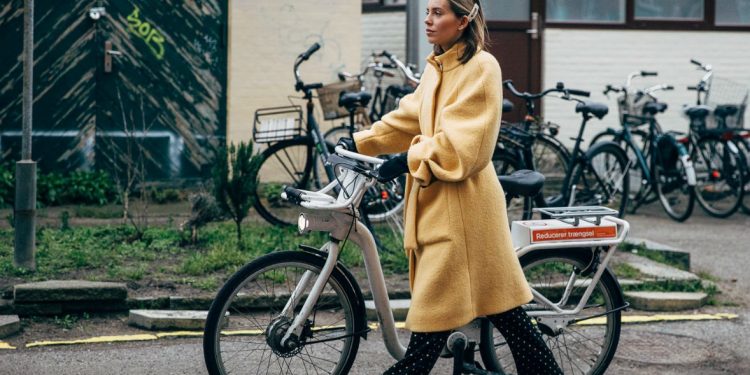 Interview with Denmark's own version of Anna Wintour (the notable Vogue editor), fashion editor and former model, Lotte Freddie, also known as Denmark's fashion Queen par excellence.
The article continues below.
By Bente D. Knudsen Pictures: Sif Meinert and PR
A remarkable lady of 80 something, she believes that there is no such thing as having a bad fashion day. Every day efforts should be made to dress, and to really select the day's outfit, rather than just putting on what is warmest or suits the tasks of the day best. And she fully lives up to her own words.
Meeting her for an interview at a cafe in the centre of Copenhagen, Lotte has managed to fit in time for Your Danish Life in between her amazingly busy schedule.
She still writes for fashion magazines such as Elle, and covers the Danish fashion fairs for the Copenhagen Fashion Fair newspaper, The Daily.
Lotte Freddie is probably one of the best-known women in Denmark, both within and outside of the fashion industry, both for her outfits and style, but also for being a full time fashion reporter and true fashionista.
She was a model in the 60s and 70s, and later became a journalist covering fashion in Danish newspapers such as Berlingske and Børsen. Even at 82, she is not the kind of woman, who blends in with the crowd.
Dressed in an eye-catching wine red fur coat, matching long sleeved T-shirt with applications, and a wine red full-bodied skirt, she is certainly dressed to impress.
Or to be seen as she points out.
"I don't mind being noticed in the crowd," she says. "Danish Queen Margrethe and the British Queen are great at selecting colourful clothes that stand out – and they are easily recognized even from a distance," she continues, to emphasize her point.
The article continues below.
So what characterizes Danish Fashion compared to the rest of Europe?
One of the long established designers in Danish Fashion, Mads Nørgaard said it very well I think.
He said, "Danish Fashion is very democratic and accessible for all", which is true. However, I find that there is a huge difference between what exists, in other words the fashion brands available, and what Danes wear.
You cannot define Danish Fashion based on what you see people wearing. In my opinion, Danes are not good at dressing (up), their dress sense is, on the whole, quite boring, using a lot of beige, and in general, very colourless items.
And that doesn't have to be because of what Danish Fashion presents. The industry aims to be as international as possible, because you cannot make a business based on what you can sell in Denmark. Therefore, the best Danish brands are international and are actually really good.
In my opinion, many of the designer brands (Editor's note: high-end brands) are actually a lot more affordable compared to their international counterparts. For instance, the high-end brand By Malene Birger is sold in London at Harvey Nichols in their design department and at much lower prices compared to their other design brands in the same category.
Of course, fashion depends on your perspective, but I think that expats in Denmark will probably be more daring in regards to colour, patterns and design, compared to Danes. It is getting better, but only slowly. Danes, in general, are not good at trying something too wild and are rather laid back in style.
In addition, Danes wear a lot of black, beige and grey, and I find that a pity. That is not the purpose of fashion. Fashion enables you to stand out in a crowd, to show your personality and your individuality.
Since Danes are not very brave in terms of fashion, the retail purchasers tend to buy items from the new collections that look like the ones that sold best in the last collection – making it sometimes difficult to findother colours than the mentioned beige, black and grey.
However, I hope that expats don't adapt to the Danish style, and instead continue to be more daring, and will look for the Danish designers, who do dare.
The article continues below.
Why are Danes so colourless and "cowardly" in terms of fashion?
I think it is because of the Danish mentality – due to the famous Jantelov, which determines that you should not think you are superior and stick out from the crowd and be different.
In terms of fashion, Danes don't dare anything and certainly don't want to stand out and look different, they want to look like everyone else.
It is part of the Danish culture, and I think it is awful and very destructive.
I think expats should learn to ignore this – as Danes should. I mean, if you go to a dinner party, where the men are in suits or black tie, you will find that most of the women wear a black dress.
I do not mind black, it is actually very beautiful, but if everyone is in black, it looks more like a funeral party than a dinner party.
The article continues below.
In Denmark you won't find Danish brands equivalent to Valentino, Dior and Prada
No, you won't find Danish brands in that luxury league, but we do have excellent luxury couturiers, who for instance dress the Crown Princess Mary.
However, you can find many good high-end and well-designed brands. Danish fashion is more about everyday wear.
There are many possibilities to buy nicely designed and fashionable clothes here, both because of the Danish brands but also the foreign ones – and of combining more expensive items, with more affordable ones from Zara or H&M.
The trick is to look for the smaller shops, and to go to more than one shop. Of course, it takes more time than if you could find what you need in one place.
If you look at the window displays, then all you see is beige and grey. You need to go into the stores and look for the more daring and colourful items, the shops are not good at displaying these items.
I always like to combine some of the high-end brands, or even luxury brands, with items from for instance H&M, who by the way are great with their special Designers' Collection.
But you have to be there when they put these items out for sale – also items often come back again- the most special and different items from their Designers' Collection are sometimes returned and you can find them again later. You have to go to the big H&M stores such as the one opposite Helligåndskirken on Strøget.
The article continues below.
With all the new foreign luxury brands around, certainly in Copenhagen, will it change?
When I started in the fashion industry in the 1950's, readymade fashion in Denmark was only starting to be interesting. Until then, the well-to-do and the middle class people had their clothes made by tailors.
Also the modelling industry – where I started – was perceived as something suspect and not something to be interested in.
All of this has changed, which is certainly due to successful Danish fashion group's such as Bestseller, and to the whole textile industry's position as the fourth most important export industry in Denmark.
The foreign luxury brands are not accessible for everyone, however they will have an impact over time, and people will get used to clothes that are more colourful. I find it (Editor's note: the choice and selection) is getting better .
Over the last three years, I have noticed that Danish designers are bringing more prints, colours and patterns into their collections, and they do try to push the consumers a bit.
It is up to the shops to help push their consumers to try something new. Even the men are more daring these days with yellow and red jeans, or pink sweaters.