Royal Christmas at Marselisborg Castle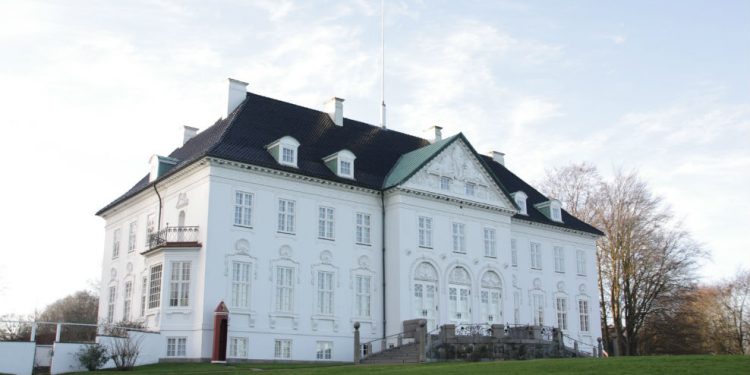 On Friday 20 December, Queen Margrethe will travel to Aarhus by train to take up residence there and prepare for Christmas. Later her sons and their families will join her for Christmas.
The article continues below.
By Bente D. Knudsen   Pictures: Inger Stokkink
Marselisborg Slot is one of only two castles owned personally by the Queen.
It given to the then young crown princess Margrethe and her husband back in 1967 as a present from the Queen's father, the late King Frederik IX.
The castle is used frequently for family holidays, and Queen Margrethe and her late husband Prince Henrik have spent Christmas at Marselisborg every year since her ascension to the throne in 1972.
When Queen Margrethe takes up residence at the castle, the gardens, which are normally open, close for public access, however, our local reporter was allowed acces to take a few  winter pictures for this article.
As she will be in residence at Marselisborg Castle, the Royal Lifeguard, Den Kongelige Livgarde, will perform the large changing of the guard ceremony every day at 12:00 at Marselisborg Castle.
They will not be accompanied by the full music corps as in Copenhagen but everyday the tambours will join the changing of the guard.
The article continues below.
She will stay in Aarhus until the 30 December after which she will take up residence at Amalienborg Castle, from where she will also make her annual New Year's speech on 31 December at 18:00.
Crown Prince Frederik, Crown Princess Mary and their four children, as well as Prince Joachim and Princess Marie and their two children, will be spending Christmas in Aarhus at Marselisborg Castle with the Queen.
The entire royal family usually attends the Christmas service in Aarhus Domkirke on the 24 December much to the joy of the citizens of Aarhus.
The article continues below.
Most likely the Christmas traditions will be the same as usual, last year in December the Queen revealed some of the traditions to royalista magazine Billed Bladet:
"I think we will do what we have done always. Our Christmas dinner and such will still be one with risengrød and goose, and then we also have an English plum pudding, which my mother (Editor's note: Queen Ingrid), taught me to eat, and which I enjoy very much," the Queen said.
Queen Margrethe has always served risengrød before the goose.
In Denmark, many make a variation of risengrød, the risalamande, and serve it as a dessert after the main course.
Only six of the Queen's eight grandchildren will be at Marselisborg castle, as Prince Joachim's sons from his first marriage, Prince Nicolai and Prince Felix, will be spending Christmas with their mother this year.
Queen Margrethe travels by train from Copenhagen Main station to Aarhus in the royal carriage.
Take note if you have guests visiting for Christmas that the large changing of the guard ceremony will not take place at Amalienborg Castle while the Queen is in residence in Aarhus, instead only a small one will take place.
The terrace facing the garden is used for Queen Margrethe's public birthday appearance when she is in residence on her birthday. This is when her birthday on 16 April coincides with Easter. Notice the swallows' nest above the door and window.