Important – no "Kystbane" trains all summer between Hellerup and Helsingør from 29 June to 12 August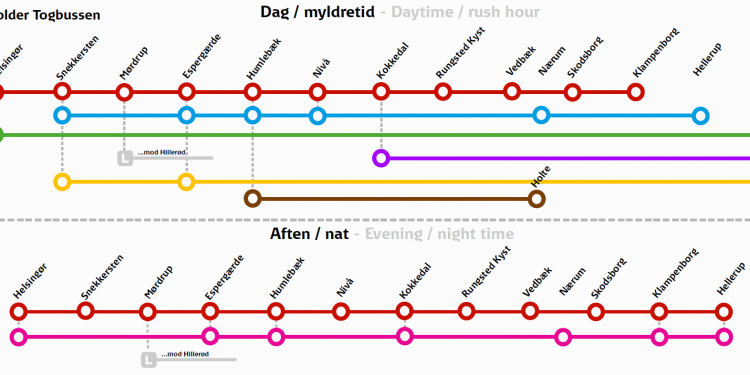 A long summer for those travelling on the intercity train Kystbanen to go to work in Copehagen or for turists wanting to visit Kronborg castle in Helsingør. The train commute has been replaced by busses.
The article continues below.
By Bente D. Knudsen   Picture:DSB
Due to the ongoing track renovations DSB  has announced that there will be NO trains on the intercity line from Helsingør to Hellerup during the whole summer period, where due to the summer holiday, fewer passengers than usual are expected.
In Denmark the main school holiday weeks run from week 27 to week 32.
Normally this line runs all the way from Helsingør, north of Copenhagen, passing many suburbs on its way to Copenhagen City, Copenhagen Airport and Malmö in Sweden.
There will be trains from Østerport to Malmö, however, DSB warns that there will be fewer trains than usual.
The article continues below.
Trains will be replaced by train-busses for departures between Hellerup and Helsingør, a so called togbus. As an addition DSB has put in some busses that connect certain train stations from the intercity train with the S-train service. See below for instance a bus connecting Holte (S-line) to Humlebæk and Ryparken (S-line) with Snekkersten.
Expect longer travel times than usual. And remember to check on rejseplanen for changes before leaving for the airport.
The article continues below.
You can find the train busses at:
Helsingør:  Bus stop at the bus terminal
Snekkersten: Bus stop at the bus terminal  close to track 4
Mørdrup: Bus stop at Mørdrupvej
Espergærde: Bus stop at the bus terminal close to track 2
Humlebæk: Bus stop  in front of the train station on  Oscar Brunsvej, next to track 1
Nivå: Bus stop at Nivå Center, close to track 3
Kokkedal: Bus stop at the bus terminal close to track 2
Rungsted Kyst: Bus stop at Østre Stationsvej, close to track 1
Vedbæk: Bus stop at the train station close to track 1
Nærum: Bus stop on the highway, Helsingørmotorvejen, outside Nærum station ( connecting to Movia linje 150S)
Skodsborg: Bus stop i front of the eastern side of the station on Skodsborgparken close to track 1
Klampenborg: Bus stop by the bus terminal on Dyrehavevej
Hellerup: Bus stop in front of the station on Ryvangs Allé
Ryparken: Bus stop in front of the station
Holte: Bus stop at the bus terminal in front of the station
Go to the online travel service to find out more at:  Rejseplanen.dk