New ONE star Michelin restaurant – review of Noma's little brother "108"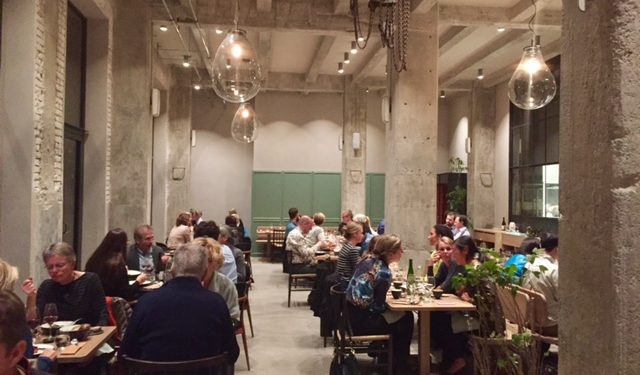 At restaurant 108 the mood is easy, relaxed and playful. It is not your typical family style meal, but you wouldn't expect that from the brains behind Noma.
By Karen Covington
According to owners Kristian Baumann and René Redzepi, the 108 dining experience is about sharing your 'livretter' (favourite dishes in Danish) among family and friends. The a la carte menu features a meat, fish or vegetable option all raised, caught and grown locally – of course.
The kitchen recommends one serving to be shared among two to four people.
"We're calling it a Copenhagen kitchen," says Baumann, who heads the culinary team. "We want to be a kitchen that is constantly striving to make this food culture our own—at the same time we are similar to Noma in our philosophies about hard work and hospitality."
According to its website, the restaurant aims to be a place for families to come together for a quick dinner on a Monday night, or for friends to sit down for a longer meal.
I didn't see any families with young children during the course of our two-hour dinner, but there were plenty of effortlessly styled locals and native English speakers.
Upon our arrival, we were greeted immediately with a bowl of warm, crusty bread; the perfect antidote to our chilly bike ride in from Østerbro.
Located in Christianshavn, 108's interior and service is cosy and inviting without a lot of fuss.
Wooden bench seating complements the sleek industrialised space along with classic Danish period chairs.
We started the evening with stems of romaine salad with aged turbot roe and the Bleak roe, which our server said was a must. The salad was stunning, dressed in marigold leaves playfully perched atop crisp romaine stems. It was fresh, lively and was balanced beautifully with the roe.
The bleak roe was anything but bleak. Marinated in an oil made of rose hip seeds and dotted with sweet and salted plums, the dish left a smart, zesty finish that had us strategically striking forks for more. Be sure to mingle each component of the dish on your utensil before each bite. Heavenly!
Caramelised milk skin with grilled pork belly and cress was our final starter. Our server suggested we use our hands instead of hardware. The milk skin looked so delicate we opted for forks. The pork belly was perfectly cooked and sumptuous, and to our surprise, didn't overburden the fragile milk skin.
Mid way through our meal the lights dimmed and the music pumped up.
The Flock of Seagulls "I Ran" was followed by Queen's, "Another One Bites the Dust." I wasn't expecting an 80s night but it seemed to go nicely with our final course.
We shared the shoulder of roast lamb with new onions, blackcurrant leaves and a smoked butter sauce with elderberry capers.
The server replaced our cutlery with a knife ceremoniously holstered in a rich, tan leather case. Nice touch but we didn't need it. The lamb fell apart with just a tap of my fork. The rocket emulsion was the perfect pairing with the lamb. The fresh greens hit my palate with a burst of earthy flavour.
For dessert I let the birthday boy pick. He chose the Rausu Kombu Ice Cream with toasted barley and an oil of blackcurrant wood.
The crisp was a brilliant pink and looked like a delicate sponge.
Underneath we found the ice cream, which unfortunately was reminiscent of freezer sludge. We were happily surprised by a hint of caramel clinging stubbornly to the bottom of the vessel.
Too bad there wasn't enough to make the work of scraping the bowl worthwhile. Paired with a gin and tonic, the dish wasn't bad, just flat.
If you are looking for high-end flavour without the price 108 is it. We enjoyed the casual vibe, thoughtfulness and flavours that will bring us back for more.
Full list of all 2017 Michelin starred restaurants
Venue:
Located in Strandgade 108 (hence the name as the owners point out), in the Copenhagen district of Christianshavn, in an rather crude old industrialised building, which formerly housed the Red Cross and an oil storage, but had been unoccupied until 108 moved in.
The 500 m2 were renovated and refurbished to its sleek minimalist look by the architects Space Copenhagen, also responsible for Noma and Geraniums décor. Open every day from 17:00 – 24:00.
Although hard to get a table just after they opened, it was getting easier on weekdays, however, with the new Michelin star status this is likely to get more difficult again – and certainly the weekends, Friday to Sunday, need to be booked well in advance.
Our shared five course meal came to DKK 940 without the drinks.
( Editor's note: This review was first published in October 2016 – before the Michelin 2017 awards.)