Royal Salute when DANNEBROG celebrates her 90th birthday in Copenhagen Harbour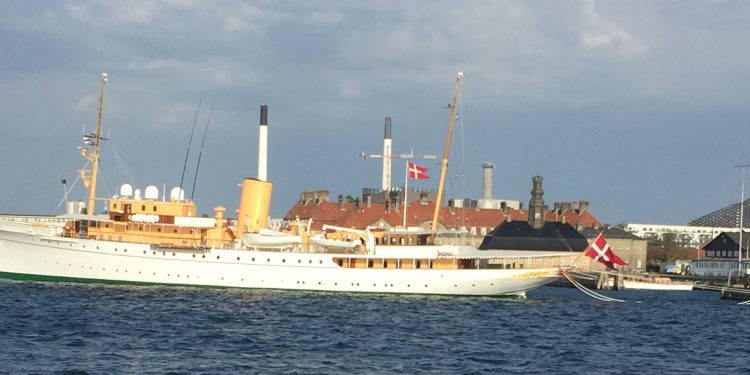 On 25th May, a grand old lady celebrates 90 years of travelling with the royal family. Queen Margrethe, Crown Prince Frederik and Crown Princess Mary will board the royal yacht Dannebrog from the Royal Navy site.
The article continues below
by Bente D. Knudsen
Dannebrog was built at the Naval Dockyard in Copenhagen, the dockyard was located where today the Royal Operahouse and the adjacent parking area lies. It hoisted its flag for the first time on 26 May 1932.
This year the royal family will board the ship at 12:00 to help celebrate the anniversary from the royal pavilions at Nordre Toldbod (the 2 small round houses).
The ship belongs to the Danish Navy but serves as the official and private residence for the Danish Queen and other members of the Royal Family when they are on the annual summer season cruises in home waters or on official visits overseas, the yacht has both travelled to Greenland and Greece to become resident for official visits.
The article continues below
The Royal Yacht also takes part in surveillance and sea rescue operations when at sea even if the royal family is on board.
Seen from the outside, the Royal Yacht can be divided into two sections. In front of the funnel, there is space for crew accommodations, cargo, and the engine. During visits to Danish and foreign ports, the covered quarterdeck is used for receptions.
The compartments used by the royal family include the Queen's study, a dining salon, a lounge, the bedrooms and more.
The article continues below
The Queen has taken a personal interest in the interior design, the choice of furniture and general outfitting, however the royal compartment also contains furniture and fittings from the previous royal vessel from 1879.
Danish television DR1 runs a series where the routines of the royal yacht can be followed from the month of January when a new team of recruits doing their military service with the navy are trained and prepared for the summer season to serve on the royal yacht. The yacht is kept in dock from October until May when the summer cruise season starts. Find it here.
You can read more about this year's summer cruises here.
Support our magazine with a contribution of any size
We hope that you enjoy the information, insights and inspiration that we provide. We are a small team and we would like to keep delivering high quality, interesting articles for you to enjoy and your support will help Your Danish Life to continue to produce relevant content for expats in Denmark.
We do not want to put up a pay-wall, so we need your support and if you find our content relevant and worthwhile, we would value any contribution, however big or small, as a token of your appreciation of our efforts.
How to support:
Transfer any contribution to our bank account at: Your Danish Life/ Danish Expat Media Aps
Danske Bank Account number: 3409 11405673
IBAN: DK68 3000 0011 4056 73
or MobilePay to 2144 1224
Message: Support