Get into the festive spirit with Christmas concerts and carols in one of the many churches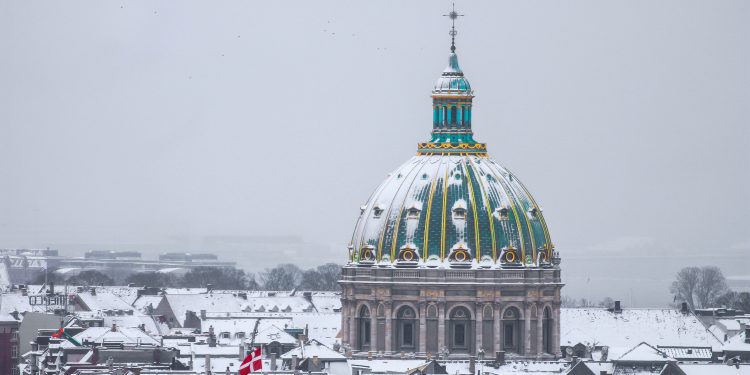 December is a delightful month for those who enjoy music, and the sound of songs and carols, performed in that very special venue – the church. It is also a busy month, as the offers are abundant.
By Bente D. Knudsen   Picture: Hisham Ammar
The tradition for concerts and Christmas carols performed in the realm of the church is strong in Denmark.
From the traditional classic Christmas concerts such as Händel's Messiah and Bach's Christmas Oratorio to Christmas carols, gospel songs and modern Christmas songs; the choice is large and varied.
A bit confusing is that some Christmas concerts are free while others require tickets at varying price ranges -even if they also take place in a church.
Finding concerts can be trickier as many of the free ones are listed only in Danish on the church sites, however we have tried to find a small selection for you to consider. Find local ones in your area by checking the church website.
Not all of the concerts are in Danish only, as many have a repertoire also of English songs.
The article continues below.
Copenhagen
In Copenhagen/ the Copenhagen area there is quite a selection of English language Christmas concerts, starting with the one performed by The Suoni Chorus and The Suoni Ensemble.
This year's  Christmas is coming is performed in Taastrup Nykirke in Taastrup on 2 December at 19:00 tickets are DKK 100 for adults/children free (tickets at the door or online at ticketmaster.dk). The evening is a lovely mix of Christmas favourites from different countries and traditions – there are songs and Christmas Carols both new and old.
Or join the International CBS Choir with students from more than 33 countries – who aim to lift the roof of the old Sankt Thomas Kirke on Frederiksberg with their international Christmas concert on 2 December at 16:00 – this concert is free and part of the Copenhagen Churches Christmas Concerts 2017 program.
The article continues below.
Concerts that are more classical are performed in some of Copenhagen's most beautiful churches.
For instance J.S.Bach's Christmas Oratorio on 2 December by the Copenhagen Bach Choir at Sankt Jakobs Kirke in Copenhagen Ø at 19:00, or the Juleoratorium where Bach's Christmas Oratorio is interpreted and performed a.o by opera singer Peter Lohdal in the beautiful Holmens Kirke.
Both events require tickets that can be bought at billetto.dk for DKK 200.
Also at Holmens Kirke the ensemble, Kammerkoret Camerata, will be performing three concerts the 17, 18, and 21 December of Händel's Messiah. Tickets at DKK 265 can be bought from ticketmaster.dk
Tickets for all events at Holmens Kirke can also usually be bought at the entrance  – up to one hour before the concert starts – subject to availability. Check before to see if they are sold out – both billetto and ticketmaster show sold out concerts on their sites when you look for tickets.
The University Choir Lille Muko also welcomes Christmas in Holmens Kirke with a Christmas concert with soprano Sofie Ekjær Jensen and tenor Adam Frandsen, who will be accompanied by some of Denmark's finest musicians on flutes, harp and organ.
They will perform a number of the most beloved Danish Christmas hymns and carols as well as other beautiful works interpreting the glad tidings of Christmas.
The audience will also get the chance to sing along on a couple of Christmas carols during the concert. Performance is 16 December at 14 and 17:00, as the concert sells out quickly buy tickets (DKK 200) in advance at here.
The article continues below.
Frederiksberg Kirke hosts an annual Christmas concert by the the Danish national boys' choir, Det Danske Drengekor ( ages 5 to 9) on the 10 December at 15:00 – this is a popular event for the boys' families. This year the proceeds of the concert go to support the work of the Danish institute against torture DIGNITY.
The church is located at Frederiksberg Alle 71, 1820 Frederiksberg C, and the choir will sing both international and Danish Christmas songs and carols. Tickets in advance at billetlugen.dk.
Det Danske Drengekor also give a Christmas concert on the 17 December at 19:30 in Grundtvigs Kirke in Copenhagen's NV quartier. Here they will be gathered with the whole range of boy's choirs organised under Det Danske Drengekor; Juniorkoret, Koncertkoret, De Unge Drenge, Mandskoret and Barbershopbanden. Tickets at DKK 75 at the door – cash payment or MobilePay. This is also a  popular family event – so be early!
The article continues below.
Free Events in Copenhagen
All of Copenhagen's churches host a range of free events – both in December and January. They have organised information on all of them in their digital guide.
Even if in Danish – the concert guide organised by date is easy to follow.
Among the many interesting free events in Copenhagen – here our best tips:
On 2 December the The Royal Academy of Music invites families to a free concert at the Konservatoriets Koncertsal, on Julius Thomsens gade 1. The DKDM children's choir and Brass ensemble will perform at 15:00 the concert lasts one hour and is free.
With both a German, English and Swedish church in Copenhagen, it is worth checking out their offers for Christmas.
The English Church St. Albans offers several combined church services and carols on 10 and 11 December (16 December in Aarhus) – tickets ( they are for free) are required as these events are very popular amongst both expats and Danes, and they get sold out quickly.
Ticket registration on their website from the beginning of December  here
The beautiful German Skt Petri Kirke in Copenhagen City centre hosts a Christmas concert on the 20 December at 17:30 performing a.o Benjamin Britten's " A ceremony of Carols", as well as other foreign and Danish Christmas songs.
The article continues below.
The A very merry U2 Christmas on 6 December at 20:00 is performed at Sankt Matthæus Kirke on Vesterbro,  it is a festive Christmas concert with some of the greatest (Christmas?) hits by U2 and other Christmas vitamins performed by the band Die Herren – tickets for free on billetto.dk or at the door (300 free tickets at the door so be early).
Carols by candlelight on 5 December also at Sankt Matthæus Kirke at 16:30 is a beautiful vocal performance of more than 200 singers in a church, which on this evening is lit only by candles.
Also, the children's Gospel Choir, Gospel Generation KIDS & NEXT, performs a great upbeat concert at Nazaret Church on 6 December at 17:00 in Østerbro.
If you enjoy gospel songs then do not miss the Christmas Gospel Concert by Vesterbro Gospel Choir on the 9 December at 16:00 in Eliaskirken on Vesterbrogade.
Another Christmas gospel concert takes place at Grøndalskirken on the 14 December at 19:30 by the Green Valley Gospel choir who will be accompanied by piano and percussion. Here they ask for a small entry fee of DKK 50 – children under 12 years for free.
In Frederiksholms Kirke the local church choir, Sydhavns Kantori, with 35 singers, perform their Christmas concert the 9 December at 16:00 with both Danish, French and English Christmas songs and carols.
Or checkout the Bach cantatas in Trinitatis Church on 17 December at 17:00 where the Trinitatis Ensemble will perform J.S. Bach's cantata 61 as well as a collection of advent cantatas.
The article continues below.
TIP
Find concerts in Copenhagen through the guides on the churches' site kirkenikbh
(the church in Copenhagen)
here
.
They have an excellent guide for each day of December. The Danish text can easily be translated with google translate.
They also post articles with a collection of concerts – for instance 24 free Christmas concerts available here
The article continues below.
Aarhus
Also Aarhus has many beautiful churches in which Christmas concerts take place and even a cooperation with the English Saint Alban's Church at Møllevangskirke in Aarhus, where the ever-popular Christmas Carol Service will be held on Saturday 16 December at 17.00.
According to Saint Alban's no ticket is needed for this occasion, but they recommend you come early if you want to get a seat!
Christmas concerts will also take place in the churches of Vor Frue Kirke, Sct. Pauls Kirke, Aarhus Domkirke, Sankt Lukas Kirke and Skt. Johannes Kirke, some events are free others require tickets. On the churches' own websites you can find dates and links for tickets.
The article continues below.
Here our  best tips for Aarhus
The Sct Pauls Cantori and orchestra will be performing their Christmas concert on 16 December at 19.30 in Sct Pauls Kirke, a range of Danish and international Christmas songs and carols will be performed a.o Benjamin Brittons' "A ceremony of Carols". Tickets at DKK 50 at the entrance, doors open at 18:45.
In Sct. Pauls Church the famous gospel singer Marie Carmen Koppel performs on 6 December at 19:30 her "A merry little Christmas" tickets DKK 215 from ticketmaster.dk. On 19 December also at Skt. Pauls Kirke
The article continues below.
Also the sound of Christmas Gospel songs can heard in Aarhus when the 200 singers from Aarhus Gospel Singers perform at Citykirken on 5 December at 19:30 – tickets at DKK 80 from billetto.dk.
You can also listen to the Joyful Noise Gospel Choir's Christmas concert at Immanuelskirken on 7 December at 19.30- tickets at the door DKK 40.
At Vor Frue Kirke, you can enjoy a Christmas concert with the Akademisk Kor on 21 December at 17:00 or at 20:00 and also  J.S. Bach's Christmas Oratorio will be performed on 10 December at 19:30 – tickets DKK 170.
In Aarhus Domkirke you can hear G. F. Händel: Messiah on 29 November at 19:30 – tickets DKK 150 at the door or on online at place2book.com.
TIP
A general web site listing
paying
Christmas concerts with famous Danish singers and performers can be found at
http://julekoncerter.dk/