Increased traffic pressure in Nordhavn due to start of cruise season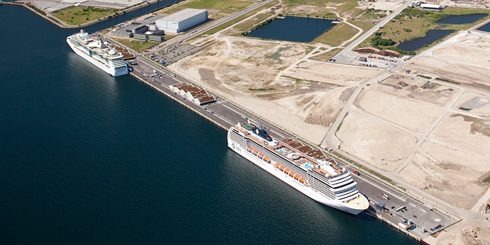 The first large numbers of cruise ship guests are expected 16 May, as almost 6,000 guests arrive on two cruise ships at the cruise ship terminal in Nordhavn.
By Bente D. Knudsen
The traffic in Nordhavn will surge on the days that cruise ships are at quay at Oceania Kaj, the name of the quay of the cruise ship terminal in Nordhavn.
And with an expected record number of cruise ships in Copenhagen in 2017, more than 850,000 guests are expected compared to the 740,000 of 2016, the impact on the traffic in the area will be huge.
According to By and Havn (the owners and property developers of Nordhavn), selected days will be hard hit.
Traffic is affected both by arriving cruise guests and the ongoing development and building of Nordhavn and the new Metrostation.
On an average day, 350 trucks traverse the area to deliver earth to the different land fill sites. Especially Sundkrogsgade, the only access road to Nordhavn will have heavy traffic.
the article continues below
By and Havn say in a press release that they are cooperating closely with the City of Copenhagen, the Copenhagen Police Department and Copenhagen Malmö Port to ensure as smooth a passage of traffic as possible.
Weekends are not as affected, as on these days the building sites and offices are closed. A great time to visit the area.
You can find our guide to a great bicycle tour of the area in our Spring/Summer 2017 issue.
Read more
Updated lists of when arriving cruise ships will affect the traffic will be published regularly on By and Havn's website.
the article continues below
Find below the updated list as published by By & Havn.
Meget traffic formiddag= a lot of traffic before lunch, Meget traffic eftermiddag= a lot of traffic i the afternoon. Pax= number of arriving guest.
As can be seen on this list especially Saturday (lørdag) the 3 June with 12,700 guests and Saturday the 26 June with 10,500 guest are heavy – and fortunately on Saturdays!