Increased traffic pressure in Nordhavn due to cruise season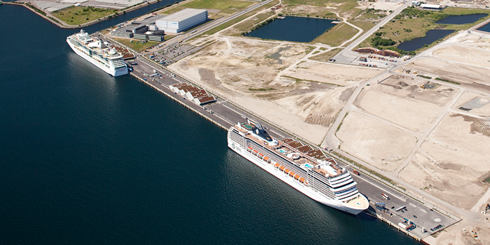 A record number of guests are expected 20 May, as 13,000 guests arrive on four cruise ships at the cruise ship terminal in Nordhavn. Maybe an idea to take note of when to go or not to go to Nordhavn.
The article continues below.
By Bente D. Knudsen
The traffic in Nordhavn will surge on the days that cruise ships are at quay at Oceania Kaj, the name of the quay of the cruise ship terminal in Nordhavn.
And with an expected record number of cruise ships in Copenhagen in 2018, when a total of 337 cruise ships, 12 more compared to 2017, bring the amount of cruise ship guests to 875,000, the impact on the traffic in the area will again this year be huge.
Of the 337 ships arriving, 55 of them have a total passenger capacity of over 4,000.
According to By and Havn (the owners and property developers of Nordhavn), selected days will be hard hit.
Traffic is affected both by arriving cruise guests and the ongoing development and building of Nordhavn and the new Metrostation.
On an average day, 350 trucks traverse the area to deliver earth to the different land fill sites. Especially Sundkrogsgade, the only access road to Nordhavn will have heavy traffic.
The article continues below
By and Havn say that they are cooperating closely with the City of Copenhagen, the Copenhagen Police Department and Copenhagen Malmö Port to ensure as smooth a passage of traffic as possible.
Weekends are not as affected, as on these days the building sites and offices are closed. A great time to visit the area.
Updated lists of arriving cruise ships can be found at the site of CMP ( Copenhagen Malmo Port) here 
These weekday are already predicted to be very busy:
May: 29th
July: 4th, 10th, 31th
August: 9th, 28th, 29th, 30th
September: 4th
These weekends are predicted to be particularily  busy:
Sunday 20th May ( 4 ships)
Saturday 23 June ( 3 ships)
Sunday 22 July (3 ships)
Saturday 18 August ( 3 ships)
FIND below the busiest weekdays due to two ships or more and the time it is expected to be busy:
29 May Tuesday 3 Ships  guests :10,500 Times: 08:00 to 10:00  and 12:00 to 16:00
4 July Wednesday  2 ships guests: 8,200 Times: 08:00 to 10:00  and 12:00 to 15:00
10 July Tuesday 2 ships guests: 6,100  Times: 08:00 to 11:00 and 12:00 to 15:00
31 July Tuesday 2 ships  guests: 6,600 Times: 08.00 to 11:00 and  12:00 to 15:00
9 August Thursday 2 ships guests: 7,300 Times: 08.00 to 11:00 and  12:00 to 15:00
28 August Tuesday 2 ships  guests: 6,000 Times: 08.00 to 11:00 and  12:00 to 15:00
29 August Wednesday 2 ships guests: 4,900 Times: 08.00 to 11:00 and  12:00 to 15:00
30 August Thursday  3 ships guests 6,900 Times: 07:00 to 11:00  and 12:00 to 15:00
4 September Wednesday  2 ships  guests: 6,400 Times: 07:00 to 11:00 and 12:00 to 15:00
Busy weekends 
20 May Sunday, 4 ships guests: 13,000 Times: 08.00 to 11:00 and  12:00 to 15:00
3 June Sunday, 3 ships, guests: 8,500 Times: 08.00 to 11:00 and  12:00 to 15:00
16 June Saturday 2 ships, guests: 7,400 Times: 08.00 to 11:00 and  12:00 to 15:00
23 June Saturday 3 ships, guests: 10,600 Times: 08.00 to 11:00 and  12:00 to 15:00
7 July Saturday, 3 ships, guests: 8, 600 Times: 09:00 to 11:00 and 12:00 to 15:00
21 July Saturday,  3 ships,  guests: 8,600 Times: 09:00 to 11:00 and 12:00 to 15:00
22 July Sunday, 2 ships, guests:  9,800 Times: 08.00 to 11:00 and  12:00 to 15:00
28 July Saturday, 3 ships, guests: 6, 700 Times: 09.00 to 11:00 and  12:00 to 15:00
4 August Saturday, 3 ships,  guests: 8,800 Times: 08.00 to 11:00 and  12:00 to 15:00
11 August Saturday, 3 ships, guests: 8,800 Times: 08.00 to 11:00 and  12:00 to 15:00
18 August Saturday,  3 ships, guests:  11,500 Times: 08.00 to 11:00 and  12:00 to 15:00
Busy days due to one ship with capacity of 4,500 guests – Times : 08:00 to 11:00 and 12 to 15:00
June: 7, 25
July: 13
August: 27
September: 5, 14
October: 2