New development with the formerly missing SUBMARINE Nautilus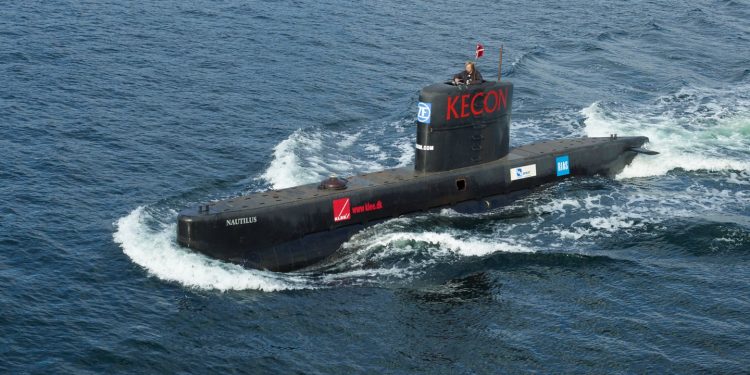 Last night the privately built submarine Nautilus was reported missing. On board was a journalist and the owner. First the sub went missing, then it was found in Køge Bugt, where it subsequently suddenly sank – the owner was rescued but the journalist is missing. Sub owner now charged with manslaughter.
By Bente D. Knudsen
New development in the strange episode of a missing submarine. It all started with an unusual tweet from the Danish Defence Command's press officer this morning. "Help needed to find submarine gone missing somewhere inside or just outside the Copenhagen harbour area."
After several helicopters and navy boats, as well as a number of civilians, were alerted and a search mission was started early Friday morning, later the rescue mission was called off again, as the sub was sighted sailing in Køge Bugt.
However, suddenly the submarine sank and only the owner was rescued by a private motorboat in the area. The female journalist was not rescued and she is still missing. The submarine is lying at the bottom of Køge Bugt waiting to be stabilised before it can be raised, divers have not been able to enter it. The submarine is are expected to be salvaged sometime Saturday.
The owner of Nautilus claims he set the journalist back on land Thursday evening around 22:30 at the tip of Refshaleøen ( Copenhagen harbour area). However, the woman has not been seen since, and it is her family who have reported her missing.
The police are asking for witnesses who could have seen the woman.
"We would like any witnesses to step forward who have seen the submarine with the two people on board leave the harbour area around 19:00, or who have observed the submarine and any crew come near the tip of Refshaleøen around 22:30 Thursday night. We would also like to talk to any witnesses, who could have seen the Swedish woman after 22:30 Thursday evening," says Vicepoliceinspector Jens Møller Jensen.
The woman is about 160 cm high, 30 years old, slim with red/brown hair and green eyes. She was wearing an orange shirt with long sleeves, a black and white skirt with flowers, and white sneakers.
The article continues below.
Nautilus was built in 2008 by the inventor Peter Madsen, and he was reported on board together with a journalist, who was to write a story about the submarine.
Danish police have charged him with the manslaughter of the woman, as she has gone missing – and only the owner was rescued off the submarine when it sank earlier today in Køge Bugt.