New visitation zone in Høje Tåstrup South of Copenhagen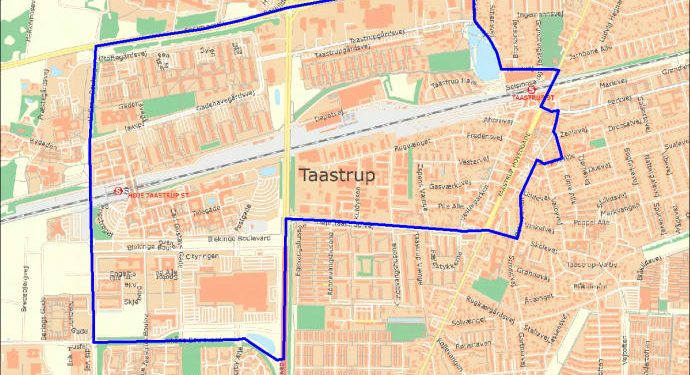 After more than a month with no visitation zones in vigour, the shooting on Sunday night in Høje Tåstrup, a suburb south of Copenhagen City, has lead the police to put in place a new visitation zone in this area.
The article continues below.
By Bente D. Knudsen    Picture: Københavns Politi
It was almost too good to be true – the relative peace after a long series of gang related shootings in Copenhagen's NV/ Nord Vest quartier.
However, on Sunday night shots were fired at a 31-year old man on the parking lot at Høje Taastrup vej 6 in the municipality of Høje Tåstrup. He is out of danger the police informs, but the incident has lead the Danish police to put in place a visitation zone from Monday 22 January until Monday 23 February.
The man has relations to the gang environment, however the police have not yet confirmed, if the shooting is related to the ongoing gang conflicts.
The article continues below.
The visitation zone – also shown on above map encompasses the following area:
At Roskildevej from Selsmosevej to Halland Boulevard. From West Halland Boulevard, Roskildevej to Skåne Boulevard. South Skåne Boulevard from Halland Boulevard to Hveen Boulevard proceeding to from Hveen Boulevard to Høje Taastrup Vej continuing at Skolevej to Østerparken. East: At Østerparken from Skolevej to Dorphs Alle, continuing along Dorphs Alle to Zeniavej and on to Østerparken, Parkvej  all the way to  Taastrup Hovedgade, Kirkevej, Selsmosevej until Roskildevej.
"We have a broad investigation and are keeping all options open at the moment, also to the gang relation, however at the moment we do not know more," says politiinspektør Mikael Wern from Københavns Vestegns Politi in a press release.
The police is also looking for witnesses to the event on Sunday evening, or who have seen anything suspicious, at  Høje Taastrup Vej just before, at, or after 21:40  – the Københavns Vestegns Police can be contacted around the clock at phone number 4386 1448.
Reinforced patrols have been put in place in the area.
The aim of the visitations zone is to  meet the local population's safety and security concerns by ensuring that people in the area do not carry or possess weapons.
According to the  police the visitation zones are an effective measure in the police's efforts to remove weapon from the streets, which is the aim of the visitation zone.
The article continues below.
A visitation zone means that the police are allowed to stop people on the street, on their bicycles or in their cars to check their possessions, search their bags and even a body search, if needed, may be done.
Normally they are not allowed to do so randomly but must have a "reasonable suspicion" to do so as the Copenhagen Police press spokes person informs.
The article continues below.
If you are not yet aware of it, then take note not to bring even a small pocket knife when you are in the visitation zone area.
Also in public areas, at any time, small pocket knives – typically those we use with a bottle opener etc. below 7 cm,  are only allowed if they can be said to have a valid reason for being in your possession – for instance you are going on a picnic. In general you are not allowed to carry knives in a public area.
Even small pocket knives – below 7 cm – are not allowed when you go out during the evening to a nightclub, restaurant, coffee house or any other public area during the night, what the Danish police call "generelt knivforbud i nattelivet".