A Danish Christmas Story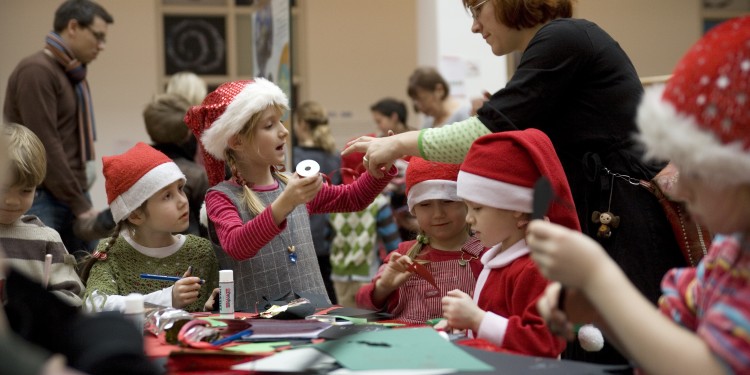 What is so special about the Danish Christmas you might ask – is Christmas in Denmark different from the rest of the Christian celebration?
By Sanobar Elahi     Pictures: Nationalmuseet, Den Gamle By
Although true that Christmas has always been associated with Christianity and the birth of Jesus Christ, however, the Vikings were already celebrating many elements of "Yule (Jul)" (modern day Christmas) before Christianity even existed in Denmark.
The ideas and theories may have been different, but the final result the same: to celebrate with full vigour in the embrace of family and friends with good food, wine, traditional decoration and general merriment.
The main purpose of their celebration was Winter solstice. When the days began to get longer and the sun stayed out for more, the nights growing shorter.
Known as the Midwinter Feast and lasting for a good 12 days, the Vikings celebrated their god of fertility and farming to ensure the coming year would prove fruitful.
The sacrifice of wild boars to honour their gods which were then cooked and eaten at the Feast is the origin of the Christmas ham eaten at Christmas dinners, nowadays.
The dinner menu has also evolved over time, with a traditional Christmas dinner consisting of roasted duck or flæskesteg (roast pork), sweet and sour red cabbage salad and caramelised potatoes.
A sweet dish ends the dinner date with risalamande: a rice porridge dessert with chopped roasted almonds and cherry sauce on the side. Sometimes, for added fun, a whole almond is hidden in the pudding, for a lucky person to get and win a little surprise gift.
The Christmas wreath also goes back to the Vikings according to some theories, where it is learned that they would set fire to a Sun-wheel and roll it down a hill in order to appease the sun to return.
In modern times, Danes love to decorate their living space with candles. Lots of them!
Julehygge is all about candles and light. There is even a calendar candle that you light up for every day of December, leading up to Christmas Eve.
The article continues below.
The tree – a German export or a Viking tree spirit?
Though the first Christmas tree in Denmark was a German export, the Vikings were already decorating evergreen trees with pieces of wood, cloth and small statues of gods in order to appease the tree spirits to come back in spring.
When Christianity made its way to Denmark, naturally décor changed too, a reflection of time. It began with adding trinkets of war memorabilia like pictures of soldiers, drums and a patriotic flag to seal the deal.
The modern Christmas tree can still be seen decorated with Danish flags, an abundance of candles and woven paper heart baskets that hold treats for kids like nuts, candy and "pebernødder".
The article continues below.
Old Man Winter and the guardian Nisse
Can't leave Santa out of it can we? Vikings had the same idea when they would dress up a person in a fur coat to represent old man winter. This person would then be invited to go from home to home to join in on festivities.
In addition to old man winter, there was also a guardian spirit, in form of a pixie or elf that would take care of its guardian family. This belief was at its strongest in 18th and 19th century Denmark where families believed they had nisser that took care of their farms.
Usually temperamental beings, nisser had to be taken care of by the host family, usually with a bowl of porridge left out for them on Christmas Eve, lest they go against their masters. They became known as the bearer of gifts: Julenisse and have been associated with Christmas ever since.
Nowadays, the sight of the Julemand along with his Julenisse, can add sparkle and a smile to any child's face.
The article continues below.
Visit an open-air museum and experience JUL
If you want to get the feel of Christmas from the yesteryear's, why not take a trip to one of the open-air museums, normally closed and lain dormant during the winter months, but whose Christmas opening hours give a unique insight into the old traditions.
Unfortunately, the museums don't seem to think that tourists will visit them during December and they do little to advertise their events in English.
In Lyngby, North of Copenhagen you will find the open-air museum, Frilandsmuseet, open only for two weekends in December ( the 2&3  and the 9&10 December)– hosting a bunch of activities related to Jul, here you can celebrate as it was done during the past 200 years. More info here
In Aarhus, Den Gamle By, "The Old Town"  is a living picture of life in Denmark as it looked in the 18th, 19th and 20th century and it hosts a large number of events every day until Christmas. Especially the weekends are worth a visit, open every weekend until Christmas.
Entrance is free for anyone under the age of 18, otherwise DKK 110. More info here
Unfortunately the best overview of the activities is in Danish – even if they have an English button option -so try the Danish site to find the best time schedule
Find the nisse at Christiansborg Castle
A new activity for children only on  weekends 2&3, 9&10, 16 & 17 December – starting in the Royal Kitchen, where the children get a mug of hot chocolate and can make their own snowflake (a nice sweet round cake) and afterwards visit the Royal Stables for the show " Royal Stable Nisse's secrets".
The entrance price is a bit pricey at DKK 150 for adults and DKK 75 for children. However, the ticket gives entrance to 3 museums at Christiansborg: Det Kongelige Festkøkken (the Royal Kitchen), the show "Staldnissens Hemmelighed", a warm drink and entrance to; De Kongelige Repræsentationslokaler, De Kongelige Stalde and Ruinerne – so if you have not been yet it is a nice visit. Open from 13:00 to 15:45. Go to the Royal Kitchen ( Det Kongelige Festkøkken) to start the tour.