A Food Lover's Tour of Bornholm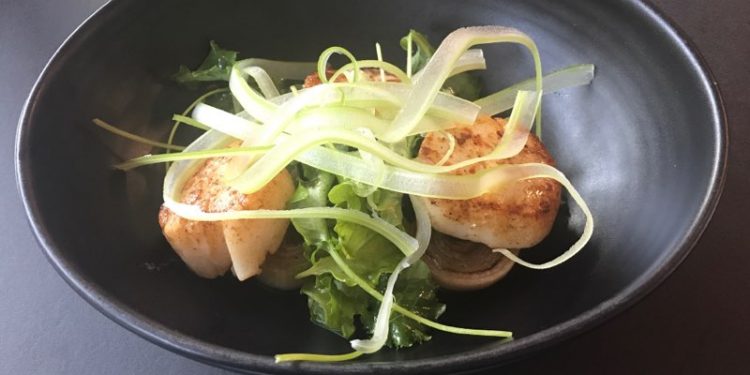 Take a tour of Denmark's sunniest island and let your taste buds be your guide!
The article continues below.
Pictures and text Louise Chamberlain
Bornholm is known for its beautiful white sandy beaches, quaint fishing villages and rolling landscape. However, in recent years it has also become renowned for its vibrant and high quality food scene.
For an island of just 588 km², Bornholm has a disproportionate number of exceptional restaurants. From Michelin stars to gourmet street food, Bornholm has it all. It's the perfect short break for food lovers.
Here's our guide to some of the best places to satiate even the most demanding palates.
The article continues below.
Rønne
Most tourists visiting Bornholm arrive in Rønne, the largest town on the island. Slightly to the south of Rønne, between the town and the airport, is Hotel Green Solution House.
The hotel is environmentally conscious with sustainability as the central theme and dishes are all based on local and organic ingredients. The restaurant is light and airy and the kitchen, under the guidance of chef Kasper Beyer, produces some unmissable delights.
The restaurant recently received two stars in the Danish Dining Guide (Danske Spiseguide). The gravad cod and the lamb with smoked marrow were particularly good.
The menu is, of course, seasonal and subject to change. If you are dining with children and the menu is too adventurous for their tastes, the kitchen will happily prepare simpler dishes for them.
For a simple but delicious lunch, try Torvehal Bornholm. This new food market is located in the old Rønne slaughterhouse.
It features more than 40 local producers including Svaneke Brød and Hasle Rogeri, a café and wine bar and a selection of street food trucks in the courtyard outside.
Opening times vary according to the season so it's best to check the website before you go.
Hasle
Just north of Rønne is the fishing town of Hasle. No visit to Bornholm is complete without tasting the famous smoked fish and the Hasle Røgeri is reputed to be the best on the island.
You can enjoy a reasonably priced buffet lunch or dinner in the restaurant or simply buy a selection of fish to take away and enjoy as a picnic.
Vang
A little further north along the coast is Restaurant Le Port, where you can enjoy fine dining in a relaxed atmosphere with stunning views from the terrace.
It's a great place to eat if you are visiting the famous Hammershus castle ruin in the north. Owners Gabriela and Kim Jantzen pride themselves on offering delicious local and organic food and a very high level of service.
Don't miss the homemade rye bread.
The article continues below.
Sandvig
If a visit to Hammershus castle ruin leaves you feeling hot and parched, just along the coast in Sandvig you will find an oasis. Sandvig IS Kalas is perched on the rocky coast and offers spectacular views out to sea.
The silky smooth ice creams are made from a winning combination of milk from Bornholm cows and seasonal local fruit. They also serve freshly brewed coffee and light meals.
Sandvig is also home to the Restaurant Nordlandet, rated one of the best restaurants on the island. While the main restaurant is a fantastic place to experience New Nordic cuisine at its finest, the informal Underbar should not be overlooked.
Tucked away at the back of the hotel (with great sea views), the Underbar is an absolute treasure. The food is the same high quality but this low key little gem will allow you to enjoy an outstanding meal for barely more than the price of a pizza.
You don't need to worry about booking months in advance, either, because the Underbar doesn't take reservations.
Svaneke
Svaneke is the smallest chartered market town in Denmark. Considered by many to be the most beautiful town in Denmark (it won the title in 2013), it's a chocolate box town full of carefully restored half-timbered buildings and a charming harbour.
It's also the home of the island's largest brewery, the 100% organic Svaneke brewery, one of the first microbreweries in Denmark.
At the Svaneke Bryghus Restaurant, you can enjoy a selection of custom craft beer on tap, many of which are only brewed once, alongside a very solid steak and chips or a steaming bowl of Bornholm pasta.
This place is very popular so it's a good idea to book in advance.
Another great spot for a laidback meal is B's Fiskevaerksted. This low-key fish restaurant serves an impressive selection of fresh fish and seafood. The fish and chips served in a paper bag are freshly made and delicious.
If weather permits, you can enjoy your meal on the pier overlooking the sea.
Østermarie
If you have a sweet tooth, Fru Petersen's Café is an absolute must. The big draw here is the famous cake table. A long dining table is laden with a vast selection of sweet treats, such as Danish apple cake, plum tart and scones with homemade jam.
It's a buffet and you can return as many times as you like, or as your waistband permits.
There is a sense that you are stepping back in time as a smartly uniformed waitress guides you to your table through a warren of rooms with incredibly kitsch vintage décor.
On a nice day, you can also sit in the garden under the dappled shade of one of the many trees and there is a play area for children.
The article continues below.
Nexø
Bornholm's second largest town, Nexø, is the island's largest fishing port so it's not surprising that fish features highly on the menu.
Tucked away in an unassuming building in the harbour area is Restaurant Molen, consistently rated one of Bornholm's best restaurants.
The kitchen is small but, under the watchful eye of head chef Daniel Kruse, it produces a creative and enticing menu based on fresh local seasonal ingredients.
Pedersker
Credited with putting Bornholm on the gastronomic map, a food tour of the island would be incomplete without mentioning Kadeau. Head chef Nicolai Nørregaard is a native of Bornholm.
He opened the restaurant in 2007 and has been a driving force behind the New Nordic cuisine movement that Denmark is now famous for.
The restaurant is only open in the summer months. During the winter, the whole team moves to the Copenhagen restaurant but many of the ingredients are still sourced in Bornholm.
Åkirkeby
Under the same ownership as Restaurant Molen, Christianshøjkroen is also a reliable favourite.
The menu changes frequently but you can be sure of a beautifully presented, exceptional meal. If the weather is good, you can enjoy the secluded garden.
Known as the sunniest part of Denmark, Bornholm is an easy weekend break and can be reached by a short plane ride from Copenhagen or by driving over the Øresund bridge to Sweden and taking the high-speed catamaran from Ystad.
You can find out more about Bornholm's nonfood sights in our travel article here.
The article continues below.
Suggestions:
Rønne
Hotel Green Solution House www.greensolutionhouse.dk
Torvehal Bornholm www.torvehalbornholm.dk
Hasle
Hasle Røgeri www.hasleroegeri.dk
Vang
Restaurant Le Port www.leport.dk
Sandvig
Sandvig IS Kalas www.sandvigiskalas.dk
Restaurant Nordlandet www.nordlandet.com
Svaneke
Svaneke Bryghus Restaurant www.svanekebryghus.dk
B's Fiskevaerksted
Østermarie
Fru Petersen's Café www.frupetersenscafe.dk
Nexø
Restaurant Molen www.restaurantmolen.dk
Pedersker
Kadeau www.kadeau.dk
Åkirkeby
Christianshøjkroen www.christianshojkroen.dk
These were the ones we had time to visit – it is not an exclusive list – with Bornholm's rise in the gastronomic world you may find many other great eateries once you are there.