The season has started – have fun at one of the many Danish amusement parks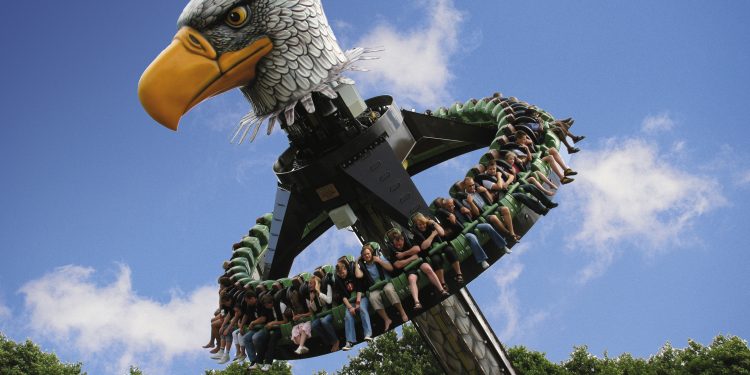 You probably have been to the world famous amusement park Tivoli. But did you know that there are quite a large number of other amusement parks scattered around the country? So take advantage of the season to spend a day at one. It's really a pleasant activity for the whole family.
By Stine Rosengren   Pictures: PR
No way to be in Copenhagen and not visit Bakken
The amusement park Bakken is located in the deer park Dyrehaven, just north of Copenhagen, and can be reached by train (Klampenborg station) or by car. There are abundant parking (paying) options.
Bakken is actually the oldest amusement park in the world. And its 33 amusements are equally popular whether on a sunny day or a warm summer evening. If you are going with children, take note that in the evening it's more for youngsters and older teenagers, than smaller children.
The entrance is free, and as it's adjacent to the deer park, it can be great to combine taking a ride around Dyrehaven on your bicycle or in one of the horse carriages, ending up at Bakken either for lunch or dinner. There is an ample selection of restaurants in all price categories.
Check out the area called Korsbæk. It's a whole small town built to look like the town Korsbæk where the characters from the renowned TV series Matador lived. Ask any Dane about Matador; young and old alike will know it, even those who have never seen the series (which aired in the 1980s).
I heard an expat exclaim that watching it was a good way to learn Danish, as the characters speak a more articulated old Danish, spoken in the 1930s and 1940s, which is the time period the series is set in.
You can buy a ticket giving unlimited access to all the amusements or just single ride tickets from automates placed around Bakken.
Dyrehavevej 62, 2930 Klampenborg. Open daily until end of August 2017. More information at www.bakken.dk
Bonbon land – the boiled sweets fun park
The amusement park BonBon land takes its name from the range of boiled sweets branded BonBon.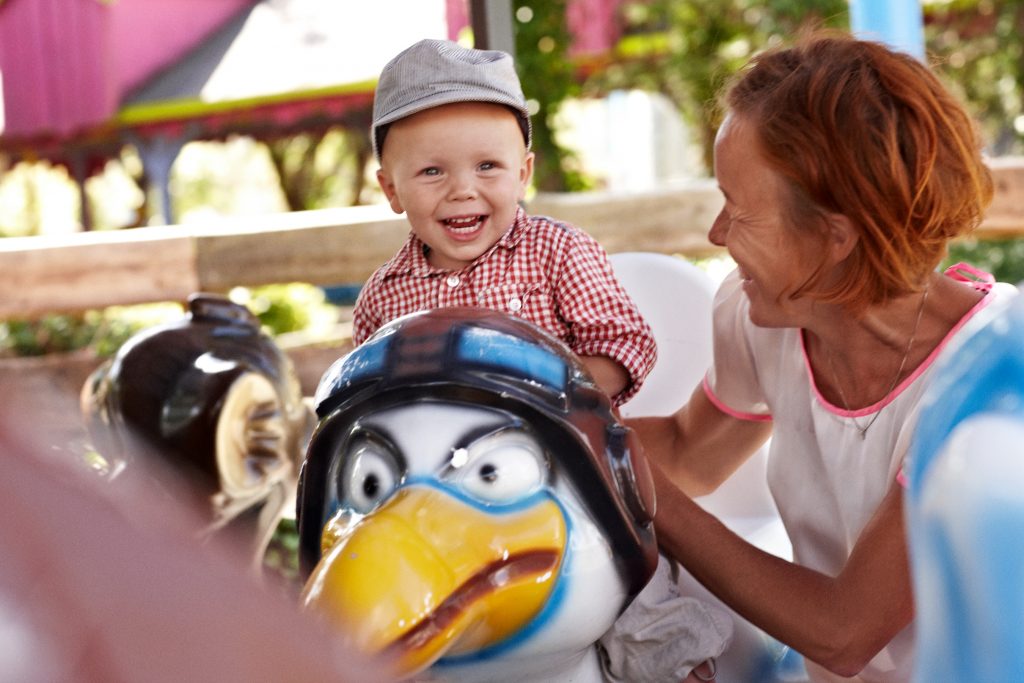 Every flavour has an unusual and funny name;  hundeprutter(dog's farts) or mågeklatter (seagull droppings) just to mention a few.
BonBon land is located in Holme Olstrup, next to the big regional town of Næstved, 80 kilometres south of Copenhagen, where the creator of the brand, Michael Spangsberg, came from.
The sweets factory was located next to the amusement park, but production facilities have been moved elsewhere by the present owner, the sweets and chocolate manufacturer Toms Chokolade.
In 2007 Michael Spangsberg sold the amusement park to the Spanish-based entertainment company Parques Reunidos. BonBon land focuses on creating experiences for the entire family, and has over 60 different attractions and activities on offer.
Everything you find in Bon Bon Land is inspired by the Bon Bon sweets and virtually all roller-coaster names and activities have their origins rooted in the Bon Bon brand; Vildsvinet (the Wild Boar), Hestepærerne (the Horse Droppings).
It's a really original, weird, and very different theme park and one of the most popular ones among Danes and tourists. Once you have paid the entrance fee of approx. DKK 200 (check for online offers) all activities are free. Parking for the day is DKK 40.
Gartnervej 2, 4684 Holmegaard. Open weekends and bank holidays in May and June from 10:00 to 17:00 (18:00 on Saturdays) and from 10 June until mid August open daily from 10:00 to 19:00. From 19 August until mid October open only weekends. You can check opening hours and other information at at www.bonbonland.dk
Djurs Sommerland – with the country's biggest roller coasters
Djurs Sommerland, located north of Aarhus, is an amazing place. It's really huge, with so much to do and enjoy, that you have to buy a two-day ticket in order not to get stressed about all the things you want to try.
Once you have paid your entrance fee (approx. DKK 265 for a day – check for offers), you are ready to enjoy the biggest roller coasters in Denmark.
With more than 700,000 visitors a year, you won't be alone on a good summer day; however with eight themed areas, the huge Aqua Park, wonderful playgrounds and more than 60 other rides and attractions for children of all ages, it is possible to fit all in.
Since 2008 almost DKK 300 million have been invested in new amusement attractions, always trying to create attractions for different age groups, it really is an amusement park for the whole family.
In 2015 the park expanded further with the area Bondegårdsland, a farmer's universe with 10 specially conceived rides for younger children. Here small children can feel the thrill of the free fall from the water towers and fly along the roller coaster in a flurry of chicken feathers.
Randersvej 17.8581 Nimtofte ( Djurs is the region just north of Aarhus). Open weekends and bank holidays from 6 May until mid June from 10:00 to 18:00 and daily during weeks 25-32, it can be a good idea to check opening hours before going and other information at  www.djurssommerland.dk.
Egeskov Slot – the slow motion park
Not really in the amusement park category, but definitely worth a visit, the castle and park of Egeskov slot is a "slow motion" kind of park; maybe a place where your teenagers will get bored, but great for elderly people and younger children.
For 460 years, Egeskov has stood in its beautiful location in the landscape of Southern Funen and today, Egeskov is famous for being the best preserved moat castle in Europe. The castle is home to the noble family Ahlefeldt-Laurvig-Bille, but opens for visitors during the summer.
Originally one of the main attractions was the impressive collection of motor vehicles and aircrafts at the Egeskov Oldtimer Museum, including also one of the largest collections in Northern Europe of two-wheeled motorbikes from the 1920s to the 1970s.
To become more attractive also for younger families (children up to the age of 12 ), other family friendly activities have been added such as the Tree Top Walking trail in the 130 year old birch forest.
Here the adventurous can walk along a 100 metres long tree top trail, listening to cheerful bird songs, with magnificent view of Egeskov Castle and countryside from the high perch of the trees.
Or have a go' on the 1,000 m² Segway course with a knight theme. Here you have to ride slalom on a Segway, overcome obstacles and stand upright through the turns.
Once you have paid  the entrance to the park (ticket prices vary depending on season from DKK 190 to 220 for adults,  and DKK 110 to 130 for children aged 4 to 12), the museum visits are included, but the Segway ride is not. It lasts around 15 minutes and costs DKK 50 in low season and DKK 70 in high season.
Egeskov Gade 18,5772 Kvaerndrup ( Funen). Open daily from 29 April until mid October from 10:00 to 17:00 (until 19:00 during the summer holidays). Check for more information and events at  www.egeskovslot.dk