A unique event – the Copenhagen harbour swim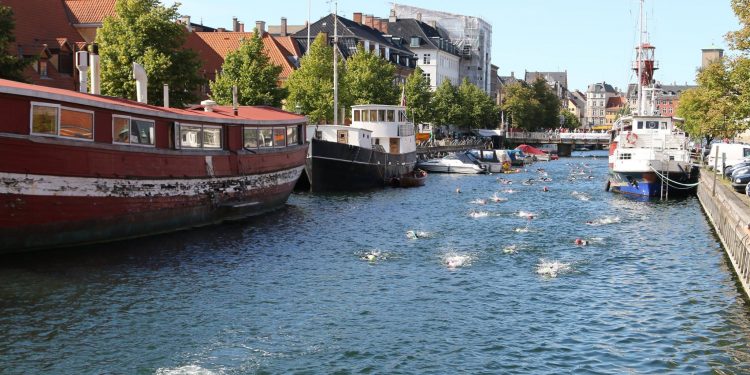 On a hot summer day, the canals of the city of Copenhagen might just entice you to take a swim. On 31 August  you can watch as many do so completely legally!
The article continues below.
By Bente D. Knudsen      Pictures: CopenhagenSwim/Trygfonden, Christiansborg rundt 2016
The two-kilometre race around Christiansborg, Chritiansborg Rundt, as the event is called in Danish, is a route, which literally allows swimmers to swim in the canals surrounding Christiansborg.
Without worries as the water is clean enough to swim in –not only here, but all over Copenhagen. The water will not be too hot to swim in – expect around 18 degrees Celsius, this weekend maybe a bit more due to the warm weather this week.
The event was first launched in 2006 with just 260 participants, at the time quite a successful number of participants for a so-called open water swim.
About 10 percent of the participants come from 25 different countries, and the event is trying to attract more foreigners.
Since then it has grown in popularity with almost 4,000 swimmers in 2018.
The event is open to all who can swim and want to participate, you do not have to be an ace swimmer.
The article continues below.
The typical participant is a woman aged 42 (42 percent are women) or a man aged 45 (58 percent are men). However the participants' ages range from 15 to 82, and they either swim alone (on an individual basis – you won't be alone in the water),  or they have signed up with friends and start in teams of four.
Sign-up is possible right up until the last minute. Prices range from DKK 495 if you sign up early to DKK 555 if you wait until August.
If you do not have a wet suit, remember to sign up to rent one, prices starting from DKK 150, since, although the water may be clean, it will not be warmer than 17 to 19 degrees Celsius even in August.
The route starts and ends at the Royal Library, Den Sorte Diamant, taking participants through the main harbour canal into the smaller ones surrounding Christiansborg and back out into the harbour canal.
The article continues below.
All along the route, there are helpers from the Tryg Foundation's lifeguard team to survey and help any swimmers in difficulty.
The event takes place on the 31 August from 10:00 to 18:00 with different starting times – morning and afternoon.
If you don't want to swim, but would like to experience the event anyway – consider volunteering for it maybe next year as more than 150 volunteers are required every year to ensure a great experience.
You can find more information about the event here.