All resources set at containing spread of coronavirus in Denmark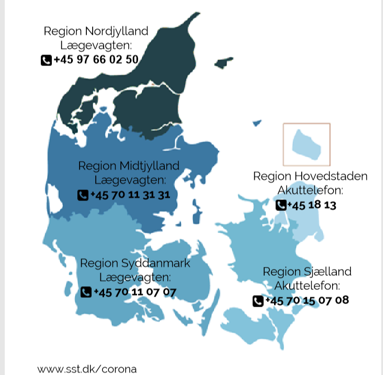 Containing spread means reducing the risk of spread from those who could be infected, a top priority at the moment.
The article continues below.
By Bente D. Knudsen
Warning posters informing patients not to enter the waiting room if they think they could be infected with the COVID-19 virus is being put up on doors and at entrances leading to GPs' waiting rooms and other medical facilities' waiting areas.
The main message is that if you have been in an area of risk such as North Italy, China, Singapore, Hongkong, Japan, South Korea or Iran, or if you think you could have been infected by someone who is ill with the coronavirus and you start feeling ill, you should NOT show up in person.
Instead you are urged to call your GP or the on-guard after hours medical service, in Danish this is for some reason called two different things, but are the same, look for lægevagten or aktutelefon.
Each region in Denmark has its own number. A map of Denmark with the regional numbers to call is also being circulated.
The article continues below.
The risk of spread from person to person within Denmark is still considered low, whereas the risk of spread due to travel, as was the case with this confirmed case, is evaluated as moderate currently by the Danish health authorities.
This could change if the current situation is not brought under control and spread contained.
TV2 News, the workplace of the infected Dane, has so far sent 15 employees in home quarantine and are providing assistance to those who are not able to self-quarantine due to their family situation or their living facilities, the station informs in a press meeting.
The Dane who was taken ill and tested positive is at home with his wife and children, who were tested negative.
The Danish health authorities have opted for home quarantine as the family, despite being ill, is feeling OK and keeping them at home reduces the risk of spread at the hospital. Should the infected person become more ill or present any serious symptoms, he will be immediately hospitalised in an isolation ward prepared for infectious diseases.
The article continues below.
Find the regional after-hour on guard medical numbers, called Lægevagten or Akuttelefon here: