All restrictions have been lifted but a range of hotspots are under surveillance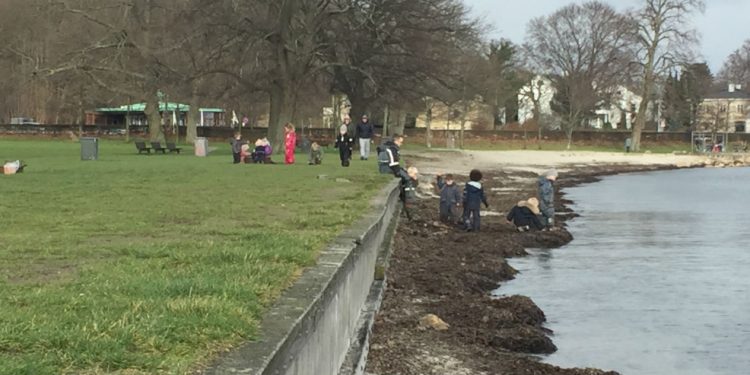 The police have decided to lift the restrictions concerning stopping up at Islands Brygge, however, a range of areas around the country are still on the police watch list.
The article continues below.
By Bente D. Knudsen
Islands Brygge no longer has any ban on stopping, instead the municipality have marked with white stripes large square areas where it is permitted to sit up to 10 people while practising a distance of 2 meters. The aim is to make it easier for large groups of 10 to know how to behave and where they can sit safely respecting the distancing measures.
The Danish police still have a range of so-called hot spots under surveillance as they tend to attract many people.
Take note that these areas are only a problem when the sun shines and it is warm and friendly, however, at some of them during the weekend they tend to get crowded even on a cloudy day.
Your Danish Life's writer lives close to a couple of them and if you go on a windy and grey day, they are usually not a problem, which with the current weather forecast is what the country is in for the coming week.
The article continues below.
A total of 38 hotspots have been identified by the police as places where people tend to gather together, sometimes to many at a time, and these, so the police warns, could risk receiving a ban on stopping if people do not respect the distancing measures in place when they go there.
The list is dynamic as the police put it in their press release and may change daily depending on the development.
The article continues below.
Support our magazine with a contribution of any size
We hope that you enjoy the information, insights and inspiration that we provide. We are a small team and we would like to keep delivering high quality, interesting articles for you to enjoy and your support will help Your Danish Life to continue to produce relevant content for expats in Denmark.
We do not want to put up a pay-wall, so we need your support and if you find our content relevant and worthwhile, we would value any contribution, however big or small, as a token of your appreciation of our efforts.
How to support:
Transfer any contribution to our bank account at: Your Danish Life/ Danish Expat Media Aps
Danske Bank Account number: 3409 11405673
IBAN: DK68 3000 0011 4056 73
or MobilePay to 2144 1224
Message: Support
You can find the list as at 1 May here:
In Copenhagen for instance, the police warn of crowds at Göteborg Plads, Fælledparken; the skater parks and the playground, Dronning Louises Bro and benches on the bridge, the lakes in general and the open areas at Amager Strandpark.
Other places in the Copenhagen area are: Gladsaxe, Bagsværd Sø, Hvidovre Havn, Brøndby Havn, Ishøj Havn Vallensbæk Havn, and Herlev, Elverparken.
Outside of Copenhagen at Roskilde Havn, Vigen strandpark, Holbæk Havn, Munkholmbroen, Rørvig Havn Køge Marina, Køge Havn.
North of Copenhagen at a range of beaches, harbour areas and castle parks such as:
Rungsted Havn, Hornbæk Havn, Vedbæk Havn, Espergærde Havn, Helsingør Havn, Gilleleje Havn, Hundested Havn,, Nivå Havn, Frederikssund Havn, Skovshoved Havn, Hellerup strand, Bellevue Strand Farum, Furesøbad, Tisvilde Strand, Rågeleje Strand, Liseleje Strand, Nivå Strand, Dronningmølle Strand Hornbæk Havn og Strand, Dyrehaven Skaterparken i Gentofte, Bernstorffparken and for instance all the parks at Frederiksborg Slot, Fredensborg Slot,Charlottenlund Slot and Charlottenlund Fort.
Around Aarhus the problem with crowds on a sunny day are at Bellevue Strand Aarhus, Tangkrogen Aarhus, Den permenente Aarhus, Aarhus Ø, Havnebadet Aarhus, Aarhus Ø, træskibshavnen Aarhus, Brabrand, Basaren Aarhus, Mølleparken Favrskov, Fussing Sø Syddjurs, Kalø Slotsruin Syddjurs, Sletterhage Fyr, Randers, Doktorparken.
If you can, go somewhere else at present.