All this Coming and Going: art at the border between harbour and sea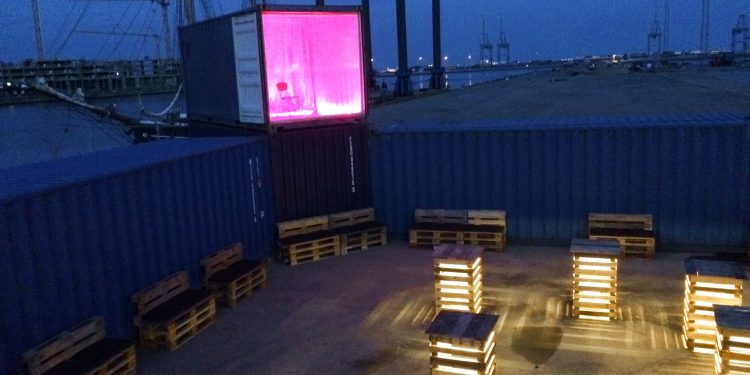 Harbours have an uncanny capacity of kissing awake your longings and fantasies, and it's also the place where strong feelings have always gulped over people. This is where you used to say goodbye, welcome loved ones, wait – perhaps in vain – for someone to come back. Sometimes it is as if these feelings are still echoing at the waterfront.
By Inger Stokkink                Pictures: PR
Precisely there, on the wind-swept Pier 3, in the yet to be developed part of the old industrial harbour, Aarhus-based Teatret Gruppe 38 presents a new performance.
All This Coming and Going is a theatre installation, capturing these longings and feelings. It is part of both Aarhus European Capital of Culture, and Aarhus Festuge – the city's yearly arts festival.
In a little city of sea containers, each container tells its own poignant story, such as Tsunami, Titanic, or 'Joyful cries', using sounds, lights and images to bring the message across. Their common 'ground': the sea.
Bodil Alling is, besides writer and actor, also artistic director of Teatret Gruppe 38. And more than willing to explain how this poetic temporary harbour universe came about.
"When we knew that our theatre was going to move to a new building in the Aarhus harbour quarter, we wanted to mark the occasion with something special. The opening of the new theatre would be the perfect excuse to work together with two other companies: Trickster-p from Switzerland, and Terrapin Puppet Theatre from Australia.We have known each other for many years, meeting during international festivals. All three of us feel that we are on the same aesthetic wavelength, and we wanted to find out what would happen if we could work together."
But, as often happens, construction of the theatre was delayed and there was to be no opening in 2017. This was a blessing in disguise. The theme of the performance: the ever-changing relation of human beings with the sea finds in fact its perfect expression in the way the performance is taking place.
"Basically, it is a theatre installation at the harbour front, making use of the harbour. And, since it is temporary, we are part of the change that is taking place here. To make it more special: from the location of our little city of containers we are looking directly at where our new theatre is going to be."
Gruppe 38 is making theatre by telling stories. Trickster-p is strong in making images; using the space, they are given. And Terrapin is good at making animations and object theatre. How can you make one performance that allows all three to be themselves?
"We went outside our comfort zone, not using words but sounds, lights and movements. I think we succeeded in creating a performance that is unified by the binding element of the sea, not a jumble of different elements. I am very happy with the result, although in the end the public decides of course!"
Where is it – practical stuff:
It takes from half an hour to forty-five minutes to explore the whole theatre installation. Bring warm clothes, since it takes place in the open air, at the waterfront. Tickets cost DKK 60 and the installation is open to the public from 30 August to 2 September from 21:00 until midnight.