Amidst the coronavirus crisis, a grand old lady turns 81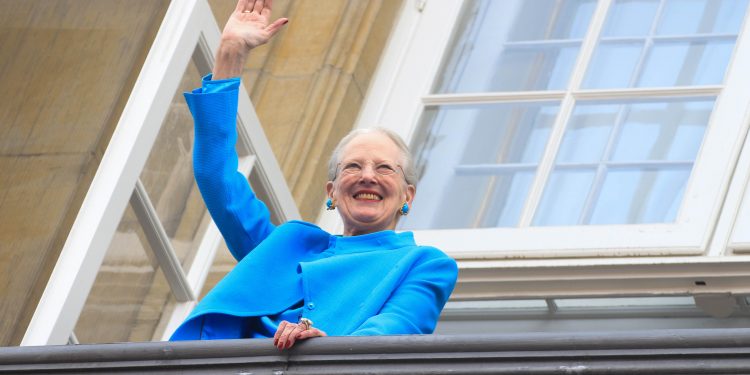 Danish Queen Margrethe was born on 16 April 1940, only 7 days after the German occupation of Denmark, a light in darkness many Danes found.
The article continues below.
By Bente D. Knudsen   All pictures: Per Morten Abrahamsen/ Kongehuset
She wasn't born as heir to the throne, as the firstborn to then Danish crown prince couple, later King Frederik IX (d. 1972) and Queen Ingrid, born Princess of Sweden (d. 2000) a male heir was expected to come afterwards.
However, as the Queen's two siblings were girls as well, she was to become Crown Princess in 1953 at the age of 13. She has later said that she was not very happy about this prospect as it would mean her father had to die for her to become queen.
Her grandfather Christian X reigned throughout both World Wars. He is remembered as the "Equestrian King" because of his ride across the old border into the province of North Schleswig after its reunification with Denmark in 1920.
He became very popular during the German occupation of Denmark between 1940 and 1945 when, every day, he rode through the streets of Copenhagen. Christian X died in 1947 and was succeeded by his eldest son, Frederik IX, the Queen's father.
The 100 year-anniversary for the reunification in 1920 was to have been celebratedin 2020, however, due to the coronavirus crisis, all the activities have been postponed and as yet it is not known what events will take place in the summer 2021.
On the 16 April 2021, Queen Margrethe will celebrate with her children and grandchildren at a private event, as due to the epidemic there will be no public gathering at Amalienborg. The birthday will be celebrated at Fredensborg Castle, where she has her residence at present.
The article continues below.
The Act of Succession of 27 March 1953 gave women the right of succession to the Danish throne but only secondarily, and on 14 January 1972, at the death of her father, she became the first Danish Sovereign under the new Act of Succession.
In 2009 the act was amended so that the eldest child (regardless of gender) would succeed to the throne. With the birth of Prince Christian, Crown Prince Frederik and Crown Princess Mary's firstborn, it will be some years before the new act is put to practice.
Being a constitutional monarch means that Queen Margrethe cannot independently perform political acts.
Support our magazine with a contribution of any size
We hope that you enjoy the information, insights and inspiration that we provide. We are a small team and we would like to keep delivering high quality, interesting articles for you to enjoy and your support will help Your Danish Life to continue to produce relevant content for expats in Denmark.
We do not want to put up a pay-wall, so we need your support and if you find our content relevant and worthwhile, we would value any contribution, however big or small, as a token of your appreciation of our efforts.
How to support:
Transfer any contribution to our bank account at: Your Danish Life/ Danish Expat Media Aps
Danske Bank Account number: 3409 11405673
IBAN: DK68 3000 0011 4056 73
or MobilePay to 2144 1224
Message: Support
She also participates in the formation of a new government when the so-called dronningerunde takes place as a consultation with representatives of the political parties, after which the party leader who has the support of the largest number of seats in the Danish Parliament is invited to form a government.
Once a government has been formed the Queen formally appoints it.
As the Queen is the formal Head of Government, she presides over the State Council where acts passed by the Danish Parliament are signed and officially become new laws.
The Queen is informed of the latest political developments by the Prime Minister and the Minister of Foreign Affairs and she hosts official state visits by foreign heads of state and pays state visits abroad in return.
A big event – at least for the new foreign country ambassadors – is the official reception of them when they present their credentials before starting their work in Denmark.
When Queen Margrethe ascended the throne in 1972, only 42 percent of Danes were in favour of keeping a monarchy. Over the years the support has steadily risen.
A rise much attributed to the way the Queen has fulfilled her role.
The article continues below.
She has amongst other been good at representing Denmark abroad by participating in business trips and exhibition openings in connection with export campaigns for Danish businesses, thus acting as a door opener for Danish commercial interests abroad together with her late husband Prince Henrik.
A role the current Danish Crown Prince Couple also perform and in recent years they have taken over  a range of public events to help the Queen with her many duties and to prepare for the day when they will take over.
In Denmark, the Queen has become a unifying figurehead by both performing numerous public tasks, accepting invitations to open exhibitions, attend anniversaries and her yearly cruise on the royal yacht Dannebrog has brought her out to meet ordinary Danes all over the country.
The Queen's motto is "God's help, the love of The People, Denmark's strength".
In 1967 she married Henri Marie Jean André, Count of Laborde de Monpezat, who in connection with the marriage became Prince Henrik of Denmark.
The wedding ceremony took place in Holmens Kirke, and the wedding festivities were held at Fredensborg Palace. Prince Henrik passed away on 13 February 2018.
An enduring love match many of the royal reporters following the couple say and a small token of the feelings which the Queen holds for her late husband, according to Danish media, can be found in the Queen's speech to the nation due to the coronavirus crisis where a small figurehead made by HRH Prince Henrik can be seen standing on the table behind her.
The article continues below.
The Danish royal family comprises the Queen's two sisters, Princess Benedikte and the former Queen of Greece, Queen Anne-Marie, as well as the Queen's two children, Crown Prince Frederik, born 26 May 1968, and Prince Joachim, born 7 June 1969. Queen Margrethe has eight grandchildren, of which Prince Christian will one day succeed his father and grandmother.
Queen Margrethe's mother tongue is Danish and she also speaks French, Swedish, English and German.
Due to the coronavirus crisis, all planned festivities for the celebration of her 81th birthday have been cancelled, including the balcony ceremony at Amalienborg Palace, a yearly tradition much loved by Danish royalists.
Another tradition changed this year is the opportunity to show up in person at Det Gule Palæ (the main office of the Danish Court) and write a congratulatory note.
Instead, starting 14 April, a register will be set up on the royal website, www.kongehuset.dk, where it will be possible to send personal good wishes to Queen Margrethe.
Of course flags will be flying from all public buildings, buses, a range of private flagpoles and of course from the Queen's residence at Fredensborg Palace.
Find official pictures published to celebrate the Queen's birthday below.