Autumn fun – press your own APPLE JUICE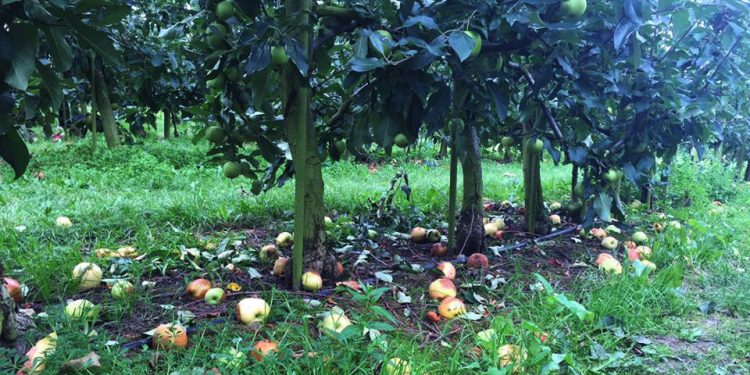 Do you have an old apple tree in your garden with apples you never seem to be able finish? A fun event is to have your apples pressed at one of the apple orchards proposing to do so.
The article continues below.
By Bente D. Knudsen    Pictures: Stine Rosengren, Bente D. Knudsen
Growing apple trees in your garden is very common in Denmark – almost all old gardens boast several, but even in modern gardens, growing them is becoming popular again.
During the autumn season, they delight their owners with fresh home-grown produce.
Sometimes they produce more than you can eat and pressing them into apple juice is a great way to deal with a surplus.
If you have children, picking the apples and taking them to the juice press is a fun way to spend a weekend during the autumn, as children in particular seem to love watching the juice seeping out of the press.
The article continues below.
Apple juice (also called sweet cider) is a refreshing healthy drink. In Denmark the home pressed apple juice often goes under the name æblemost.
You will find that the freshly-pressed apple juice from home-grown apples has an intensity of flavour that is a far-cry from the one you can buy at your local supermarket, mainly because it is unpasteurised and unfiltered.
People who do not normally like apple juice will find the flavour and sheer freshness of home-pressed apple juice a revelation.
The colours can vary considerably depending on the varieties you have been pressing, from dark brown to pale yellow.
Pink or red-fleshed apples make particularly attractive juice.
Home-pressed juice can be drunk immediately, or kept in the fridge in a closed bottle or container for five to six days.
If you find that you cannot drink or give away all of your fresh juice, you can also pasteurise it and make it keep for the whole winter, or even easier freeze it, an easy solution if you have a big enough freezer.
The article continues below.
Buying an apple press may not be on your next shopping list! Although you will find them on sale in the DIY's during the autumn season.
At a few places on Zealand and in Jutland you can bring your apples and have them pressed. Here an overview of them:
At Østervang Gaard Mosteri and Farm Shop in Lille Skensved, situated between Køge and Ringsted, you can have your apples pressed for DKK 8 per 20 kg of apples.
For storage, you can buy 1-litre glass bottles or 1- or 10-litre plastic canisters on site. If you know you will need large quantities – buying them at a DIY and bringing them can be a better deal.
If you press more than you can drink, Camilla Fougner, from Østervang Gaard Mosteri recommends pasteurising your juice once at home.
This is the recommended procedure: Pour the juice into a pot, heat the juice to a temperature of at least 85 degrees Celsius, pour it back into its bottles or canisters, turn it upside down briefly, and then store it in a dark and cool place. This way you can enjoy drinking your own homemade juice during the whole winter.
Each press takes up to 20 kilos, and if you start with less you won't get enough juice. A normal plastic shopping bag contains about 10 kg of apples. You can use apples either from the tree or pick those lying on the ground.
They don't have to be perfect; the most important thing is that they should not have begun rotting.
"We only press your own apples and don't mix them with any others, so the juice is really made from your very own apples. Children often find it a great experience to follow the whole process, from picking up the apples in the garden, watching the press process until they taste it before bottling at our farm. This is the reason why we find it important not to mix customers' apples," Camilla explains about their concept.
On-site they also have family friendly activities, animals children can pet, and their own farm shop.
If you bring a very large quantity of apples, more than a 100 kilos, Camilla recommends that you make an appointment first.
High season is end of September until mid-October.
Go early in the morning as on dry and sunny weekends it can get crowded – and remember to wash the apples before you come – this will save you time on site.
Their website is only in Danish, so feel free to call or send an e-mail in English.
Open Saturday & Sunday from 11.00 – 15.00 in September and October. Østervang Gaard Mosteri og Gårdbutik Harekærvej 17, Ejby, 4623 Lille Skensved. Phone: 61 33 88 83 More information at www.østervang-gaard.dk. Approximately 40 km from Copenhagen (8 km from Køge).
The article continues below.
No apples at home? On Zealand you can pick apples at Kildebrønde Frugtplantage near Greve.
Pick them and bring them to Østervang Gaard to have them pressed, or just take them home to eat. DKK 12 per kg.
Find them at Kildebrønde Landevej 41, 2670 Greve. Phone: 4361 0910. More information at www.kildebronde-frugt.dk.
Taking your car is not a problem as they have plenty of parking space, or take the S-train to Høje Taastrup station, change to bus 120 and get off at the bus stop Søndergaard in Kildebrønde.
You can pick apples every weekend until there are no more apples on their trees! Feel free to call them and ask, they speak English too.
The article continues below.
In Ringkøbing the school Vestjyllands Højskole runs a garden called Forundringens Have. On selected weekends in September and October they offer to press your apples or pears.
You can either bring your own containers or buy them on site. Pressing costs DKK 4 per litre juice. All apples or pears can be used – just make sure they have not started rotting and wash them at home – it is not possible to do so on site.
Only selected weekends: Saturday 14 September, Saturday 13 October and Sunday 26 October from 11:00 to 14:00. At: Vestjyllands Højskole – Forundringens have, Skraldhedevej 8, Velling, 6950 Ringkøbing. You can also contact Birtha Toft on her phone: 2344 9594 or mail to oeko@vestjyllandshojskole.dk. More info at forundringenshave.dk
At Kræmmergård in Bækmarksbro (23 km from Holstebro/West Jutland) they will press your apples for you, bring a minimum of 30 kg for fresh or frozen juice or 50 kg if you want it pasteurised. You can also pick apples here every Saturday and Sunday in September and October and have them pressed onsite.
Contact them to make an appointment as their opening hours are not yet online and get more information. Dorthe & Lars, Kræmmergårdvej 50 7660 Bækmarksbro. Phone: 9788 1034 or mobile: 2759 1577. More information at www.kræmmergård.dk
The article continues below.
On Als in South Jutland the local juicery Ryesminde Mosteri propose a trade-off; if you bring your apples they will exchange them for freshly pressed juice. Minimum quantity: 10 kg apples. You can do so from 03 September until 15 November. Location: Ryesminde Mosteri, Skovbyvej 38, Mintebjerg, 6470 Sydals. Phone: 7441 5287, Mobile: 6017 5877. Open Monday to Friday from 9:00 to 12:00 and 13:00 to 17:00 as well as Saturday from 9:00 to 12:00. More information at: ryesminde-mosteri.dk
On Funen, the local juicery Orskov Foods propose the same trade off. From 16 September to 25 October, you can exchange your apples for freshly pressed juice; 10 kg apples are exchanged for 1 litre of juice. Monday to Friday from 9:00 to 12:00 and 13:00 to 16:00 at Orskov Foods (formerly Ørbæk Most), Odensevej 16, 5853 Ørbæk. More information at: orskovfoods.com.