Big Dresses? No, Great Dresses! Now on display in Den Gamle By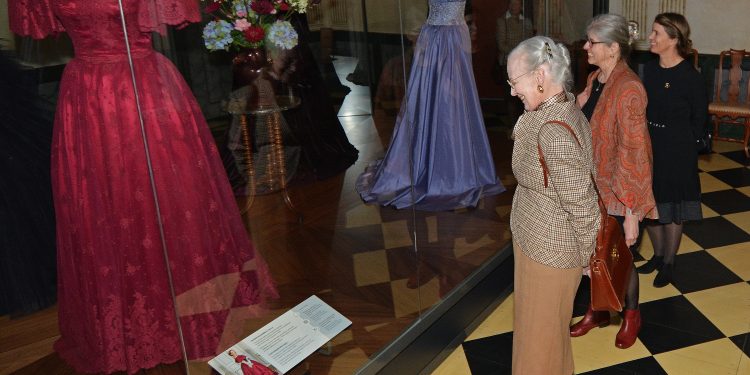 Having a peek at a royal's wardrobe has become a huge hit for museums all over the world, and also in Denmark, when Queen Margrethe opened her wardrobe to the public for the first time in 2015 at Frederiksborg Slot, north of Copenhagen.  Now it is Aarhus' turn.
The article continues below.
By Inger Stokkink  Pictures: Den Gamle By
The exhibition in Den Gamle By, Aarhus, shows 37 dresses, both gala and 'working clothes' from Queen Margrethe – and no less than 42 hats.
The evening gowns or 'big dresses' as the queen calls them, are on display in Møntmestergaarden.
In the Galleries, the adjacent building, you'll find a selection of her hats, of clothes she wore as a toddler and a child, and several of her 'working' clothes – dresses and combinations she has worn when on visit in Denmark and around the world.
The big dresses are, well, BIG. They are from the stuff that fairy tales are made of: meters and meters of tulle, silk, gold embroidery and lace. Monumental dresses, looking light as a cloud and substantial at the same time.
The article continues below.
Queen of reuse
The Danish Queen is an ardent believer in re-use, and has had many of her dresses, especially the 'big' ones, altered. Like cats, they had more lives than one. This yellow silk one used to be a stately ball gown, floor-length, with gathered plaits in the back, a 'tournure' (big 'pouffe' at hip-height) and small 'pouffe' sleeves.
Then it had its sleeves altered, the tournure vanished, the plaits moved to the left side and the hem was raised to mid-calf. Cut down in size, with the pouffes gone and the hemline gone up to mid-calf, it has become a sunny cocktail dress that has been on duty until recently.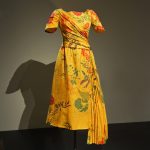 There is another remarkable fact about this dress. The material it is made of is Italian curtain silk. It is not the first time that Queen Margrethe made unusual choices for her clothes.
Another dress on display is partly made of a Japanese obi – a wide textile belt, which the queen, then hereditary Crown Princess Margrethe bought while on tour in Asia in the early sixties. The Queen even has a tailor-made raincoat of plasticised tablecloth in a bold flower pattern.
In other words, the Queen approaches her clothes in a way that is not so much led by choice of designer, but by choice of material – and re-use of it. Which is a very different and perhaps even unusual approach to fashion. But she gets away with it!
The article continues below.
Practicals:
The exhibition opened on 28 March 2018 and will run until 9 September 2018. More information here.
http://www.dengamleby.dk/from-the-queens-wardrobe/
If you have seen the exhibition of her dresses at Frederiksborg back in 2015, you will probably not see more new dresses.
But it is for the first time that a selection of Queen Margrethe's hats are on display.
If you do not have the opportunity to visit the exhibition, you can still enjoy Katia Johansen's book Dronningens Kjoler (the Queen's Dresses), which came out in 2012. It is in Danish though.