Bike Rentals in Copenhagen: find our break down of the popular go-to's for locals and tourists alike.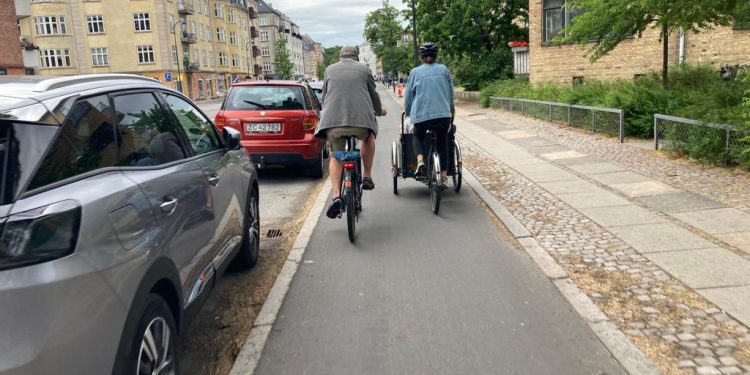 The best way to discover a city is on foot ? Not so in Copenhagen, the only appropriate and acceptable way to go about it is by sitting astride a two-wheeler. Fortunately, you needn't empty your pockets to invest in one because this cycle-crazy city has a multitude of bike rental options to choose from.
The article continues below.
By Tina Jimmy Dastur Pictures: NH Lindegaard
The Danes are a simple folk. It doesn't take much to make them happy.
Copious pints of beer and endless refills of coffee? Yes.
Licorice and rugbrød at any time of day? Of course.
Calendars organised according to week numbers? Strangely, also yes.
The blinding warmth of the summer sun? You bet!
While each of the above plays a key role in introducing some Danish hygge into daily life, it's bikes that bag top spot.
Cycling is such an inextricable part of Danish DNA that one could even go so far as to say that the Danes are born straddling a two-wheeler.
Here, cycling isn't just a part-time recreational activity or must-learn life skill. It's a way of life.
The overwhelming popularity of cycles in Denmark, and especially in the capital, can be attributed to a) a robust cycling infrastructure that focuses on connectivity and safety (think dedicated cycling lanes, superhighways, and bike-only bridges), b) the country's relatively flat terrain (almost bereft of steep inclines), and c) the Danes' inherent love for both, the environment and movement.
Such is the trust in and reliability on the cycling infrastructure that, on any given day, you'll find everyone from the young and the restless whizz past on their way to university or office, to the oldies mindfully making their way through on a grocery run, and parents pedalling away in rush-hour traffic with their tiny tots securely strapped into child seats (on city bikes) or in mini wagons (on cargo bikes).
Not even the blustery winds and bone-biting chills of the harsh Danish winter can dull their enthusiasm and dedication.
It's hardly any wonder, then, that Copenhagen played host to the Tour de France Grand Départ in July 2022 and even less of a wonder that the competition was won by a native Dane, Jonas Vingegaard.
Denmark's success with the humble two-wheeler has, unsurprisingly, seen other countries turn to it for inspiration, with Danish architect and urban planner Jan Gehl coining a special term for it—'to copenhagenise'.
In layman speak, this translates to the Danes teaching global megalopolises how to develop and sustain a successful cycling culture.
Given that the population relies so heavily on bikes to get places, Denmark—and Copenhagen, in particular—abounds with retailers, who buy and sell a variety of cycles, from the old to the new (and the blue), the branded to the basic, the standard to the electric, the tandem to the cargo.
So, if you're looking to 'copenhagenise' yourself, then it's best to do as the  Danes do and commit to cycling.
The article continues below.
Although there are several physical shops as well as Facebook Marketplace and DBA (for the digitally-savvy) for cycle purchases, there are as many, if not more, options for those looking to go the renting route.
It's understandable if you're new to the cycling scene and would much rather test the waters before taking the plunge and investing in one. Maybe you're unsure if you'll be around in Denmark for the long-term, in which case buying might not be practical. Or perhaps you just need a cycle on a no-strings-attached case-to-case basis, in which case renting is a far more economical option (unencumbered by regular maintenance and upkeep costs).
Whatever your reason—an errand run, a leisurely city tour, or a journey to and from work—know that renting a cycle offers you quick, easy, and pocket-friendly access to an experience that is at once liberating and rewarding.
Now, we're bringing you one step closer to said experience with our curated list of bike rental brands in the capital.
SWAPFIETS
Swapfiets is a bike rental service that works on a membership basis, as part of which, for a reasonably-priced fixed monthly fee, you can rent a two-wheeler that is best suited to your height, physique, and miscellaneous needs—be that your run-of-the-mill bycykel (city bike) or a more modern elcykel (electric cycle).
You can opt for either the Regular or Flexible membership option, depending on what you're comfortable with. The former has no joining fee and lets you cancel for free after the first six months, while the latter includes a one-time joining fee, with the option of cancelling any time.
Once you've zeroed in on a bike, you have the option of picking it up in store on a day and time convenient to you or getting it delivered to your doorstep (provided you're located in an area serviced by Swapfiets).
What's more, in the event of a sudden, unexpected bike breakdown, all you need to do is flag the issue on their app; rest assured, they will have it repaired and up and running within a 48-hour timeframe.
To explore their collection of cycles and know more about the rental costs, visit Swapfiets.dk
The article continues below.
BAISIKELI
The Swahili word for 'bicycle', Baisikeli is a Danish bike brand started by cousins Niels Bonefeld and Henrik Mortensen circa 2003 that focuses on using bicycles to improve the lives of the underprivileged in Africa.
To enable this, Baisikeli takes cycles discarded annually in Denmark and ships them to Africa, where they are repaired by local mechanics trained by the company and sold at market price to those who need it most, be it individuals in remote villages or medical clinics. In the process, Baisikeli not only alleviates mobility woes in the more downtrodden parts of Africa by offering economically priced bikes but also provides vital education and employment opportunities to local mechanics, thus setting the groundwork for a system that is sustainable.
Ever since their first shipment of cycles to Africa back in 2007, Baisikeli has strived to make a positive and lasting impact on transport in a continent in dire need of it, and as of today, has delivered more than 20,000 bikes to Africa.
To fund the transport of these cycles and run workshops to train mechanics in Mozambique, Baisikeli sells and rents out a variety of bikes, both to individuals and larger groups. So, if renting for social good resonates with you, get yourself a baisikeli.
Choose from their standard three-gear and luxury seven-gear bikes, touring bikes, children's bikes, and cargo bikes…and feel free to add on associated accessories such as helmets, lights, and pannier bags.
To explore their collection of cycles and know more about the rental costs, visit Baisikeli.dk
The article continues below.
DONKEY REPUBLIC
Back in 2012, Erdem Ovacik, co-founder of Donkey Republic, was flummoxed when he saw his roommate (with whom he shared a flat in Copenhagen) planting a few cycles in certain spots around the city with combination locks, so his friends could use them when needed and save themselves the hassle of having to exchange keys.
Surely there's got to be an easier way to share your bike with anybody, any time, thought Ovacik. From this thought was borne Donkey Republic two years hence in the Danish capital, with the objective to transform urban mobility by offering a wireless lock and innovative bike-sharing system.
Today, Donkey Republic's striking orange silhouettes are ubiquitous on Copenhagen's streets, and their popularity can be credited to their affordable price points and flexible renting model.
Whether for short trips or long adventures, their bikes allow you the freedom to lock, unlock, and make stops as many times as you want/need.
To rent a Donkey, simply download the app and scan the map to locate one closest to you. After you've reached your destination, simply connect to the lock via your phone's Bluetooth and lock and unlock with ease.
Once your Donkey has served your purpose, don't forget to ride it to an available drop-off location before ending your rental on the app.
If you enjoy the convenience and ease Donkey Republic's system affords you and would like a Donkey on a regular basis, it's worth looking into their Day Deals and membership options because they offer more bang for your buck.
To explore their collection of cycles and know more about the rental costs, download the Donkey Republic app on Google Play or the iPhone App Store
The article continues below.
CHRISTIANIA CYKLER
The Christiania bike may be synonymous with Denmark's cycling culture today, but it traces its roots all the way back to 1984 Freetown Christiania in Copenhagen, when the first of its kind was rolled out of Christiania Smedie and gifted by Lars Engstrøm to his wife, Annie. Back then, and even now, the bike stands as a symbol of a greener, car-free Denmark.
Over the decades, experience and research have resulted in design tweaks to the iconic family-friendly cargo bike, with the modern-day versions capable of supporting an electric motor, featuring hoods with trims, and flaunting a diversified colour palette.
Equipped with three wheels (instead of two), seven gears, a children's bench, lights, locks, and a canopy, the Christiania ladcykel (cargo bike) is an ideal rental option for those with little ones, furry friends, and even fully-grown venner (friends) and kærester (partners).
If you enjoy the Christiania bike experience and want to commit to it for a longer time period, you can even get one on subscription at Liisabike.dk for a fixed monthly price that covers service and maintenance.
To know more about the rental costs, visit Christianiacykler.dk
The article continues below.
ROSENBORG CYKLER
Tucked away somewhere between Rosenborg Castle and Købmagergade, Rosenborg Cykler is a cosy bike shop that goes the extra mile when it comes to rentals. Not only do they rent out two types of Standard Bikes (including the popular three-gear Bornholm cycles) and the Christiania Cykel or similar Cargo Bike—at economical rates but they also offer-up Semester Bikes and Guided Tours.
The former, as the name suggests, is a special service aimed at enabling international students on exchange programmes get around the city through rental plans for short semesters (up to three weeks), summer semesters (up to three months), and full semesters (up to six months), as well as the option to purchase add-ons (baskets, helmets, chain or mounted locks, and attachable or mounted lights) at a negligible cost.
The latter, organised in association with Amitylux, is a three-hour group tour designed to expose eager and enthusiastic tourists to the loveliest landmarks in the capital, made even more attractive when viewed straddled across a saddle.
To explore their collection of cycles, visit their shop at Rosenborggade 3K, 1130 København K. To know more about the rental costs, visit Rosenborgcykler.dk
The article continues below.
RENT A BIKE
Occupying space near Østerport Station, Rent A Bike houses one of the largest selections of rental bikes in the capital, each of which is designed to meet your specific needs at inexpensive rental rates that start from as low as 125 DKK per day. The cherry on top? The rates are inclusive of front and rear lights and a bicycle lock, too!
If you're looking for a sturdy two-wheeler to ferry you to-and-from work or class, their practical city bikes are a reliable bet. But, if you're an adventure junkie in hot pursuit of an adrenaline rush this summer, you can't go wrong with their super-fast mountain bikes.
Families of three or more would get their money's worth from the trusty Christiania bikes and trailers, while groups would do well to consider Rent A Bike's tandem bikes.
To explore their collection of cycles, visit their shop at Pedalatleten Østerport, Oslo Plads 9 (Track 13), 2100, København Ø. To know more about the rental costs, visit Rentabike.dk
The article continues below.
KONGENS HAVE CYKLER
Kongens Have Cykler has quite the reputation among the local populace for careful, reasonable, and efficient bike repairs. That said, the brand is equally reputed for its bike rentals, with a portfolio boasting city bikes, electric folding bikes, and the much-coveted Christiania cargo bike (both the regular and electric versions) designed to meet every purpose and budget.
When it comes to the Christiania ladcykel, Kongens Have Cykler allows you the option to rent it out for anything from an hour to several months. And, should you need more than one, well that' all the better because they will work out an attractive family package at a competitive price so that you get the most out of your money.
To explore their collection of cycles and know more about the rental costs, visit Kgshavecykler.dk
One Two-Wheeler. One Too Many Rules.
When it comes to cycling in Denmark, the rules were NOT made to be broken. Copenhagen's cycling paths can be a warzone, especially during rush-hour, and if you want to ensure a smooth, seamless, and most importantly, safe cycling experience for yourself and your fellow cyclists, it's best you play by the rulebook.
Use hand signals: Before making a right turn, indicate the same to the cyclists behind you by sticking your right hand straight out. Likewise, when turning left, only this time using your left arm instead of your right. Conversely, if you intend to stop, signal by raising your hand in a stopping gesture. Fail to do any of these and you risk getting some choice words flung your way by the locals or worse, a hefty fine from a hawk-eyed policeman!
Don't take a direct left: The concept of a direct left is non-existent in Denmark, so do not make the mistake of turning left, even involuntarily. Cross the road to the opposite corner and wait for the traffic light to turn green before pedalling away to your destination.
Keep an eye on the traffic lights: At the more prominent intersections in the city, you will almost invariably have separate traffic lights for cars and bikes, the difference evident in the fact that the ones for bikes are slightly dwarfed in comparison. Make sure you pay attention because the bike signals don't always change colour in accordance with the car signals.
Stay in your lane: The country has a well-established and clearly demarcated network of cycling paths, and it is in your best interest to stay within the white lines that run parallel to but are still separated from the streets. Moreover, keep to the right when cycling—in doing so, you avoid collisions with cars and also leave space for experienced and rushed bikers to overtake you. Conversely, if you're looking to overtake, glance back over your left shoulder to make sure you've got a free window.
Switch your lights on after dark: This is an unwritten, non-negotiable rule in Danish cycling culture. Most rental bikes don't always come equipped with lights, but it's a good idea to ask the rental agency to fit one on as a precautionary measure.
Give right of way to buses at bus stops: If you happen to be cycling past a bus stop and notice a bus pulling in, wait, don't overtake, as you risk knocking over alighting pedestrians crossing the bike lane. And take it from us when we say, that is the last thing you want to do.
Lock your bike: Sure, Denmark's one of the safest countries in the world for people, but the same cannot be said for its bikes. Cycle theft is common, and your best way to safeguard against it is by locking your bike with a solid locking system and hoping that no petty thief thinks your bike is attractive enough to steal.
Do a time and ticket check before boarding public transport: If you wish to take your cycle on board the bus, you are allowed to, but may only take one bike per person and have to have purchased a special bike ticket prior at either the train or metro station. On the S-tog, you can board your bikes for free, but you are not permitted to take it on or off the train at Nørreport station during rush hour. Similarly, you cannot board the metro trains with your cycle during rush hour, but you are free to do so at other times during the day.
Support our magazine with a contribution of any size
We hope that you enjoy the information, insights and inspiration that we provide. We are a small team and we would like to keep delivering high quality, interesting articles for you to enjoy and your support will help Your Danish Life to continue to produce relevant content for expats in Denmark.
We do not want to put up a pay-wall, so we need your support and if you find our content relevant and worthwhile, we would value any contribution, however big or small, as a token of your appreciation of our efforts.
How to support:
Transfer any contribution to our bank account at: Your Danish Life/ Danish Expat Media Aps
Danske Bank Account number: 3409 11405673
IBAN: DK68 3000 0011 4056 73
or MobilePay to 2144 1224
Message: Support