Can a public toilet be a tourist sight?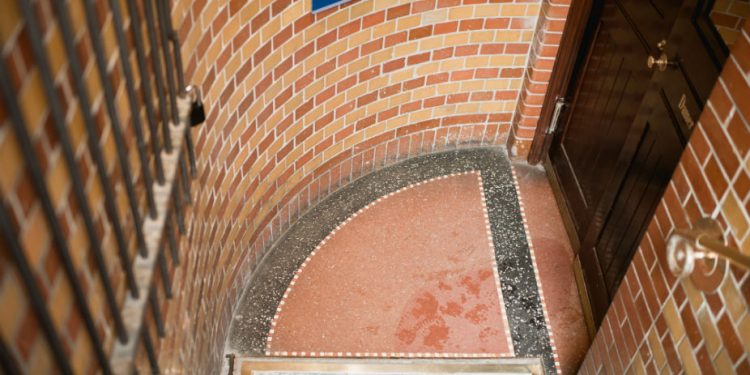 Copenhagen City boasts beautiful old public restrooms, staffed by attendants to ensure a clean and safe visit.
The article continues below.
By Bente D. Knudsen     Pictures: Mayra Navarrete
You probably know that situation; you feel nature's call and would like to find a public restroom, preferably one which is clean and safe to use.
In Copenhagen, seven public and free restrooms are staffed with friendly attendants  who greet you as you enter and ensure that the restrooms are are clean and neat at all times and where you can feel safe and where the facilities are separate for men and women.
The article continues below.
Five of them are more than 100 years old and are beautifully kept in style and maintained with their polished brass handles and shiny mahogany doors and panelling. So, even if you do not actually need to go for natural reasons, they are worth a visit.
Built at the turn of the 20th century, they replaced the many pissoirs found in Copenhagen at the time.
The pissoirs (men's urinals) were French styled Parisian ones with green, ironclad steel constructions. At the end of the 19th century they were receiving a lot of criticism from the public;  too visible to the public eye, with a distinct bad smell of urine emanating from them; they were found to disturb the public peace.
For this reason the new public restrooms were built underground and, in line with the new equal rights movements, equipped with facilities for both men and women.
The oldest ones were built in  1902 at Amagertorv with underground public toilets for men and women.
At the time this was not a pedestrian street, but a square alive with all the hustle and bustle of horse drawn carriages, bicycles, pedestrians and tradesmen.
The article continues below.
During your strolls through Copenhagen you may not even really have noticed them as they are located discreetly right next to the fountain Storkespringvandet with two sets of stairs leading underground, only flagged by a rather small and discreet brass sign for each gender.
The attendant even explains that since tourists do not expect them to be staffed, they often dare not venture down.
So, during the dry season she will at times stand above them in order to entice needy visitors to use the safe and clean toilets.
The remaining four, of the five original ones, were established between 1903 and 1907.
The last two staffed ones are modern facilities, of which the newest is the one at Nørreport Station, opened together with the metro during the general renovation of Nørreport station.
The one at the town hall square is located underground and was opened in 2019 when the metro station opened here.
Both Copenhageners and visitors should be able to find a convenient tidy restroom when they need it," the municipality's responsible manager explains as the main reason why the municipality of Copenhagen has decided to finance staff  for the seven toilets while maintaing them as free to use.
Up until 2011 there was a fee of DKK 2 to use them.
However, during  the 2011 budget discussion, one of the female members of the city council voiced an opposition to the fee, claiming that women's equal rights were violated as men could go for free to one of the seven outdoor municipal pissoirs still in use.
The outcome of the discussion? The public restrooms should be free to use and, since then, they have been.
The money seems to be well spent as annually up to 2.7 million people use the seven restrooms.
Find their locations below.
Find the public toilets staffed with an attendant here:
The five from the beginning of the 20th century
• Amagertorv public toilet is open every day from 9:00 to 22:30
Location: Amagertorv 1F (underground next to fountain)
1160 København K
• Israels Plads public toilet is open every day from 8:00 to 22:00
Location: Israels Plads, Frederiksborggade 21 (stairs go down to the basement of the building)
1360 København K
• Nyhavn public toilet is open every day from 9:00 to 22:30
• Location: Nyhavn 1F (underground next to the tour boats)
1051 København K
• Trianglen public toilet open every day from 9:00 to 18:30
Location: Trianglen 1 (located inside the round building called Bien)
2100 København Ø
• Vesterbro Torv public toilet is open Monday to Friday from 10:30 to 17:30
Location: Vesterbros Torv (also underground; look for stairs leading down to them)
Vesterbrogade 47F,
1620 København V
The two modern ones
• Nørreport public toilet is open every day from 8:00 to 22:00
Location: Nørre Voldgade 15A, Nørreport station
1358 København K
• Rådhuspladsen/ Town Hall square public toilet is open every day from 9:00 to 22:30 every day.
Location: Rådhuspladsen Metro Station
1550 København V
Support our magazine with a contribution of any size
We hope that you enjoy the information, insights and inspiration that we provide. We are a small team and we would like to keep delivering high quality, interesting articles for you to enjoy and your support will help Your Danish Life to continue to produce relevant content for expats in Denmark.
We do not want to put up a pay-wall, so we need your support and if you find our content relevant and worthwhile, we would value any contribution, however big or small, as a token of your appreciation of our efforts.
How to support:
Transfer any contribution to our bank account at: Your Danish Life/ Danish Expat Media Aps
Danske Bank Account number: 3409 11405673
IBAN: DK68 3000 0011 4056 73
or MobilePay to 2144 1224
Message: Support