Closed streets in Copenhagen and on Frederiksberg due to ROYAL RUN on 21 May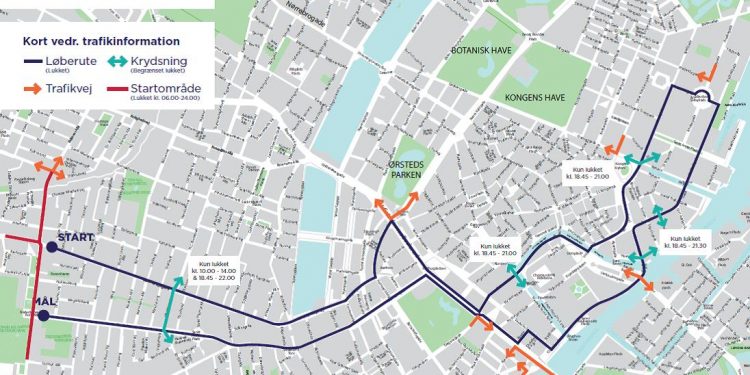 The last of the royal runs takes place in Copenhagen and Frederiksberg on Monday 21st May with the participation of HRH Crown Prince Frederik to celebrate his 50th birthday. After doing a one mile in four cities, he will run 10 km in the late afternoon in the last one.
The article continues below.
After more than a year's preparation the day has finally come when all of Denmark runs with their Crown Prince.
He has wanted this event to take place to be able to celebrate with Danes and really be the people's Crown Prince, sharing his passion for being active in many ways, one of them by running. He has run several marathons and in general is known to be a very fit and sporty, now soon to be, 50 year old royal.
The event starts in Jutland with Crown Prince Frederik doing a one mile run in Aarhus, Aalborg and Esbjerg. In Odense, HRH Crown Princess Mary will run the 10 km race, which will be started off by her her husband – after he has finished his one mile run (1.6km) here.
The event is to be one big party in the main streets of the participating cities, celebrating his 50 years and making a call for the importance of staying active all your life.
The article continues below.
The program in Copenhagen on the 21 May is:
10:00: Opening speech
10:30: Family-mile
11:00: Children's mile without parents
12:00: One mile-Para
12.30: One mile- Exercise and One mile walk
18:00 – 19:00: Grand opening and arrival of the Crown Prince
18.30 – 19.30:  10 km race is started with the Crown Prince at the head
Traffic will be affected in the city
This means that some of  Copenhagen's and Frederiksberg's main streets will be closed off for traffic due to the race the Copenhagen Police warns the public.
The 10 km route itself will be closed to all traffic from 17:00 until 22:00.
However, a range of streets will be closed to traffic from the early morning until late evening from 06:00 until 24:00 – the ones affected by this are: Smallegade, Allégade, Falkoner Allé (between Nyelandsvej and Smallegade), Gammel Kongevej and Frederiksberg Allé (from Allégade to Alhambravej) vil være lukket mellem kl. 6.00 og 24.00
From 14:00 until 17:00 limited access will be given to Gammel Kongevej and Frederiksberg Allé.
If you need more information about traffic due to the royal run you can send a mail at the  Royal Run Trafikhotline mail to: trafik.kbhfrb@royalrun.dk or call them at : 41 10 32 02
Royal Run is organised by the NOC & Sport Confederation of Denmark, DGI and the Danish Athletics Federation as part of the ambitious "Bevæg dig for livet" (Move for Life) campaign. Royal Run is supported by Nordea-fonden and TrygFonden.
By Bente D. Knudsen           Video: Royal Run