Coronavirus closes outdoor exercise areas and bans runners from some parks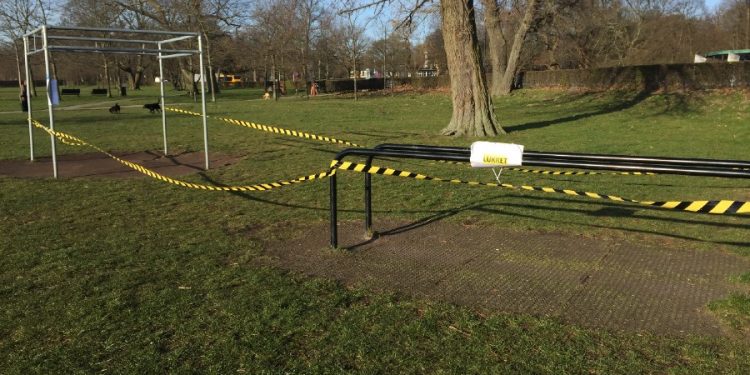 In efforts to secure the needed 2-meter distance, several Danish municipalities put new measures in place to reduce risk of spread also outdoors.
The article continues below.
By Bente D. Knudsen
If you are one to enjoy your local outdoor exercise area, you will be sad to find most of them now off limits.
Unfortunately, they attract many people who sweat and touch the same machines or poles thereby increasing the risk of spread.
Therefore, they have been sealed off.
In Copenhagen and Frederiksberg there are also measures in place to help people avoid getting too close when they go for a walk.
For instance, around the lakes in Copenhagen, one of the outdoor hot spots in the city, the rather narrow path around the lakes makes it difficult for people passing each other to maintain the appropriate distance. On one side is the lake, on another the embankment.
Therefore, signs have been put up announcing that the paths have a one-way direction, so that at least traffic is limited to walking or running in the same
direction.
New is that in Frederiksberg, the very popular park, Frederiksberg have, is now banishing runners from entering. Instead they are asked to run in Søndermarken, which will also have one-way running paths to reduce the risk of people getting to close to each other.
At the entrance to Frederiksberg Have, and inside the park, wardens will help runners get the message.
The article continues below.
Support our magazine with a contribution of any size
We hope that you enjoy the information, insights and inspiration that we provide. We are a small team and we would like to keep delivering high quality, interesting articles for you to enjoy, therefore we need your support.
We do not want to put up a pay-wall, so if you find our content relevant and worthwhile, we would value any contribution, however big or small, as a token of your appreciation of our efforts.
How to support:
Transfer any contribution to our bank account at: Your Danish Life/ Danish Expat Media Aps
Danske Bank, Account number: 3409 11405673
IBAN: DK68 3000 0011 4056 73
Message: Support
The measure is only in place for runners, those wanting to stroll through the park can still do so and only as long as the coronavirus public measures are in place.
The municipality of Copenhagen has announced it is keeping a close watch in general on the situation in its other parks.
On Bispebjerg the very popular Japanese Cherry Tree Boulevard has been sealed off, as when in bloom, the cherry trees attract many visitors, and the municipality was concerned that it would be impossible to maintain the distancing measure of 2 metres.