Dangerous kitchenware and a hen makes hilarious theatre in Aarhus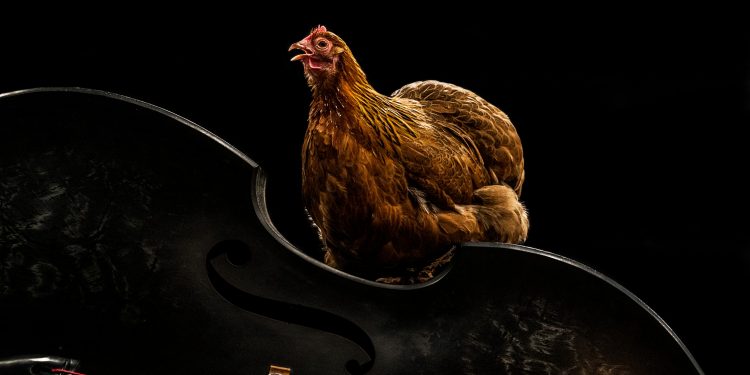 A theatre is a house of culture. But it can be a meeting place too. Teatret Gruppe 38 goes the extra mile and often organises productions in English, so people can meet across language borders in Aarhus. One of these productions is A Sonatina, a precious little jewel of a musical and theatrical performance.
by Inger Stokkink
The article continues below.
'For Satan!' cries a boy behind me, while the rest of the audience gasps and shrieks.
The wolf has just gobbled up grandma and Little Red Riding Hood is about to be eaten too. I will not tell how, so as not to spoil the show. But A Sonatina is a really exciting and funny performance of that well-known Grimm fairy tale.
I watched the performance on a cold and rainy Wednesday morning, together with class 3 from Solbjerg Skole, south of Aarhus.
Bodil Alling, who carries the whole performance, caught their attention straightaway, never to release it until the final round of applause. And even beyond that: after the performance, a group of children stepped up to Bodil to ask questions.
There was also ample time to check out the chicken, the instruments and the nifty three-wheeled mini cargo truck, which folds out and forms a little stage-on-stage.
The article continues below.
Nagging is fun
'A Sonatina' tells several stories at the same time, in which Bodil Alling is the connecting element. She plays that she is making a performance about Little Red Riding Hood, with the help of such unlikely attributes as a potato masher, an egg and a fly swatter, annd two musicians and a chicken.
But none of the other participants are doing as she says.
Musicians Søren and Christian cannot get out of the mini-truck and are generally unhelpful. Pia the chicken, ('a real Buff Orpington!') disappoints by not laying the egg she is supposed to produce.
This unleashes a stream of comments from Bodil, which sounds like all the warnings, reproaches, rhetorical questions, and general nagging (otherwise known as parental micro-management) children are subject to in everyday life:
"Clean? Do you call this clean?"
"The floor isn't going to sweep itself, right?"
"You have to do that yourself, otherwise you'll always be dependent on others, do you want that?"
Transferred to an actor and two musicians, and a chicken, on stage, these (well-known) remarks become incredibly funny.
And for grown-ups, there is the classical power play between three persons: Bodil taking charge, Søren and Christian undermining her but just as often succumbing to her. The running gags. And last, but not least, chicken Pia's role.
The article continues below.
AN ENGLISH-SPOKEN THEATRE CLUB
Teatret Gruppe 38 is one of the few theatres in Aarhus that makes a point of producing English-spoken performances. To support their effort, they have started a theatre club for non-Danes.
Juliana Appel volunteers with the theatre club. Originally, an actress from Brazil, she is happy to share her love for the theatre, and culture in general, with other foreigners in Aarhus.
But the social aspect plays an important role, too.
"Some of us are used to going to the theatre on our own, sure to meet some people we know. Therefore, it can be lonely here, when you have just come to Denmark and you do not know so many people! Or so much Danish!

Teatret Gruppe 38 offers foreigners the opportunity to meet people in a cultural environment. On Monday 18 December, we'll meet and mingle before the performance, and afterwards we'll get a tour of the theatre."
So if you – and your children! – need a 'shot' of culture, be sure to visit Teatret Gruppe 38 in Aarhus and see 'A Sonatina' on Monday, 18 December.
Followers of the theatre club's Facebook page get a discount on their tickets.
More info on the theatre club here:
For more info on A Sonatina here: