Interview: Her EXPAT influence shaped her life: MEET iconic Christmas decoration designer Jette Frölich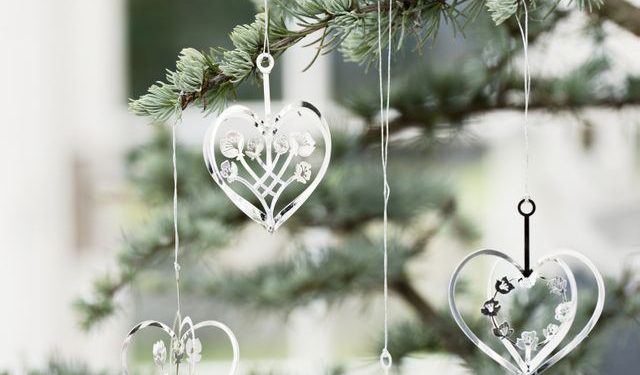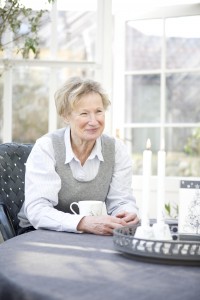 Her decorations have graced windows, hallways, ceilings, tables and trees for Christmas in Danish homes for 50 years. Strongly influenced by her Persian expat experience, gold and white became her signature colours, designs that hit a long lasting trend.
By Bente D.Knudsen           Pictures: PR and private
The article continues below.
If you are open to new experiences during your expat travels – you never know where they can take you.
For Jette, her design adventure really took off in Iran in the beginning of the 1970s.
Due to her husband's work, the whole family lived in Tehran for a number of years, and here she became captivated by the beauty and mysticism of Persian and Arab culture.
"I remember clearly, how deeply impressed I was by the first mosque I saw upon arriving in Teheran. I

In my imagination, I saw the forms of the two minarets on it as two crowns, and by adding an extra minaret in my designs, I created the decoration for the Three Wise Men. In Danish we call them Kings, Hellige Tre Konger,"
Jette remembers, as she talks about how it all started and where she got her inspiration from.
The mother of four, with her three oldest children in the international school, her youngest son stayed at home; however, Jette still found time for her great passion: the design and making of decorations.
"Even with four young children, I spent all my leisure time cutting and clipping, making decorations with my scissors. It was also here I became so fascinated by gold, which is used everywhere in the Persian and Arab cultures, so I started using gold as a colour for my decorations too," she says.
A true Christmas passionate, Jette had always arranged and hosted annual Danish Julestuer, Christmas markets, at her home. She had done so already before moving to Iran, and so she started arranging and hosting them in Tehran as well, selling her new designs from her Christmas markets.
They became very  popular among the expat community, making her realise that her designs had an international appeal and that she did not necessarily have a particularly Scandinavian style.
"Before I went to Persia, my designs were very much inspired by the simple Scandinavian style, the clean and pure lines, but my years in Tehran really made me adapt my style.

The oriental mysticism and arabesque forms, which you see in their architecture, art and artefacts, had a great influence on me, they have many details and use lots of scrolling and interlacing lines, something you will find also in my designs."

The article continues below.
A childhood passion
Actually, Jette's passion for making decorations started many years prior to her expat experience. As a child, she had always loved embroidery and sewing. At home, she spent hours together with her grandmother making more or less primitive designs. Luckily, a friend of the family saw her talent and potential, and enrolled her in a more professional Danish handicraft and arts school, Håndarbejdets Fremme.
Here she was taught proper hand-craftsmanship and continued to develop her talent. Being part of a large family, as the youngest of four, there was always someone who needed a gift.
"I really loved gift giving, and I think that is also the reason why Christmas is so important to me.  In my childhood home, my mother always decorated the house for Christmas, at the time, in the more traditional Danish fashion, with lots of red and green decorations, and of course the kravlenisse, the Christmas trolls."
Her passion made her apply to the Danish school for architecture; however, she was never accepted. Not many girls were at the time. Instead, she studied French after spending a year in France. However, her creative passion made her continue cutting, clipping and sewing her designs, making gifts and decorations for Christmas, while she fulfilled her dream of a big family with four children.
Her first Christmas decorations were more "old-fashioned" Danish designs, with green and red colours, and of course the Danish nisser. She sold them from her home in 1966, hosting her first Julestue at her house in Trørød, north of Copenhagen, the tradition she was later to continue in Teheran.
The article continues below.
The oriental influence hit a trend
When she moved back to Denmark in 1974, she decided to start her own business, building it up slowly as a one-woman show run from home.
"It was really tough, starting my Christmas decoration business; you are always working when you start on your own. Many people think that creativity just comes by divine inspiration or on its own, but it is really hard work – all the time. I think success comes from hard work and perseverance, and then of course you need to get lucky too."
Her big breakthrough came in 1978 when Illums Bolighus, the Danish design store in Copenhagen, asked her to be the Christmas Art Decorator of the Year, a great honour bestowed on different artists each year.
"I can still remember being dead nervous when I met the then director, Jørgen Basse. Danish Christmas colours are always red, and sometimes green, but mine were white and gold. So without really thinking about it, when I presented them,  I said, 'I think this year should be white and gold, and then next year we could add more red', upon which he corrected me, saying that the Christmas Artist of the Year is an annual, and not a recurring, honour,"
Jette laughs, as she recalls the incident. In fact, her Christmas decorations were so popular that she remained Christmas artist of the year at Illums Bolighus for the following 29 years.
Jette's son, Johan Frölich, has taken over running the family business. However, being innovative is still important even within a traditional season such as Christmas. Therefore, despite her 76 years, Jette designs a new collection for every Christmas season. She finds inspiration from all elements around her and in her life – as when her childhood passion for ice-skating inspired one of her collections.
The article continues below.
To maintain success is hard work 
"Danes are not so good at celebrating others' successes, and they will tease you if they can. People love telling me that some design or other looks like mine and people are copying my designs. I decided a long time ago not to be annoyed by that. After all, what can they do, other than copy, and at the end of the day the copyists compete with each other. As the original Jette Frölich Design, we can continue creating new collections and designs. I think copyists have a hard time competing with that."
She is, of course, already thinking about the next one.  In her life, thinking about Christmases past, present and future, is done all year round!
If you want to visit a true Danish Julestue – you are cordially invited to Jette's home – again this year she opens the door to her home every day until 17 December from 12:00 to 17:00 at Koefoeds Bakke 5, 2850 Nærum.
You can also find her designs in Tivoli, at Magasin in Copenhagen, Lyngby, and Odense (shop in Shop) and Illums Bolighus in Copenhagen.