Danish general elections coming up. You might wonder who Lars is?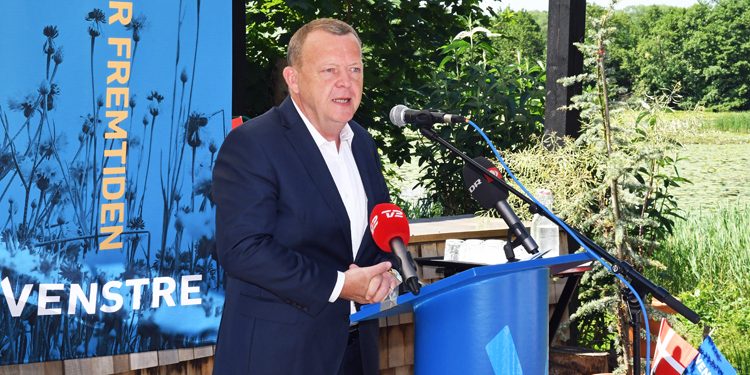 The date has been set, the next elections for parliament will take place on 5 June. Danish Prime Minister Lars Løkke Rasmussen will be running again. Find out more about him here.
The article continues below.
By Inger Stokkink    Picture: Hasse Ferrold
Lars Løkke Rasmussen (b.1964) is the present Prime Minister of Denmark and Chairman of Venstre, Denmark's liberal party.
The son of a bookkeeper and a stay-at-home mother, he grew up in the town of Græsted on Sjælland in your typical Danish villakvarter with an older sister and a younger brother.
He is married to Sólrun Løkke Rasmussen, teacher, born on the Faeroe Islands, with whom he has three grown-up children: Bergur, Lisa and Simun.
He likes cycling (and drinking a beer or two), and he sometimes does workouts on Monday mornings at the prime minister's residence Marienborg inviting in Danes from all walks of life, just to know what goes on in Denmark.
He took a law degree from Copenhagen University and worked five years in his own legal consultancy firm. But politics became more and more important in his life.
He started his political career in Venstres Ungdom (VU), the youth organisation of Venstre, when he established the Græsted branch of VU.
In 1985, he was elected to the Municipal Council of Græsted-Gilleleje, and from 1986 to 1989 he was National Chairman for VU.
After becoming member of Folketinget in 1994 and serving on several other posts in local and regional government, he was appointed Health Minister and Minister of the Interior in 2001.
In 2009, he took over as Prime Minister when Anders Fogh Rasmussen was appointed Secretary-General of NATO.
Having inherited a government and learning the ropes on the job, it was a bit of a bumpy ride in the beginning. But he learned how to make his inherited government his own in two years' time.
In 2011, there were general elections for parliament again, and although Venstre won one seat more, the 'blue block' Venstre was part of did not win the majority.
Helle Thorning-Schmidt of the Social Democrats became the first female prime minister in Denmark, and Lars Løkke Rasmussen found himself in the opposition as a party leader – also a first for him.
Luck turned his way again in 2015, when the blue block won the majority in parliament.
Lars Løkke Rasmussen formed a one-party (Venstre) minority government with support of Dansk Folkeparti (actually the biggest blue party as a result of the 2015 elections), Liberal Alliance and De Konservative.
In 2016, he made a rokade (the Danish expression for a round of changes in ministers' seats) which did not only shuffle around ministers, but also engaged two other parties. Liberal Alliance and De Konservative became part of the government. Dansk Folkeparti did not, but continued to support the government, however.
Which political results are his tradmark?
Lars Løkke Rasmussen is an experienced politician, with a large network that stretches all over the country, even way back to the 1980's, when he was a bright-eyed and bushy-tailed member of Venstre's youth organisation.
His name is intricately connected to several reforms which have shaped present-day Denmark.
First of all there is Strukturreformen (2007), the transformation of Denmark's 271 Municipalities and 14 'Amter' (provinces) to 98 Municipalities and 5 Regions.
In 2010, Dagpengereformen halved the period in which those who were out of work could claim benefits at the level of their last-earned income, before they would drop to the considerably lower kontanthjælp benefit.
Finally, the Tilbagetrækningsreformen from 2011 put a stop to the possibility to stop working up to five years before the official pension age.
His political weakness is that he makes the impression of being open to favours.
Several bilag-sag, receipt affairs, showed that he didn't see clear boundaries between his private finances and those connected with his official position.
As amtsborgmester (head of a Danish province, roughly compared to a state governor), he used public funding for private use such as beers, cigarettes, hotel rooms, visits to night clubs and taxi fares. As a minister, and during the campaign in 2011, he let his party pay for his clothes (the tøjsag, the clothes affair) and hotel rooms for a vacation.
In 2013, it was revealed that Lars Løkke Rasmussen let the NGO he was president of (GGGI = Global Green Growth Institute) pay for his travels in first class, and for the travel expenses of his daughter. This case dragged on for almost a year, nearly costing him his post as chairman for the party, and almost splitting the party in two.
In 2016, he accepted the use of the summer house of one of the CEO's of the largest Danish industrial fishing companies, who was also a contributor to Lars Løkke Rasmussen's charity Løkkefonden – along with other" quota kings": the fishing companies who have the largest fishing quotas in Denmark.
Despite all this, his political strong point is that many people see him as a man of the people, 'one of us': liking a beer, being jordnær – down-to-earth. As such, his supporters tend to forgive him his mistakes, making him a political survivor without, at present, an equal in Danish politics.
What will happen next?
The present government, with Lars Løkke Rasmussen at the helm, has shown considerable tightening of rules concerning immigration, as well as cutbacks in benefits for non-Danish residents, asylum seekers and refugees – and sometimes even Danes who have not lived in Denmark for a specified period.
Some of these measures made international headlines, such as the Jewellery Law (2016) which made it possible to impound money, jewellery and other valuables from refugees. This law has been used only four times since then.
Also, the establishing of a centre on a deserted island for non-Danish residents and refugees who are to be expelled from Denmark caused international uproar. These measures came out of Dansk Folkeparti and form part of what the government calls a paradigmeskift, a paradigm shift: refugees should see their stay in Denmark as temporary, not permanent. Policy is geared towards sending them back as soon as the situation becomes safe again.
Since the Social Democrats have changed their migration policy more in line towards Dansk Folkeparti's policy, thereby securing parliamentary majorities for government policy, it seems that this particular point is not going to play such an important role in election campaigns. Focus has shifted towards classical Danish welfare topics such as pensions, health care and, recently, climate change policy.
Right now, in April 2019, opinion polls for Venstre have shown a slight drop (by one seat). At the same time, the whole of the 'blue block' doesn't seem to maintain a majority in Folketinget.
Chances are that Lars Løkke Rasmussen and Venstre will find themselves in the opposition again after the election.
The next election for parliament must take place before 17 June 2019. It is up to the Danish Government to decide on an election date and at the moment it is believed by analysts that it will not take place before Christmas, however, a lot can happen in politics.
The present government consists of Venstre and the two smaller parties Konservative and Liberal Alliance. They are supported by Dansk Folkeparti in order to get the required 90 mandates for their majority.
The article continues below.
Are you new to Danish Politics? Maybe our article –
The Rules of the Game
may help you understand the political culture and scene in Denmark.