Danish Statsminister Lars Løkke Rasmussen about to start on his last year as head of the present government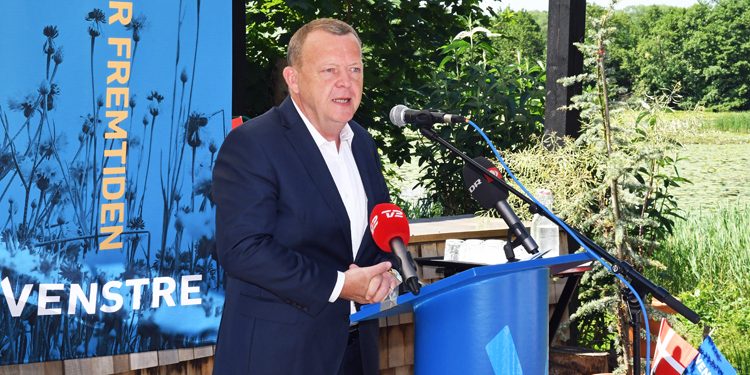 The opening of the Danish Parliament season today will be the last one for the present minority government headed by Danish Prime Minister, Lars Løkke Rasmussen.
The article continues below.
By Bente D. Knudsen & Inger Stokkink    Picture: Hasse Ferrold
As the Danish Parliament reopens today with the traditional presence of the royal family, it is also the last year of the four-year period of Lars Løkke Rasmussen's government.
The next election for parliament must take place before 17 June 2019. It is up to the government to decide on an election date and at the moment it is believed by analysts that it will not take place before Christmas, however, a lot can happen in politics.
The present government consists of Venstre and the two smaller parties Konservative and Liberal Alliance. They are supported by Dansk Folkeparti in order to get the required 90 mandates for their majority.
So far, the Danish government has survived a range of crisis's during the past three years.
The article continues below.
Are you new to Danish Politics? Maybe our article –
The Rules of the Game
may help you understand the political culture and scene in Denmark.
But WHO is lille Lars?
Born 15 May 1964 in Vejle, he grew up in Græsted in North Zealand.
He has a law degree from Copenhagen University and is married to Sólrun Løkke Rasmussen, a teacher from the Faroe Islands, with whom he has three children.
Lars started his political career in Venstres Ungdom, the youth organisation of Venstre and was Health Minister, Minister of the Interior and finally Statsminister for Venstre from 2007-2011. And again since the June 2015 election.
Political strong point: he is seen as a man of the people, as 'one of us'.
Political weakness: he is known to be a weak administrator and was also caught up in an expenses scandal when he was found to be using public funding privately. There were three 'bilag-sag', receipt affairs, which repeatedly showed that he did not have his administration in order.
His leadership was contested in the summer of 2014, in the wake of another 'bilag-sag'.
All signs pointed towards his exit as Venstre's leader, but in the end his main contender, Kristian Jensen (also vice chairman of Venstre) backed down.
Now he is again Statsminister, leading a minority government, and his political ability to make forlig (settlements) across party lines will be the make or break of his government, as it takes 90 mandater (seats) to get a majority vote in Folketinget.
Number of seats since the June 2015 election per party:
Red
Socialdemokratiet (S) 46
Enhedslisten (EL) 14
Socialistisk Folkeparti (SF) 7
Alternativet (ALT) 10
Either/Or
Radikale Venstre (RV) 8
Blue
Dansk Folkeparti (DF) 37
Venstre (V) 34
Liberal Alliance (LA) 13
Det Konservative Folkeparti (KF) 6
Members from Greenland and the Faroe islands (mostly they vote red):
Inuit Ataqatigiit (IA)1
Tjóðveldi (T)1
Javnaðarflokkurin (JF)1
Uden for folketingsgrupperne (UFG)1
Blok (blå blok/ rød blok): these are established coalitions of parties. The 'blå blok' (blue block), also known as 'de borgerlige' (the 'bourgeois'), are liberals, conservatives and other right-wing parties. The 'rød blok' (red block) are social democrats, liberal democrats and other left-wing parties. Each block supports a candidate for the position as statsminister (prime minister).
After the June 2015 election where Helle Thorning-Schmidt (S) lost and since resigned from her chairmanship of Socialdemokraterne her place was taken over by the chairman of Socialdemokraterne, Mette Frederiksen, for rød blok and Lars Løkke Rasmussen (V) for blå blok.
Forlig: this is a pact between a majority of parties, which in practice means parties from both the 'red' and the 'blue' blok. In this pact parties agree to policy guidelines and laws concerning systemic change in big issues such as education, health, and even constitutional matters.
It can be made also by a mixture of red and blue mandates.