Denmark's fur industry in crisis after a new strain of COVID-19 is found in mink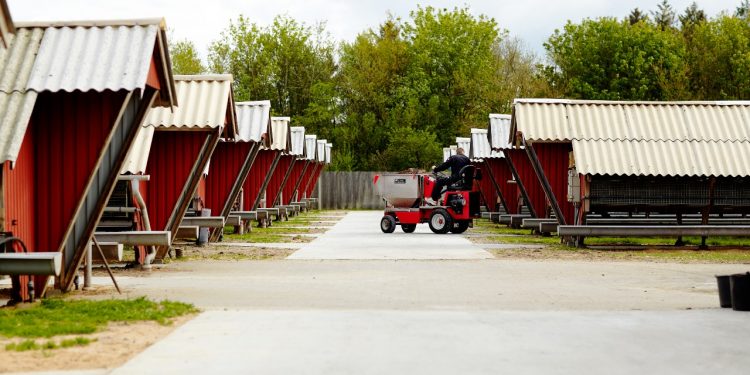 The Danish Government faces tough questions into their handling of the crisis
The article continues below.
By Louise Chamberlain
The Danish Government last week took the drastic step of ordering the cull of 17 million mink after it emerged that a new strain of COVID-19 had been passed from the animals to humans in mink farms in Northern Jutland.
This new strain has been named "cluster 5" by Statens Serum Institut (SSI), the public health institution responsible for the prevention and control of infectious diseases in Denmark.
The World Health Organisation (WHO) said that this new variant featured a combination of mutations that have not been previously observed and some scientists warned that this development could potentially have serious implications for the effectiveness of future vaccines.
According to the WHO, there have been 214 human cases of Covid-19 in Denmark linked to mink variants of Sars-CoV-2 since June 2020. This figure includes 12 cases of the cluster 5 strain.
Strains of COVID-19 have also been found in mink farms in other countries. The Netherlands, Sweden, Italy, Spain and the USA have all reported COVID-19 infections in mink.
Poland have not yet investigated whether there are COVID-19 infections in their farms but statements have now been issued confirming that testing of mink at Polish farms will be implemented. Poland's mink population is around half the size of Denmark's.
The article continues below.
The situation in Denmark is serious because this cluster 5"variant appears to have been successfully transmitted back to humans, which is thought to drive further genetic mutation.
At present, tests show that 12 people have been infected, all of them in North Jutland, and eight of these were connected to the mink farming industry.
Testing has been increased in North Jutland and travel restrictions in seven municipalities have been put in place in an attempt to contain the spread of COVID-19. 280,000 citizens in the seven municipalities will be tested and positive cases of COVID-19 will all be tested for the cluster 5 strain.
COVID-19 infections of mink started to appear in June 2020 in Denmark and, despite control measures swiftly being put in place, SARS-CoV-2 continued to spread among mink farms and more than 200 farms have recorded infections in their animals.
Early reports suggest that the cluster 5 variant is not necessarily more contagious than other strains, but the concern surrounds the way it reacts with the human body's neutralising antibodies.
Statens Serum Institute reported that antibodies from recovered patients are less successful at neutralising this strain, which could potentially make a vaccine less effective.
The article continues below.
However, Soumya Swaminatham, the WHO's chief scientist, sought to reassure the public that there is no clear evidence yet to conclude that this particular mutation will impede the efficacy of any future vaccine.
Furthermore, no new human cases of the  cluster 5  mutation have been detected since September, raising hopes that the strain will be swiftly eradicated.
The different reports and lack of clear data has led to confusion and frustration among mink farmers with healthy animals who had started to cull their animals after the Danish Prime Minister's press meeting last week.
The Danish Government acted quickly with the aim of preventing further spread of the virus from mink to humans, but they were forced to backtrack when it emerged that the government had no legal basis on which to order the cull of healthy mink.
The article continues below.
When the Danish Government decided to push through legislation, meaning hours of parliamentary discussion instead of the usual days of negotiation, to back up its order for the mass cull, it was heavily criticised for acting too hastily.
Critics were concerned that the data to support culling healthy mink was not sufficiently robust and that economic compensation to the mink farmers was not part of the act put forward, which was unacceptable to the opposition parties.
A debate has now been opened into whether the action was actually effective or even necessary. Experts from Denmark and abroad have expressed doubts, cautioning that the data that has been published so far is insufficient evidence to conclude that the cluster 5 virus variant will undermine a possible vaccine.
Allan Randrup Thomsen, epidemiologist and professor at Copenhagen University, said to Danish newspaper Jyllands Posten that:
" After having looked at the data material (ed. published on 10 November), I am not as convinced of their importance as SSI have put forward. This data does not give rise to as much concern as expected."
In an interview with Danish broadcaster, DR, Aarhus University Hospital professor and senior consultant, doctor Lars Østergaard, said
"I don't think, based on this paper, that you can say future vaccines would be ineffective or have reduced function with regard to the cluster 5 variant."
The article continues below.
The European Centre for Disease Prevention and Control, an agency of the European Union, has said that it will publish risk assessments on the spread of Sars-CoV-2 in mink farms this week.
None of the pharmaceutical companies working on the development of a vaccine have been asked to comment or evaluate the cluster 5 strain.
Denmark is the world's largest producer of mink, accounting for around 40 percent of world production. 1,500 Danish fur farmers produce approximately 19,000 mink skins annually.
Kopenhagen Fur, a cooperative owned by the members of the Danish Fur Breeders Association, is the biggest fur auction house in the world, selling the Danish mink skins plus another 7 million from other countries every year.
Fur and mink skins are the third largest Danish agricultural export items of animal origin.
The article continues below.
The order to cull the entire Danish mink population of both healthy and sick animals will have a devastating effect on the fur industry.
The government's decision has massive financial consequences for Denmark's mink farmers and the industry's suppliers, as it virtually puts an end to the mink industry in the country. The cull of approximately 17 million mink comes at an estimated financial loss of 5 billion kroner.
The newest point in the political discussion is whether the lockdown implemented in the seven municipalities in North Jutland was too strict a measure as well.
More discussions about these issues will arise in the next days and Your Danish Life will follow them and update when new information is available.