Destination Christiansfeld – a Danish UNESCO World Heritage site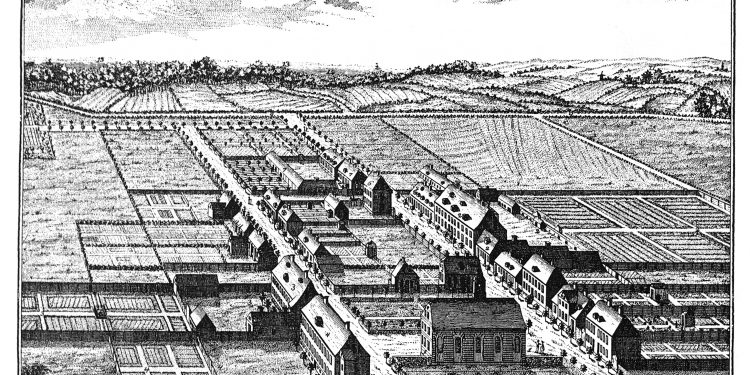 If you are planning to spend a long weekend in Southern Jutland do not miss this unique cultural heritage, the delightful small town of Christiansfeld.
The article continues below.
By Lene Terp Knutzen   Pictures: Ole Akhøj/Visitkolding, Bente D. Knudsen
My latest project was writing a novel. The book project was initiated by my great-grandfather's diary and took me almost three years to write. During my writing journey, I followed a trail back in time to his little hometown of Christiansfeld.
What I found was not a huge and busy place with lots of fun for my kids to do.
Instead, I met a lovely little place to visit during summertime. A town that holds unique stories as nothing I had ever experienced before. My first visit was a revelation to a world I did not know existed. A big surprise!
In 2015, Christianfeld became listed as attraction number seven on Denmark's cultural heritage list.
Yes, it is small but absolutely not an ugly duckling. The town has grace like the swan in the fairy tale of H.C. Andersen.
The article continues below.
Are you familiar with the Danish saying: Small things have their own rights"? I'll never forget the limetrees with leafs formed like little green hearts or the flickering light coming down as I looked up at a clear bluish sky.
After only a few minutes walk away from my car there was something very well known and alluring in the air. A smell sugar sweet.
The nice aroma slipped from an open glass door in the local confectionery's shop.
I went inside to buy and to taste the chocolate brown gingerbread. Formed like hearts. Made from a traditional recipe. The honey hearts taste like heaven. Small can be beautiful and sweet.
The article continues below.
Why on the UNESCO List?
The town got its name from King Christian VII. When you arrive, you will immediately understand why it is on UNESCO's list, a list which contains more than 1,000 places of particular history and culture, or landscapes, that should be protected for future generations.
The town was founded in 1773 as a well planned settlement built by immigrants from Saxony. The Danish king Christian VII made a deal with the newcomers.
He sold some of his private fields, promised extended religious freedom (the Moravians were fleeing from religious prosecution in many parts of Europe) and no taxes to be paid during the first ten years.
He was convinced that this could turn out economically advantageous for Denmark as he knew that the male immigrants were skilled craftsmen.
They used his gift to raise a town which exuded peace and harmony. In many ways it was a model for other areas.
To me Christiansfeld is a wonderful story about a group of poor religious refugees that welcomed a helping hand from a Danish King and became part of world history.
The article continues below.
What to see?
A square with a beautiful fountain, the unique Moravian Church, the surprisingly different cemetery with headstones all very much alike in size and neatly arranged.
Visit the museum. Walk inside the church. Pay attention to the beautiful tree-lined streets and be surprised everywhere you turn. Feel the peace, indulge in the harmony and take a closer look inside some of the small shops.
Glance at the yellow houses with red roofs and little staircases each with different handcrafted wrought iron railings. Stay at the local hotel. Listen to the fantastic stories which a guided tour reveals. You will find guided tours offered in Danish, English or German.
Christiansfeld's one of a kind atmosphere can make your visit a memorable day.
Find more information at their website here.
A few facts:
Christiansfeld's historic town structure stands out as special because it is built on the model of the Brethren congregations who built their cities with the church in the centre of the city, surrounded by the city's main houses – choir houses (houses for the unmarried brothers, sisters and widows), rectory and principal residence.
School buildings, family homes and workshops were also included in the special Moravian structure.
The city was built in a relatively short time and not gradually, like so many other villages in Denmark. Most buildings in the historic centre were built between 1773 and 1812.

Support our magazine with a contribution of any size
We hope that you enjoy the information, insights and inspiration that we provide. We are a small team and we would like to keep delivering high quality, interesting articles for you to enjoy and your support will help Your Danish Life to continue to produce relevant content for expats in Denmark.
We do not want to put up a pay-wall, so we need your support and if you find our content relevant and worthwhile, we would value any contribution, however big or small, as a token of your appreciation of our efforts.
How to support:
Transfer any contribution to our bank account at: Your Danish Life/ Danish Expat Media Aps
Danske Bank Account number: 3409 11405673
IBAN: DK68 3000 0011 4056 73
or MobilePay to 2144 1224
Message: Support