Eat takeaway and support culinary life in Aarhus and other cities in Denmark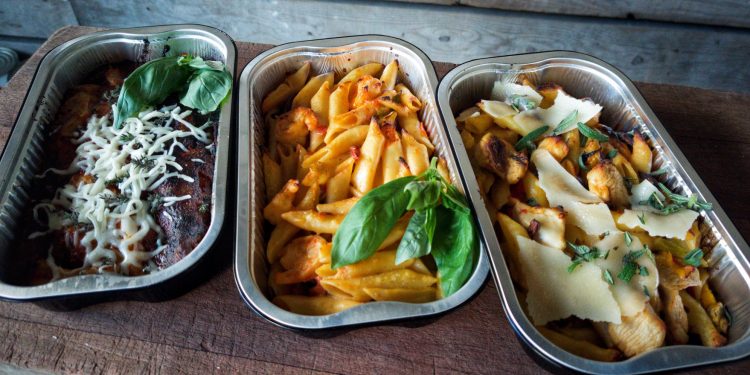 Culinary life has come to a grinding halt after the coronavirus has stopped public life in the Danish cities for the time being: to survive a growing number of restaurants have shifted to takeaway food.
The article continues below.
By Inger Stokkink
With closed cafés and restaurants and no customers,  a growing number of restaurants have shifted to takeaway food. To support them, culinary journalist Louise Højmark urges the people of Aarhus to eat takeaway twice a week.
Normally writing for Smagaarhus.dk, a site dedicated to good food and restaurants reviews in the Aarhus area, she thought of ways to help.
"For the restaurant scene in Aarhus (Editor's note: as in other cities), the corona crisis is really, really serious. That is why we want to do everything we possibly can to help the city's eateries, café's and bakeries through these difficult times. And since communication is our thing, we think that we can support them best by showing which places are offering takeaway. We fervently hope that the people of Aarhus have the possibility and the wish to support the local restaurants, so that they are still here when we come to the other side of the crisis.
We hope and believe that takeaway twice a week – if possible, from different places – will make a difference for restaurants. Of course, we know that not everyone has the money to eat out twice a week, but we hope that, even so, people will support their restaurants as much as they can."
To make things easier, Lousie Højmark and Smagaarhus.dk have whipped up a website that lists all the restaurants that are offering takeaway – especially those who normally don't.
Right now, 65 restaurants have signed up, among them the go-to eateries with pizza or kebabs or sushi. But also restaurants with classical Danish menus such as Skovmøllen and Kohalen offer takeaway now.
The article continues below.
Usually, these restaurants are fully booked, but now you have the chance to sample their signature dishes at home – for reasonable prices even. The same goes for more fancy restaurants like Hærværk and Pihlkjær.
The idea is to order your meal from the website, or phone your order in. Many restaurants also offer home delivery. And how about waking up to freshly baked bread or patisserie, delivered by design bakery Briançon? You'll do yourself a favour – and the baker too.
In Copenhagen, Tribeca Beer and Pizza Lab have closed their restaurant due to the coronavirus restrictions but offer an expanded takeaway instead, so not only their famous pizzas are on the menu but also different Italian inspired pasta dishes, ready to put in the oven at home to be served hot and delicious, look for lasagne or pasta with chicken and fresh parmesan. The takeaway option is a way to try to survive the crisis until everything can reopen.
Support our magazine with a contribution of any size
We hope that you enjoy the information, insights and inspiration that we provide. We are a small team and we would like to keep delivering high quality, interesting articles for you to enjoy, therefore we need your support.
We do not want to put up a pay-wall, so if you find our content relevant and worthwhile, we would value any contribution, however big or small, as a token of your appreciation of our efforts.
How to support:
Transfer any contribution to our bank account at: Your Danish Life
Danske Bank, account number: 3409 11405673
Message: Support
Look for information in other cities around the country:
Struer: https://cityofsound.dk/news/eat-and-support-help-local-restaurants-that-serve-takeaway-during-the-corona-crisis/
Copenhagen: https://politiken.dk/ibyen/art7723300/Her-er-Københavns-bedste-takeaway-til-din-coronakarantæne
Aalborg: https://migogaalborg.dk/efter-skaerpede-corona-tiltag-disse-spisesteder-holder-aabent-lukket/
Odense: https://migogodense.dk/gourmet-guiden-i-corona-version-saadan-faar-du-laekker-take-away-i-odense/
Esbjerg: https://jv.dk/artikel/corona-guide-her-kan-du-bestille-takeaway