Enjoy the music as the band of the Queen's Royal Life Guard marches through town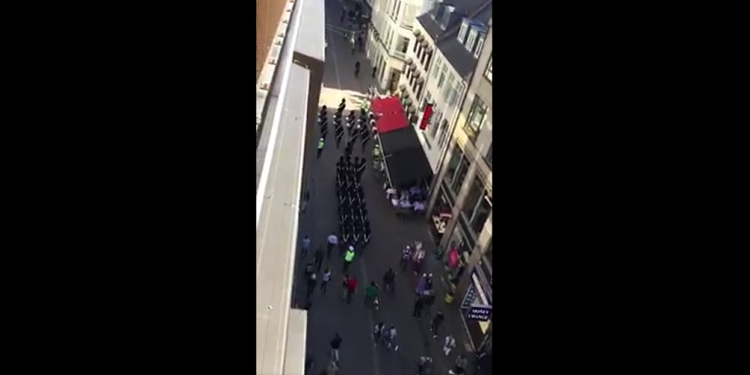 Did you always wonder why they are never there if you go during the summer with guests or for the weekend? We solve the mystery for you.
The article continues below.
By Bente D. Knudsen
March is the last month when you can hear the band of the Royal Life Guard's as they accompany the marching guards on their way from Rosenborg Castle (their barracks) to Amalienborg Castle.
On the 12 March, the Danish Queen will change residence and move from Amalienborg Castle, her winter residence, to take up residence at Fredensborg Castle, her summer residence. They will of course be back in the autumn when the Queen moves back to Amalienborg.
Without a Queen to play for in Copenhagen, the Royal Life Guard's band will no longer accompany the Royal Guards on their march through Copenhagen, who will of course still perform the changing of the guard every day, with or without the Queen, as Amalienborg Castle remains under their responsibility to guard.
As the band has a more limited number of members, compared to the guards who can take turns, they cannot be on duty every day.
Therefore, even when the Queen is in residence at Amalienborg, you will not see them on Fridays, Saturdays and Sundays, much to the disappointment of weekend tourists to the capital city.
Luckily they do publish a calendar – also in English. Find the coming weeks' plan below:
5, 9, 10, 11, 12 March and exceptionally also on 18 March 2020:
The parade departs at 11:27 from the Royal Barracks at Rosenborg Castle on Gothersgade in Copenhagen city and the band will play with the Corps of Pipes and Drums during their march through the city, alternating between them.
Expected arrival at Amalienborg Castle at 12:00 and after the Royal Life Guards have performed the changing of the guards' ceremony the band will, if it remains dry, perform a small concert, upon which at around 12:40 the parade marches back to the barracks with arrival at around 13:10.
On 19 March, the band will be playing at Fredensborg Castle to celebrate the change of residence of the Danish Queen to Fredensborg Castle for the summer. This changing of the guards starts from Fredenborg Station at 11:45 with arrival at the castle at 12:00, the band plays while the changing of the guards takes place and then everyone marches back to their barracks next to the castle.
The article continues below.
The Queen officially changes residence of the 12 March 2020 when she at 21:00 comes out of Fredensborg Castle to receive the torchlight procession of the citizens of Fredensborg who come to greet her and welcome her to their city. Everyone is welcome to participate at this popular ceremony.
The article continues below.