Enjoy the spectacular sight of a gold coach and the mounted escort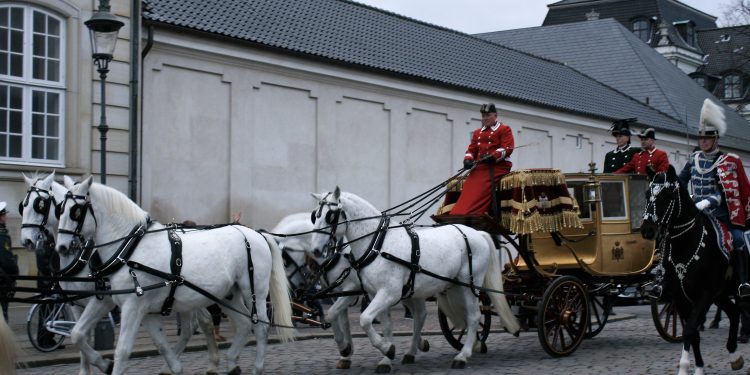 The grand tour with the gold coach takes place on 4 January 2019, when Danish Queen Margrethe travels to the finest of the New Year Levees.
The article continues below.
By Bente D. Knudsen
Once a year, the gold coach is taken out of the royal stables and is used again as a means of transport.
The coach dates back to 1840 and was recently extensively renovated. An expensive renovation of a coach covered in 24 carat gold leaf, which was funded by the A.P. Møller foundation.
The closed horse-drawn gold coach transports the Queen through the streets of Copenhagen, starting at Amalienborg Castle at about 9:00 and taking her to Christiansborg along Store Kongensgade and over Kongens Nytorv to Christiansborg.
She rides back from Christiansborg also in the gold coach with her mounted escort at about 13:00/ 13:30  from Sankt Jørgens Gård at Christianborg along Bredgade to Amalienborg.
The event is a great opportunity to see a beautiful parade through the streets of Copenhagen with the horse-drawn carriage accompanied by the mounted Hussar Squadron of the Gard Hussar Regiment – in Danish Gardehussarregimentets Hesteeksadron.
You can see the full route here: click here for map
The article continues below.
The mounted squadron's history, traditions, and uniforms can be traced back to the Hussar Regiment set up by King Frederik V on 10 February 1762 in order to have a light mobile cavalry to face the mounted Russian regiments in the impending war with Russia.
However, the Gard Hussar Regiment itself dates back to 17 November 1614 when Christian IV set up a national militia of 4,000 soldiers.
The regiment in its full blue gala uniform, combined with the gleaming harness of the horses and the accompanying music, is quite a unique site to behold. Only three other countries in Europe, Holland, Sweden and England, still have mounted royal horse guards.
The full mounted escort is also used for other occasions such as royal weddings, anniversaries and when the Danish Queen is on tour of Denmark with the royal yacht.
At such occasions she is usually escorted around the towns she visits by the mounted escort. A smaller escort is used for the official reception of new ambassadors, which takes place a couple of time a year.
Don't miss the occasion to see the Danish one while living in Denmark. The mounted escort