Finding the Perfect Christmas Tree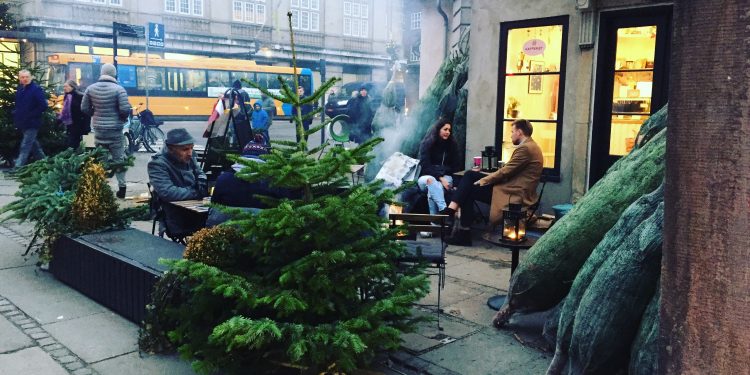 Danish Christmas traditions are plentiful: the lighting of the Advent wreath or the burning of dated candles every day counting down to the 24th of December. Last but not least, cutting down your own Christmas tree!
The article continues below.
By Louise Chamberlain & Sanobar Elahi                 Picture: Bente D. Knudsen
Some history, before we offer suggestions on where to go Christmas tree shopping: did you know that Denmark had never seen a Christmas tree before a German physician by the name of Doctor Lehrman brought one over from Germany in 1811?
The guy set it up in his living room, decorated it with all the tinsel and glory of Christmas so that he could share his own childhood Christmas experience with his son.
News caught on, people mimicked and as they say, the rest is history and a 100 years later, every Danish home had a Christmas tree in December.
Red and white – and the flag of course
Traditionally, the trees were decorated with Danish flags or hearts made from red and white knitted paper stripes, a custom developed after the great Danish-German war of 1864 where the Danes were beaten by the Germans.
The flags, and use of red and white colours, became the symbol of Danish unity and nationalism in the years following the war.
It is a tradition that has lasted well into the 21st century, although some homes have added other colours and alternative decorations to the red and white hearts.
Fir garlands and fairy lights decorate the main shopping streets and Christmas trees with fairy lights stand in squares and gardens – a custom dating back to 1914, when the first Christmas tree was lit on the Town Hall Square in Copenhagen. That is that for history hour.
The article continues below.
So! Where to find your very own Christmas tree?
From end-November Danish families, (especially those with young kids), take a trip to one of the many Christmas tree farms to pick out the perfect Christmas tree, cut it down and bring it home to decorate.
"Of all the many lovely Danish Christmas traditions to enjoy, one of the nicest, we found, is the trip to the forest to cut down your own Christmas tree," says Louise Chamberlain about her family's experience.

"Weekends in November and December you can enjoy a fun outing to a Christmas tree farm to choose the perfect tree to complete your seasonal décor, be sure to wrap up warm and wear strong gloves."
The article continues below.
Where can you cut down your own Christmas tree in Denmark?
We would love to give you an overview of them all, however, as Denmark has a huge Christmas tree production, there are many Christmas tree plantations, which offer the possibility of cutting down your own tree.

Fortunately, they have formed a network and made a site where on a map you can find one near your location.

The site is called fæld selv juletræ.dk ( basically meaning cut down your own Christmas tree) and you can find it here

Again the site is only in Danish – but easy to navigate and find a location on the map – go to oversigtskort and find the map. If you choose juletræer it will take you to a list with names of the plantations by region.

If you do go to cut your tree, remember to bring your Wellingtons/rubber boots.

The paths and ground you walk along are often very muddy, as the Christmas tree plantations are located in " fields" with grass, and if it has been very wet, the ground is soft and muddy.

If it has rained the night before, your tree will also be quite wet, so maybe take a tarpaulin with you to protect the inside of your car.

At these cut down yourself places, if you come late in the season, you might not find a tree to meet all your expectations, as the best tend to go first.

Merry Christmas tree hunting!
Of course, you can also buy a ready to take home Christmas tree close to your home.
You will find stalls in every larger town; near supermarkets, on squares or parking lots. In some, you can support the local sport's association by buying their tree, in others it is a business as any else.
If you wait until the last minute, you can even bargain the price of the tree, and often the selection is still quite good, as the stalls rarely sell out.
Not all have home delivery services, but of course many do, so just ask until you find the one which does.
Find more ideas for where to go in Copenhagen below
Here are a few tips – between 30 minutes and one hour's drive from Copenhagen
Bakkely Juletræer – about 45 minutes west from Copenhagen ( direction towards Roskilde), this lovely site offers all the fir you may need for decoration for free when you buy a Christmas tree, also great for an excursion, there is a 3 km walk in the plantation with plenty of tables and benches so  bring a picnic and enjoy your outing. Open from Saturday 27 November every Saturday and Sunday from 10:00 to 16:00. And the 22 and 23 December as well. Bakkely Juletræer, Stenbækvej 7, Skullerup, 4330 Hvalsø. More information at www.bakkely-juletræer.dk
Maltegaards Juletræssalg –just 30 minutes north of Copenhagen City Center- is open every weekend in December at Gøngehusvej 217, 2950 Vedbæk from 10:00 to 16:00 as well as on the 21, 22 and 23 December. On site you can buy hot chocolate and æbleskiver.
Dyssegaarden
Activities and fun for the whole family. As well as finding the perfect tree, you can enjoy a donkey ride, there are animals for the children to pet and a Nissestien (pixie path) to explore.
You can even stock up on meat from the farm shop to carry you through the festive seaso.
If transportation is an issue, you can shop online and have your Christmas tree delivered right to your doorstep!
All activities are in place on weekends from 9:00 to 16:00 but you can buy your tree on weekdays as well.
Located: Frederiksborgvej 570, 4000 Roskilde 25 minute drive from Central Copenhagen – head for Roskilde in west Zealand.
More information at www.dyssegaarden.com
Their site is also in Danish and not that easy to find your way around – however if you go to this page – Christmas event and activities – you can see what is going also for children to enjoy.
Ryegaard Estate
Do not expect to find an old manor house on this estate, as the old manor house building was torn down (it was in a bad condition and could not be saved), however, the estate with its farm land and Christmas tree plantations still exists.
At Ryegaard you can  book a horse-drawn carriage to take up to 8 people out to the Christmas trees,
Open every weekend from 10:00 to 16:00 until Christmas.
Located: Munkholmvej 380, 4060 Kirke Såby direction Kalundborg 35 minutes by car from Central Copenhagen, more information at  www.ryegaard.dk